THE CHAMPS -- Having returned to Ohio, home of Lebron James and his Cleveland Cavs who won last year's NBA championship in an unprecedented comeback series, I congratulate uber fan Joshua Jay, especially since I had rooted against him, for the Warriors. I also congratulate Josh, Andi Gladwin, and Tim Moore for hosting yet another magnificent Magi-fest. Dollar for dollar this is the best convention value in the country, 86 years strong and rejuvenated under the current leadership, its patrons a perfect mix of experience and youth, and an annual gathering of friends like no other.
My usual apology applies: I attend this convention to socialize, not to record, hence my notes below will not mention everyone who contributed, including the big name performers, lecturers, and dealers. If you were there, you know you were a star, and I hope you remember your standing O for a long time. You deserved it,
For the 86th year, it is tempting to list 86 fine things, as I did for MAGIC Live's 25th, but I'll limit it to an Al Baker's dozen.
Opening the whole shebang was Kyle Littleton, whose baby face (that's a compliment) belied his mature, razor humor and his clever magical creations (one a three-fly routine in which one of the disks was a button). I particularly cracked up at his comparison of marriage to The Hunger Games. Kyle was a brilliant choice for an opening lecture and established that cutting edge comedy would again characterize the convention (as it did last year with David Corsaro and Harrison Greenbaum). For you Magi-fest old timers, we've come a long way from Herman's puns.
Eric Mead devoted a full 90 minutes to Three-fly, laying out his own attempts and those of others to perfect the trick that Chris Kenner had elevated to mythical status. The biggest surprise, given that I mainly know Eric for his superb close-up sleight-of-nand magic (indeed, he often tweets a photo of his apparatus for an evening's gig), was that his main work these days is mentalism.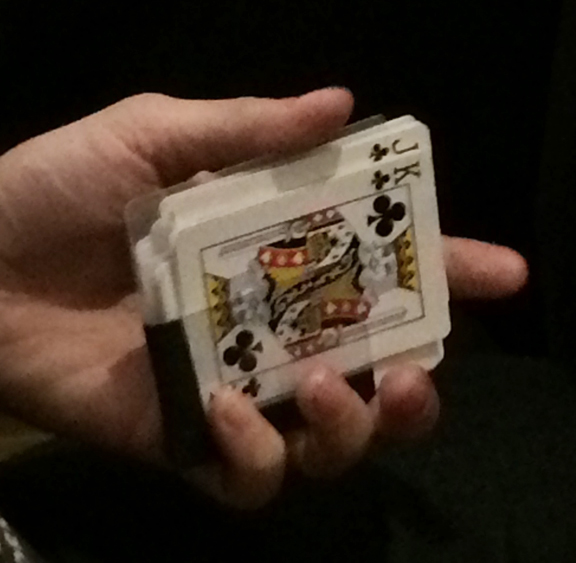 Tony Miller's Search Engine.
The first gadget of the convention I encountered, as is often the case, was Tony Miller's, a radical index called Search Engine that allows you to produce, from one jacket pocket, any card named, with no counting.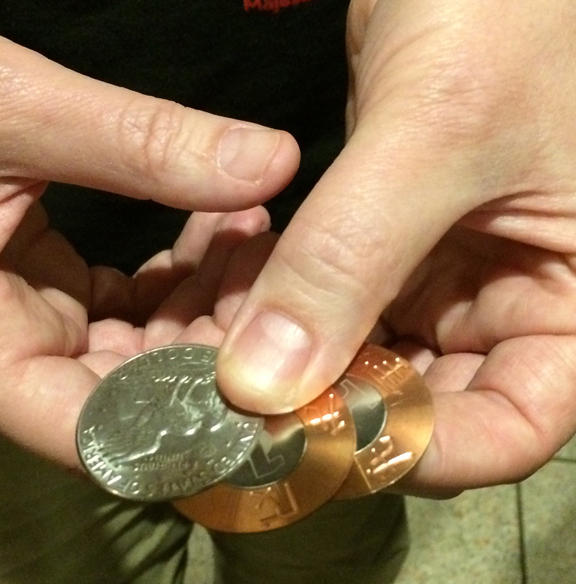 JJ's Coin Coalition.
Although a few were missing, it's always fun to mix with Chicago friends at Magi-fest. The latest from the city was JJ's Coin Coalition, from John Jurney. This set allows you to do three-fly type routines, with silver coins changing to Japanese coins. Because the coins are magnetic and slide apart or back together, the handling is dead easy. Even I can manipulate them. Check them out at jjmagiccoins.com.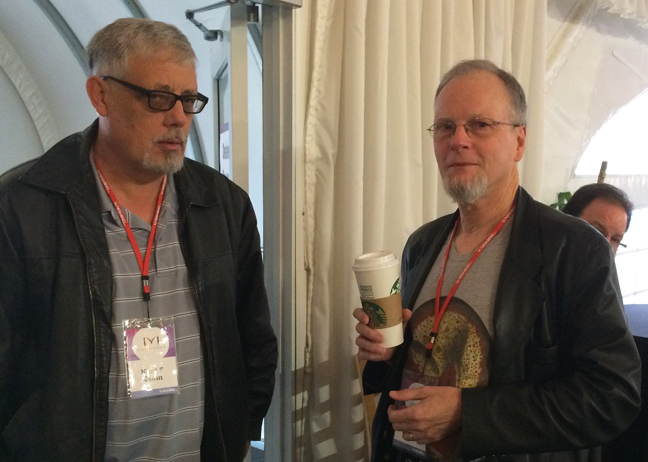 Kent Gunn and Mike Powers confer.
It wouldn't be a successful Magi-fest if I didn't get to session with Mike Powers. One of the best things he showed me was his ending to Marlo's Traveling Card, from The Cardician (or from that chapter in Cardially Yours). I won't tip Mike's enhancement, but the original itself is a killer; check it out if you've overlooked it.
One of my favorite surprises was the lecture by Reynold Alexander, from Puerto Rico. I loved the Shoe Production (a la Paul Harris's Twilight, with a mirror), his extended Knot Off Silk routine (nods to Jeff McBride), and a nicely scripted routine about time performed with hourglass sand.
As alluded above, comedy plays a big part in recent Magi-fests, and we had already enjoyed Kyle Littleton's opening lecture humor and Danny Buckner's late-night show by the time we flocked to Friday night's Bargatze Stage Spectacular. Stephen Bargatze is truly a magician's comic and proved it with a hilarious takeoff on the Tossed Out Deck and with riffs on the fact that Eric Mead's card stab had gone awry. This is the sort of killer stuff that makes Stephen and Rick Merrill so anticipated at 4F. But Stephen's best bit was the introduction of his surprise guest, his son Nate Bargatze. Nate is hitting the big time as a purely standup comic (despite scoring Friday night with a routine about growing up in a magical household). An appreciative crowd returned later for Nate's 12:15 AM-1:00 AM solo spot. Superb writing! You can sample Nate's brilliant humor on Youtube.
Has anyone had as much fun writing, illustrating, publishing, teaching from and performing from, and selling a book as Gene Anderson has with Gene Anderson The Book? Gene's late-morning lecture (it followed the annual kid show in which Magi-fest busses in a theater full of magic-hungry kids) included no newspaper magic. Rather, this expertly taught material featured Gene's Picto Transpo, his Die Box, the Nemo Jumbo Rising Cards, and the Card in Bottle. I love how much extra Gene Anderson brings to the table. Most are familiar with the classic "playing cards" harmonica gag and the egg beater mentalism device. But Gene actually played the harmonica ("Oh, Susannah"), and he sold the egg beater via pseudo-scientific gobbledegook (credit Bill Spooner). Fun stuff.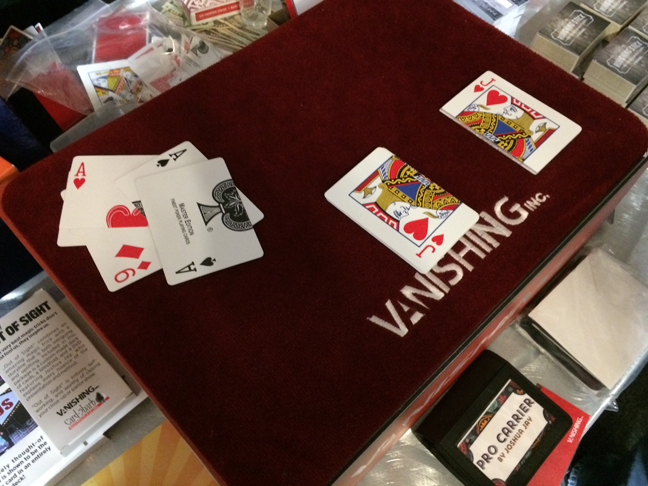 Jim Krenz's Coincidencia.
One of the delights of being in magic is running into Jim Krenz. At the Vanishing Inc. booth, Jim was demonstrating a new sympathetic cards routine using halves of jumbo cards, Despite repeated shuffles, the dang things kept synching up (and fooling me). He calls it Coincidencia and will be marketing it soon. By the way, if you are a citizen of this planet, as I assume you are, you may run into Jim yourself. He recently won a trip around the world and is taking advantage of it.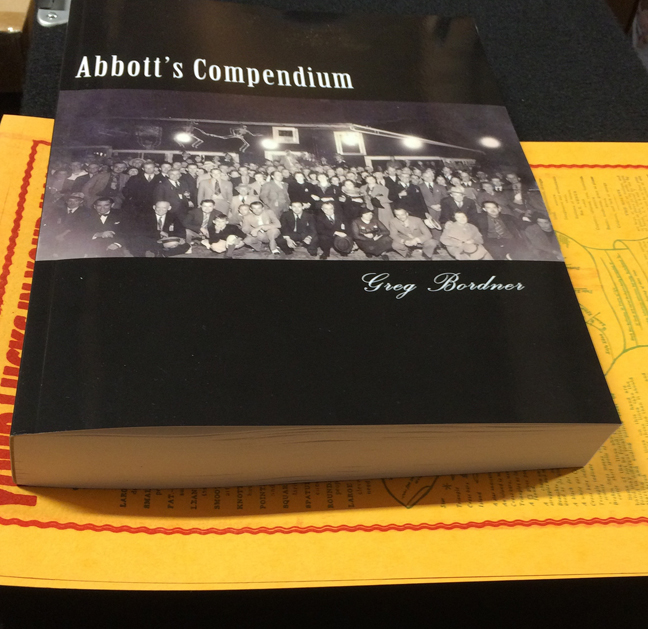 Greg Bordner tells all.
Also in the dealer room (that is, the tent!), I asked Greg Bordner if Abbott's had any new books, such as Dark Matter secrets that surprised us a few years ago. Boy, did he! The new book is Abbott's Compendium, a mammoth Sears catalog-sized soft cover that contains, to borrow from the ads, "historical documents, articles about the Get Togethers, posters, the complete performer list for not only the Get Together but the Closeup Convention as well." I also enjoyed handling a fine mirror glass. Book and glass are $40 each. Greg asked me to mention the Get Together of course, this year from August 2-5. It's the 80th.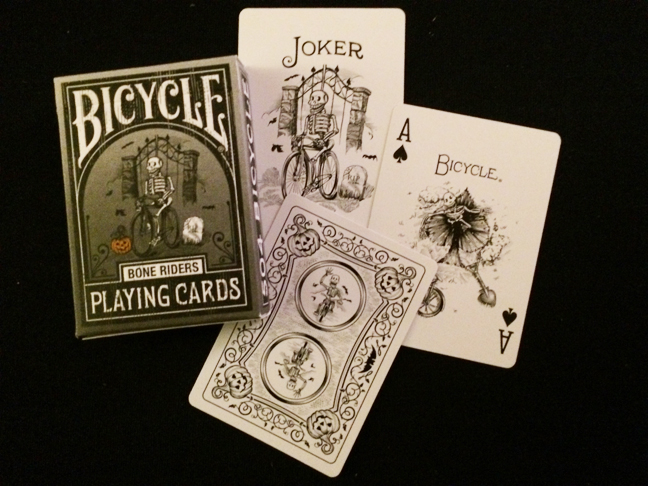 Bone Riders.
My own purchases? From H&R Magic Books I picked up the new Lap DVD featuring lapping moves and technique from Dani DaOrtiz, Yann Frisch (his entire act and more), Lennart Green, Gene Matsuura, and others. So far so good, but I didn't purchase the ten hours it takes to watch these! By the way, H&R promises a new Trost book this spring. I am drooling. I also acquired, from Dave Hofmeister, a nifty deck of Bicycle Bone Riders playing cards as well as a "normal" Bicycle stripper deck. And from Penguin, the fascinating Little Door. Very nicely made.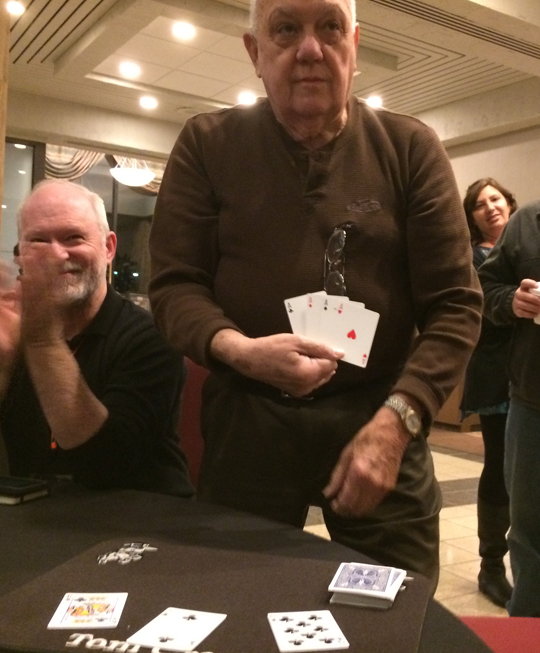 Tom Craven mystifies.
For many, Magi-fest is the card magic that transpires at the large tables in the lobby, manned day and night by Tom Gagnon, Howard Hamburg, and Tom Craven. This year it was Tom Craven who fooled me badly with a squeaky clean ace assembly (it was two weeks later that I snapped to what he must have been doing) and a triple prediction. As to aces, Ben Earl's ace cutting from a mixed deck was also a thrill to behold, although my favorite of his over the weekend was the deck switch he taught in his lecture. And although another lobby favorite is Caleb Wiles, I was temporarily denied seeing his latest. Caleb was in the building, but he was off somewhere recording a two-DVD set of his best material, to come out soon from Vanishing Inc.
Most of the Gala Shows under Josh's and Andi's tenure have produced one standing ovation after another, and 2017 was no exception. Although Luis Otero from Columbia and Lukas from South Korea provided strong moments, the bulk of the final evening show belonged to the Magic Castle trio of Mike Caveney, Tina Lenert, and surprise headliner Rob Zabrecky. Wow. Mike (who also emceed) killed with such classics as Coffee Break and Scissors Thru Jacket. There was a nice touch as he introduced "the chicken family" who had donated the chicken that Mike produces from a spectator's jacket. Tina soloed with Mopman ("That guy lives in my basement," Mike quipped) and her Simply Magic act. And they both participated in what was a generous chunk of The Zabrecky Hour. Because of my love of spooky magic, Rob's is my favorite act working today, the act I wish I had dreamed up if I only had talent and genius (oh, yeah, and could sing and dance). Tina accompanied much of the show on harp, especially a new routine to me in which Rob sings "It Was Only a Paper Moon" and closes with Snowstorm in China. This is such an iconic act! Lovely memories, guys.
All in all a great three days. Thanks as always to anyone who chatted with me about Little Egypt Magic, my favorite real books (Lucas Mackenzie and the London Midnight Ghost Show and McGrave's Hotel), or anything else, or who showed me magic or witnessed some of my own. You were the convention. Oh, and this being Valentine's Day and because this has so far been a guy thing, a big shout out to the lady friends who were there, Maria Schwieter and Rosie Rings. Hugs to all.