WEIRD SCIENCE -- "Put your hands together for the 19th century's greatest magical duo, Morgan and West ... magicians, time travelers, and all round spiffing chaps." So go the introductory words to a collaboration I have enjoyed several times live, ably performed by said duo who have now given every word, magical secret, and background thinking to their newest project, Parlour Tricks.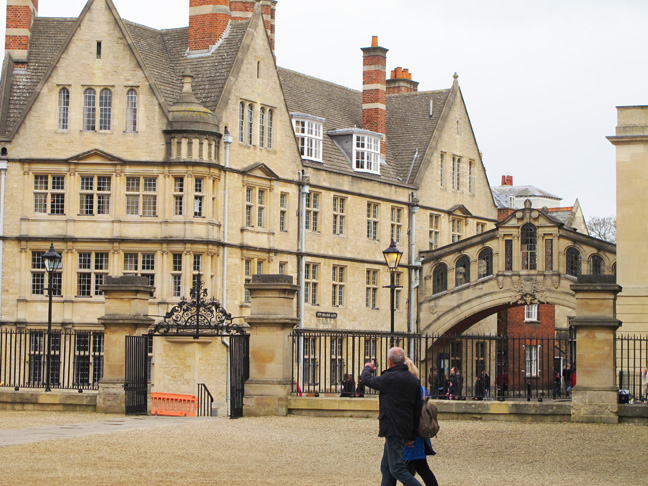 Impressive place to attend college.
From Vanishing Inc., Parlour Tricks is a 90-minute streaming magic show packaged with a handsome 356-page hardback. Something seems "right" about Rhys Morgan and Rob West creating a 19th-century magic show, given that the fellows are Oxford trained scientists (Rhys in physics, Rob in chemistry). Who else could toss out terms such as eigenvector in their patter?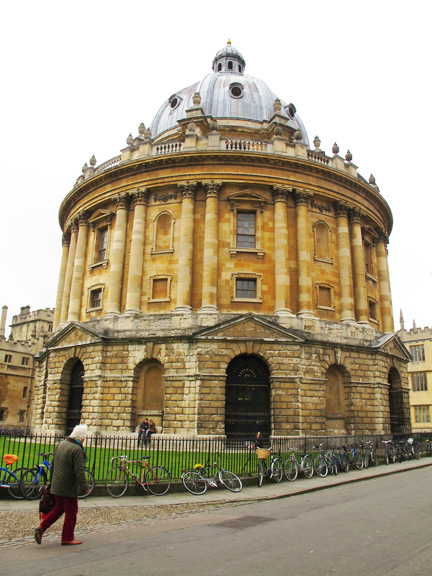 Does the Bodleian have a copy of Parlour Tricks?
The show Parlour Tricks is a 90-minute, two-act theatrical presentation with half a dozen routines in each act. In case you've never seen it, it contains a generous, eclectic range of parlor-scale material, including visual magic (Multiplying Bottles, Ring on Ribbon, Cups and Liquid), two card tricks, several mentalism pieces, some math wizardry, a costume change, and a pair of escapes (Thumb Tie, Bag Escape). What distinguishes each is that Morgan and West attempt, with no false modesty, to make it the best possible version of itself. And they explain how and why.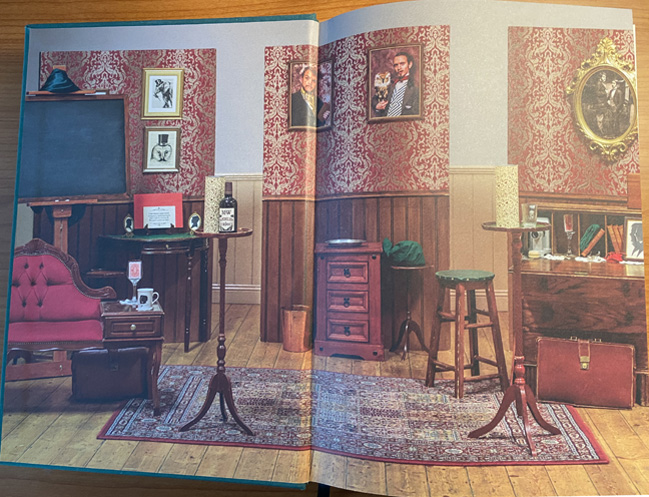 Step into my parlour.
Much of the above fooled me, especially the two card tricks. In the first, a signed card in a boxed deck transposes into one of those impossible objects, a deck in a jar that you cannot extract. Through a small window in the box, the spectator can see his signature on the face card of the deck. (And he really does!) The second is a single Thought Of Card Across. I know many methods, but this one appears squeaky clean and direct.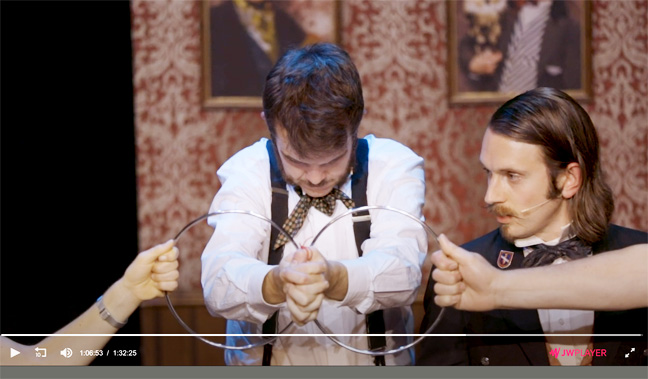 Can he escape?
The organization of each item is efficient. For each you get the Effect, the Props, the Preparation, the Method, the Performance (script and stage directions), and an Essay (what the heck they were thinking). In addition to all this are copious footnotes, the best I have seen since John Lovick's in The Performance Pieces & Divertissements of the Famous Handsome Jack etc. or in Paul Harris's Phootnotes in The Art of Astonishment.
Although you may, I doubt that I will ever perform any of the "vintage" tricks, even though I was born closer to the 19th century than to the 21st. Rather, the take away for me is the wonderful thinking in the essays and footnotes, especially that the material should make sense. Some specific snippets: Don't make the trick about someone else (your grandfather, Houdini, etc.), or about "the first trick you ever learned," or even a classic of magic (the audience has therefore probably seen it before). Try turning a card trick you enjoy into something that doesn't involve cards. Don't demean what you do with lines such as "Yep, ten years of my lie wasted learning to do that!" Be aware that children don't act like adults. ("They're like drunk adults.") Don't boast of your general knowledge or expertise; rather, demonstrate it. Don't portray your magic as genuine skill (such as boasting that you have been banned from casinos, or can memorize a deck in a few seconds); they will figure out you are a liar. Don't struggle to read someone's mind, then render that struggle moot by having predicted that word in a book in advance. And so on, fully discussed, and much more.
Production values are top notch. The video is nicely shot and edited, with multiple viewpoints, and I loved the frequent cuts to a very happy audience. The book itself is gorgeous, opens nicely and sports a handy ribbon bookmark, is chock full of color photos, has an intricately designed cover that bears close scrutiny, and is most amusingly written. You are going to love the footnotes. It surprised me to note, upon finishing reading, that I tallied no typos, so kudos to the writers and editors. There may have been some, but I didn't see any. Unless you want to quibble over the spelling of Parlour. From Vanishing Inc. $60.
Note: Outdoor photos above are from my travels to England in 2012. Oxford was breathtaking.