ALOHA -- Although I had no strong personal connection with Johnny Thompson, Gary Darwin, Steve Dusheck, James Hodges, or Marshall Brodien, their passings at the respective ages of 84, 84, 74, 90, and 84 diminish me. So many contributions to magic!
Johnny Thompson was of course one of the giants of magic, both a successful performer and a repository of so many secrets from the Vernon era and earlier, and mentor to the stars. I am pleased for him that his legacy was so beautifully captured in the boxed set reported here last April. More about him there.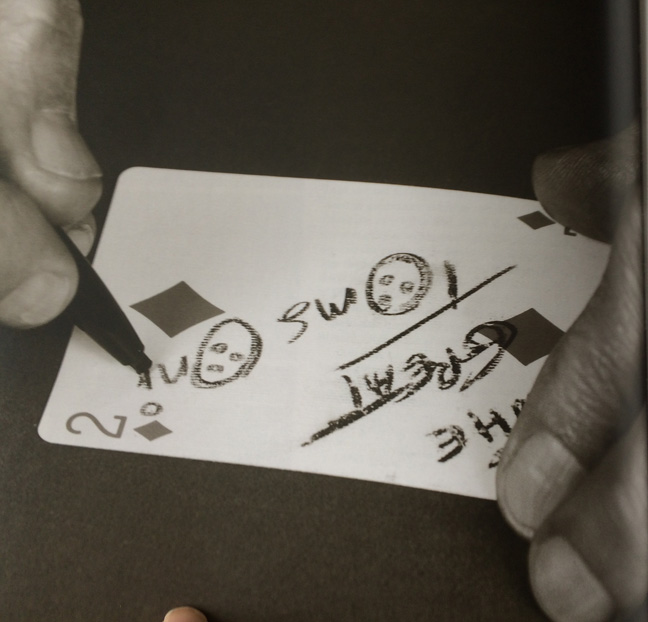 From The Magic of Johnny Thompson.
If there was ever a mayor of Las Vegas magic, it was Gary Darwin. His decades long midnight magic club was one of the iconic gathering places in all of magic, the place to be. When Gary was collecting (hoarding?) Melinda ephemera in her heyday, he was kind enough to sell me some. I adore the charm of some of his books that I possess (Darwin's 201 Jokes for Card Magicians, Darwin's Inexpensive Illusions, and Dondrake's Black Art Breakthroughs). Additional titles include Darwin's Thumb Tip Miracles, Thumb Tip Secrets, Thumb Tip Thinking, Close-up Miracles, Who Invented the Magic?, Autograph Poster Gallery, and 101 Thumb Tip Tricks. Scott Wells treats you to a video tour of Gary's home here and of course to a podcast. (Note: The sketch of Johnny Thompson at the top of the page is from Gary's 201 Jokes book, for which Johnny wrote the Foreword.)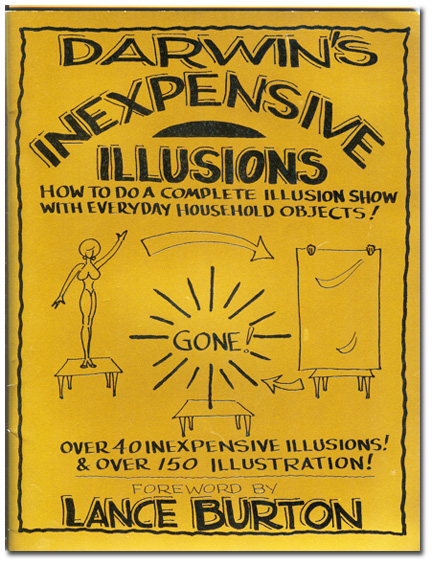 Gary's books were golden.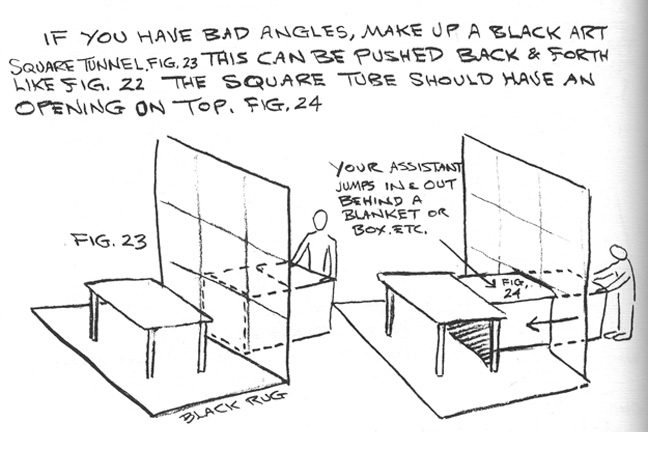 Gary's sketches make you believe you can do this stuff.
Although Waltzing Matilda came first, it was Steve Dusheck's Wunderbar -- a silver cylinder that floated out of a test tube -- that first caught my notice. I never figured out a use for it, but I thought it was cool. Only one of Steve's books is in my library, Dusheck's Close-up Magic, with three dozen small apparatus items, several with gimmicked dollar bills, easy to make up. His other titles, all from the early nineties, address Thumb Tip Magic, Coin Magic, Card Magic, and Mental Magic. The thinking in the close-up book is stellar. Steve was a very creative guy.
James Hodges I knew only through his artwork, his very sexy artwork. (I note that he was far more versatile: see Jean Merlin's obituary of him in the April issue of Genii.) Of the books in my own collection that his art adorns, it is great fun to page through Full Bloom (two volumes, Gaetan Bloom), The Great Stage Illusions of James Hodges (two volumes, James Hodges), and Sexy Magic (James Hodges).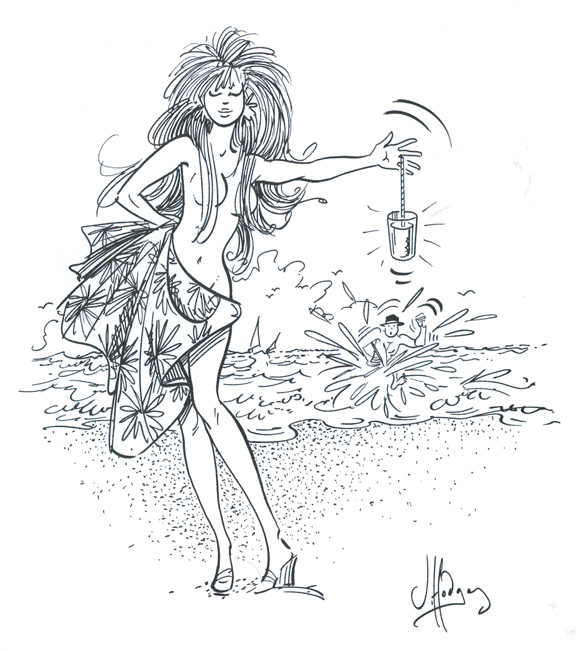 A James Hodges illustration from Full Bloom.
And then there is Marshall Brodien, Chicago's uber purveyor of TV Magic Cards and Wizzo the Wizard (puns intended) on "Bozo's Circus." The Chicago Tribune gave him a nice sendoff here. I met Mr. Brodien only once, briefly, at the premiere of Brett Daniels' wonderful Wohscigam. A fun night.
Aloha all.