Disney's Melinda: First Lady of Magic aired on CBS at 8:00, on Friday, May 30. Produced by Gary Ouellet and Stephen Zandrick, the television special was a fast concoction of dance and illusion and costume changes, beginning with the roar of a motorcycle and climaxing nearly an hour later with a race car revved up to "180 miles per hour." And so we begin . . .
The Motorcycle Vanish -- In a tight black body suit, Melinda opens with the vanish of herself on a motorcycle, with our girl reappearing from an empty box. Appraisal: "she" was too far away from the camera when the rider and bike vanished for this to be effective on tv. In addition, I don't think straightforward black art vanishes fool anyone. It's nevertheless an upbeat opener that gets the show off to an energetic start. (Melinda has outgrown, especially in this Disney context, the bump and grind opening sequence she featured years ago on stage and on her Dick Clark Presents appearance, in which her black outfit vanished, via a full light seance gimmick, to reveal her in a shiny string bikini. There is a world beyond Las Vegas, and times change, but that opener remains one of the most memorable openers to a magic act I've seen.)
Opening Chat -- Gorgeous in a black strapless evening gown, Melinda introduces the fact that the show will be framed as "weaving my magic with a special story about a little girl who has a big imagination." The little girl is Kelsey Mulrooney, who with her screen mom, Shelley Long, dreams up a female magician named Melinda. I found this a challenging premise -- that a famous female magician can exist only in a little girl's imagination.
The Winged Horse Vanish -- Melinda rides into Kelsey's fantasy on a winged white horse, and the horse vanishes. Again, I don't find black art vanishes believable. Roy Horn also uses black art to vanish himself and steed, on the Mirage stage, and it doesn't work for him either. But I've always liked Melinda's entrance on that horse, as well as Roy's (a better rider, he compels his horse to dance). In each case, the horse is a beautiful accessory in search of a stronger illusion in which to use it.
Melinda Meets Her Prince -- One of the strongest illusion sequences and one of the most Copperfield-esque. It's a sexy, romantic number in which Melinda turns a cleaning maid into her boyfriend, and later back into the cleaning lady. Both exchanges were fast and startling, and Melinda looked lovely for this segment in an extremely short blue dress. (I immediately thought of it as her Becker dress, as it threatened to expose all her secrets.)
The Honeymoon Prediction -- In the black evening gown, Melinda flirts with a fellow from the audience whom she has lured on stage to participate in a prediction of where and how she and the guy will spend their honeymoon. Such a segment (flirtation) has always been a part of Melinda's stage show, often via the context of a guillotine illusion.
The Redcoats Are Coming -- In a red Revolutionary War jacket, and with great legs, Melinda dances her way through a piece that includes a cannon ball zombie, a dove production and vanish, and Melinda being shot from a cannon. Zombie is of course out of fashion in magic circles, but I still recall a day in junior high when I had inadvertently missed the Neil Foster episode of Don Alan's Magic Ranch. "They had this guy," my buddies said, "and he had a floating ball that floated all around his arms. It was really neat. It must have cost $10,000." In one unusual move, Melinda bent backwards toward the audience and let the ball float across her chest. I'd like to have seen Neil Foster do that. More on the cannon trick below.
Sword Suspension -- In the black body suit, Melinda announces an illusion with a gender switch. Following some more dancing, she hypnotizes a male dancer and uses him as the "victim" or subject in the classic sword suspension illusion. Very nicely done.
Asrah and More -- Magicians familiar with Melinda's stage show know this one as her "Phantom" illusion, because she used to perform it to Phantom of the Opera music. It's a switch illusion, in which Melinda is hypnotized by a witch and levitated via Asrah. When she vanishes in mid-air, the witch suddenly turns out to be Melinda.
Roger Rabbit and Company -- Melinda is billed as Disney's Melinda for this special, and this extended segment exhibits the most overt Disney influence. Various Disney characters are eliminated in a touch screen effect, which homes in at last -- as predicted! -- on Cruella de Vil. Cruella is vanished from a large (really large) cloth, to be replaced by Roger Rabbit in an airplane. Whew! As impressive as the production of an airplane and a popular cartoon character might be, the magic in this playlet paled next to the sight of Melinda, with her hair straight, wearing the red dress once worn by Jessica Rabbit, the toon femme fatale from Who Framed Roger Rabbit. Wahoo. Roger Ebert describes Roger Rabbit's curvaceous wife as "the improbably pneumatic" Jessica, and the same might be said of Melinda. Three dimensions, amply filled out by Melinda, are far more impressive than Jessica's two.
The Drill of Death -- This is the industrial strength version of Impaled that was the surprise hit of World's Greatest Magic II, with all the sparks and grinding gears of its original television premiere. Melinda casts this illusion as being "about not giving up -- even when things seem hopeless." It's one of my favorite illusions, alongside Copperfield's Death Saw and Lance's original dual levitation and the Pendragons' Metamorphosis. Melinda looks vulnerable and terrific in this one, and my only disappointment is that it didn't have, from the WGM II version, (a) the suspense of wondering if she would fall out of her costume and (b) the kittenish pose at the finish.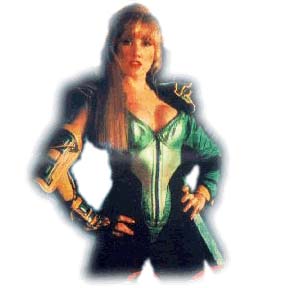 From a previous WGM II review: Tonight, Melinda was the best of the best . . . This year she returned to premiere the Drill of Death, an astonishing new illusion, a major updating of the spike-through-back penetration that has been performed by major illusionists from David Copperfield to Siegfried and Roy (in their act the "spike" is a horn on the giant mechanical dragon). This is the strongest version yet, an incredible hunk of machinery with the longest and widest spike, in this case a gigantic drill bit (movie fans may be reminded of the gory murder in the movie Body Double). Melinda's first illusion, if it is one, is created by her new wonder bra, and that long blond hair flipping like a whip, and suddenly you aren't going to take your eyes off her. As the drill penetrates Melinda and then rises to a vertical position, with her limp impaled body spinning twenty feet in the air and everyone wondering if anything is going to fall out of that costume, the production values are awesome: sparks flying as the machine fires up, the deep rumbling of an eight-ton mechanical contraption in motion, ethereal religious chanting as Melinda spins in death, and first-rate camera work. . . It should be noted that, in addition to her world-class looks and charms, Melinda brings considerable dancing and athletic talent to this particular effect. The illusion tonight concludes with Melinda crouching, restored, in a pouty, kittenish pose, the blond hair draped over mostly-visible breasts, looking like the heroine in a Frank Frazetta painting. This is exciting, baffling, sensual magic -- as good as it gets. -- The Little Egypt Gazette, December 1995

Al Unser Vanishes -- Yes, Al Unser, in a race car chained to a table (the car, not Al), vanishes, even though the vehicle is surrounded by spectators from the audience (who walk to the stage like hypnotized converts at a tent revival). Am I watching a Melinda special or a D.C. special? Ah, at least we're watching the one who looks best in black leather. I've no idea how this works, but have been conditioned to be highly suspicious of any produced or vanished object being surrounded by audience members. The coolest scripting of the show: Melinda breaks all the rules and never brings Al back! Perhaps she requires a second special to pull that off.
Twin Levitation -- As the show, and its dreamlike metaphor, closes, Melinda causes a sleeping Kelsey Mulrooney to float off the bed. In order to pass a hoop over the child conveniently, Melinda herself rises into the air.