MAGNIFICO -- Under the unassuming title A Book in English, Spanish magician and Tamariz student/colleague Woody Aragon delivers a blockbuster debut magic book. This 376-page opus, largely devoted to the upper echelon of card magic's mathematical subtleties, is a worthy companion to Tamariz's Mnemonica and the best of Simon Aronson. If this makes the book sound too esoteric, don't worry; it isn't. You get to perform the first two tricks in the book on yourself, and they work whether you know how you did them or not. I had to laugh out loud as each surprised me with a climax I didn't see coming. It just wasn't possible.
A few of the tricks require a Faro shuffle. As this technique isn't in my arsenal, I am most disappointed at not being able to perform such numbers as Woody's "The Human Scale," in which the magician apparently has the ability to gauge the quantity of a bunch of cards by weighing them. Check the September 5th entry in Woody's blog for a YouTube performance of the routine, in which Woody gets nine minutes of solid laughs with it. As with his mentor, Juan Tamariz, devious mathematical principles underly commercial, comedic performance pieces.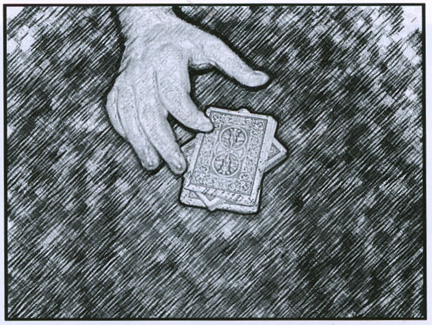 Woody's Anti-Faro.
Of course, many effects avoid math altogether. A chapter of sleights highlights "The Separagon," a utility approach to accomplishing what Lennart Green's "Angle Separation" does, with several uses. A chapter on special cards includes several that I want to do. "Do Not Get Confused" is a take-off on a Nick Trost effect in which cards flip over at will and then all turn blank. "Clockwork Woody" is a Clock effect in which all the cards are blank. "The Psychic Deck" is an amazing study in what you can do with a deck of shuffled YES-NO cards.
At the opposite extreme, a chapter on "The Permanent Deck Principle" analyzes a deck that retains its order no matter how many times it is shuffled, taking us into intellectual deep weeds. The standout use for this is an effect called "Postcards," in which you predict the order of a stack of postcards no matter how many times the specs shuffle it.
In between are a host of goodies. My favorite routine in the book, and one that fooled me at the outset, is "How to Find Your Other Half," in which the specs create an astonishing coincidence with cards ripped up and shuffled in their own hands. Woody should have sold this to Copperfield, and it would kill on television. "Si Fry" allows the spec to remove a random number (say 10) of cards from a shuffled deck, and the magi divines each card. "Bored of Shuffling" is an improvement to Simon Aronson's "Shuffle Bored." "Psychic Poker" allows the spec to deal poker hands off the top or bottom of a shuffled deck. The magi then divines the winner, the contents of each hand, the position of one of the cards, and so on. "Blessed Poker" is a fine ten-card poker deal routine, and I would definitely combine it with "Winner's Intuition," which allows you to determine which poker hand is the winner of hands fairly shuffled and secreted in separate card boxes. Dang, there is just so much good material here. (Minor rant: In this book, as it was in the recently reviewed Square from Patrick G. Redford, it was a "given" that Mel Gibson is Bret Maverick. No, no, no. That movie was just a blip on the legend. James Garner is Bret Maverick!)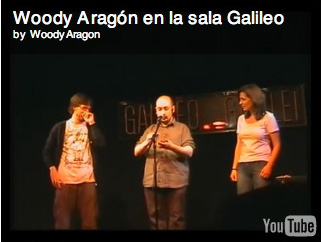 Woody weighs the cards.
Rounding out the magic is an interview with Woody and a selection of essays. All are novel and insightful, and I particularly enjoyed the essay on the structure of magic. Others will be praising this book, and someone is going to fool you badly with this material if you don't get to it first. This is what is so frustrating about a book such as this. That is, just how much other killer material is out there that we don't know about, in Spanish, in Japanese, in French, etc.? Ah, what a nice field of study magic is.
Hardback, 376 pages, a lavish production, $49.95, from your favorite dealer. Foreword by Juan Tamariz. I got mine from H&R Magic Books.