THE PERFECT STORM-- The 75th Anniversary Genii Bash was that rare perfect mix of location, swag, talent, attendees, and behind the scenes expertise that made it a candidate for many of the registrants' "best ever" lists. So much was packed into so few days (three full days plus a night before and for some a Sunday after) that I can't begin to cover the whole shebang. I shall instead list the ten elements that defined it for me.
The swag. The gorgeous leather padfolio that all registrants received contained so much swag that it took four single-spaced typed pages just to list and describe the contents. There has never been anything quite like it in magic, with a mini magic set, numerous gaffed cards, gimmicks, DVDs, and original tricks from the likes of Tamariz and Racherbaumer written up and illustrated in full color. Of special note, a full two-hour lecture by Dai Vernon (this from his $1000 a stop farewell lecture tour with Joe Cossari in 1976) and a complete file of Mahatma. The latter thanks to the Conjuring Arts Research Center, the folio itself compliments of David Copperfield.
In addition to the folio, Richard held drawings throughout the convention to give away some serious loot, including a Losander floating table and two of the Siegfried and Roy books. As my name wasn't called, I assume it was rigged!
The hotel. Great conventions are often made by great accommodations, and this Florida Hotel, attached to the largest mall in central Florida, helped make this one of the best stays since the Galt in Louisville. The convention schedule was packed so tight that time to dine was at a premium. Having two Starbucks and an impressive food court just steps away, with finer dining if you wanted it, was great thinking. For after hours socializing, you need to have an area available with tables and you need a bar nearby, and we had both. This setup populated with the impressive guest list made for some of the best moments of the convention.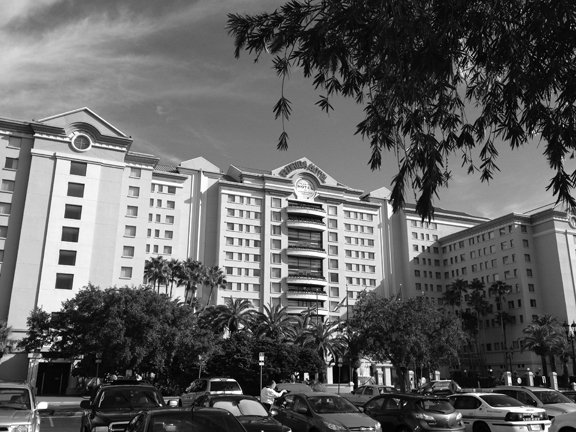 The Florida Hotel.
Charlie Frye's tour de farce. In a convention boasting such luminaries as Juan Tamariz, Guy Hollingworth, and Roberto Giobbi, three other performers were the ones generating all the talk: Charlie Frye, Chad Long, and Rob Zabrecky. To the others in a moment, but first, Charlie, who closed the opening lectures with a million ideas, or so it seemed. My favorite was turning a nail file into anything (the "nail file" was actually a snap bracelet flesh-colored on one side). Charlie later closed the convention with a tightly choreographed whirlwind of juggling, balancing, mime, comedy, and magic. I knew going in that Charlie had more raw showbiz talent and physical skills than anyone else on the agenda, and he exceeded expectations. The magic included a linking ring routine with hula hoop sized rings and a zombie routine with a bowling ball that fooled me badly. As my seatmate said, this is the best zombie routine I've ever seen. Charlie mentioned later that he has been around the world with his act five times this year.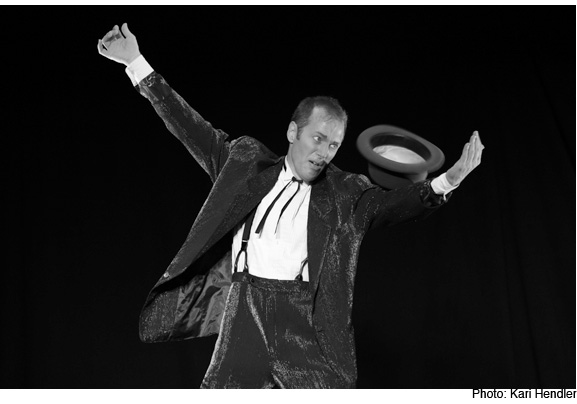 The old hat trick.
Chad Long's vanishing and reappearing spaghetti. This was my favorite bit from Chad's manic lecture and parlor performance. Chad, who also seems to have a million ideas, was a last-minute sub for Michael Weber and, for my money, the stronger choice. Chad's magic is strikingly visual, such as his card from wall, knitting a silk from thin air, and color changing flash drives. I also loved his book test called Spineless and his four-coin production from a card (with gag method), but it was his hilarious helter-skelter delivery that had everyone talking. Great addition to the lineup.
Rob Zabrecky's character from the dark side. Zabrecky was the performer I came to this convention to see. I knew of this Magic Castle favorite from his Tina Lenert article in The Mandala and MAGIC, and from his Who's Hoo interviews, but had never seen the act. What a treat to see this Norman Bates-like character introduce his 95-year-old grandfather (in an urn), cut out paper dolls in a scene out of Charles Addams, and perform the Diminishing Cards to dance moves that would have made Peewee Herman proud. Ghoulish good fun and possibly the most talked about act of the convention. Guys were coming out of the parlor show and calling their wives to rave about him.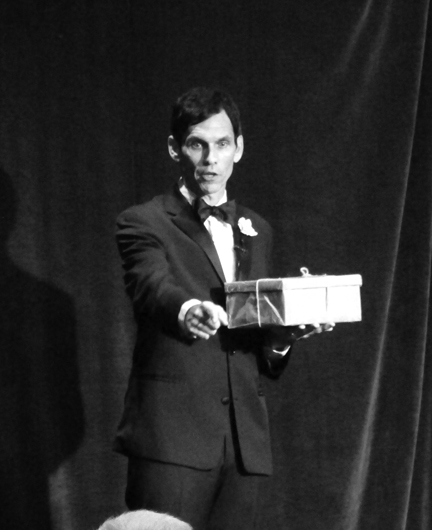 Rob Zabrecky and Macguffin.
Jonathan Pendragon performing Clearly Impossible with Liberty Larsen. First, it was a treat to see this third-generation box jumper carrying on the tradition. And second, nice to see Jonathan, on his honeymoon, defying the notion that there are no second acts in America. The new act is a baffling revue featuring Liberty, Jacosa (West's daughter), and West herself as a charismatic hostess. And oh yes, the Broom Suspension fooled me when the hoop passed through the feather that served as a fulcrum.
Jonathan Levit performing Thurston's Rising Card. This is one of the first card tricks I ever read about, and I'm glad it was brought out from the Los Angeles History Conference for us to witness. I hadn't previously realized that the trick involved any card called for, and I understand that part is explained in Steinmeyer's Thurston book. Now a must read.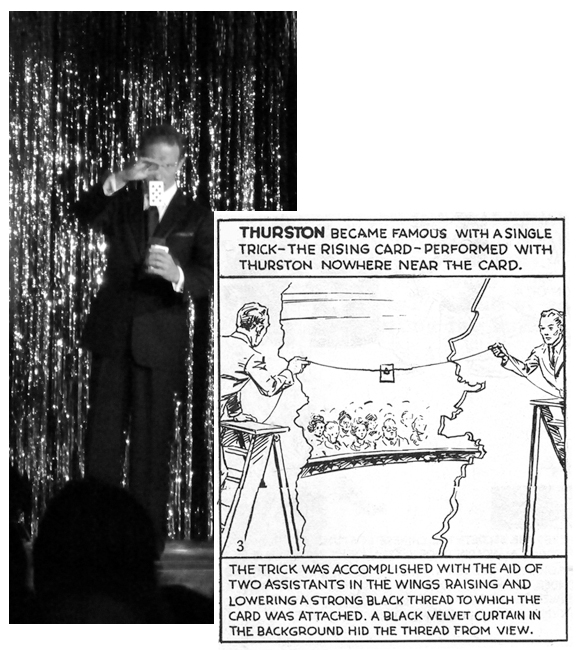 Jonathan Levit revives Thurston's Rising Card.
David Ben performing (and teaching) Ross Bertram's Coin Assembly (and other coin tricks). David performs material out of Stars of Magic cleaner than anyone. I had previously drooled over his Slow Motion Four Aces, and now this! It looks as good as Armando Lucero's Coin Assembly and drew gasps.
Uri Geller's life story. Uri Geller catapulted what is basically a dinner table stunt into a career, and he told us how. He was fascinating and charming, as commanding a stage presence as Steve Jobs, and he stayed for two days after his presentation to talk with anyone and answer any questions. This was one of the events that made this convention a once in a lifetime event.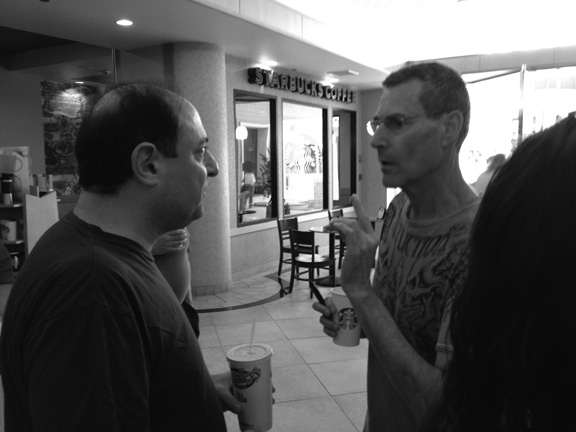 Uri Geller advises David Kaye.
Matt Field interviewing Irene Larsen, Erika Larsen, and Richard Kaufman. Genii has seriously impacted my life, and it was great to hear the stories behind it from those best around to tell them. News to me was that The New Yorker was Bill Larsen, Jr.'s favorite magazine. Mine too. Also nice that all three generations of Larsen ladies looked absolutely smashing, a fact that did not go unnoticed.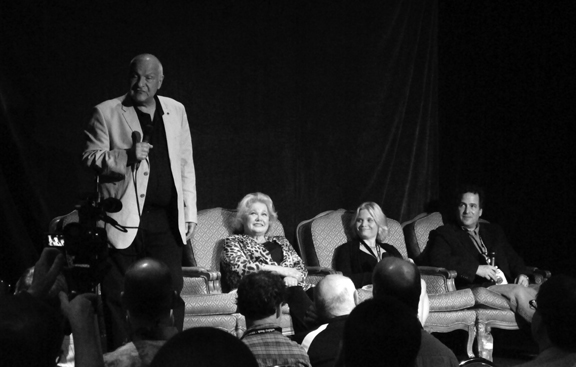 Matt Field interviews the Genii threesome.
And so much more, including Jim Steinmeyer's lecture featuring his excellent Tuzot Sensu and a new illusion, the utra slow motion manipulation of Lukas (Lee Ki Suk), Scott Land's Ballantine marionette, Alex Ramon performing Steinmeyer's Toccata for Light Bulb and Paper Bag, the exquisite and well thought out sleight of hand of John Carney, the scary magic of Eugene Burger including my favorite 13 for Dinner, Tom Stone's gag interlude teaching the Silk to Egg with Michael Ammar as a random guest from the audience, Tom Stone performing Of Dice and Men with Rob Zabrecky as the assisting spectator (an ideal trick for Rob to do in his act), Jon Armstrong's rubber band through neck, everything Peter Samelson did, Guy Hollingworth's classic card tricks, Juan Tamariz's wonderful full show (this impish performer can fill a stage with magic using only a deck of cards; the reaction he got from Cards Across was priceless, twice!), Eric Mead's juggling (yes – and he was only the second best juggler on the program) and Thumb Tie, and Jon Racherbaumer's just being there. (I wish I could list everyone, but the schedule was just too packed for me to see everyone, hence only a partial list. Somewhere among all this, I should note that Jim Steinmeyer and Tom Stone are the two most creative guys in magic, but then you know that.)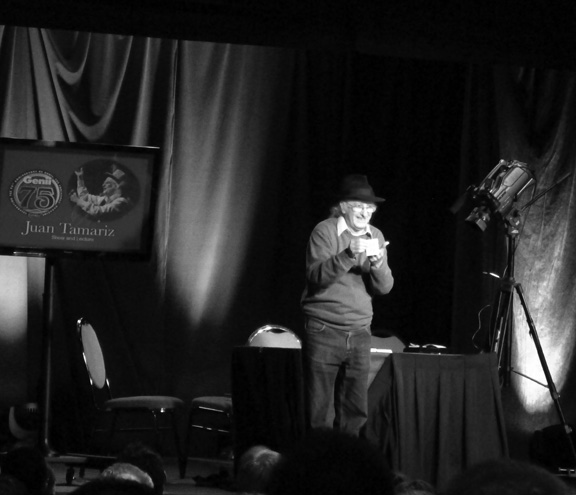 Juan Tamariz fills a stage.
Everyone has private moments. I loved seeing Andy Greget perform Kitties, a Tenyo takeoff on a familiar optical illusion. Charlie Frye kept nonchalantly doing 360-degree fans with my new deck of Magic Castle cards. Kent Gunn showed me his original story card trick (alas, the clean version). Sandy Marshall gave me one of the programs from Max Maven's recent hit show in NYC. As I later waited in the dark for Max's late night lecture on Equivoque to begin, a little girl with a teddy bear came up to me and said, "Sir, is this a show or a lecture?" I thought, "Oh, my," And lots of folks came up to me and spoke about Little Egypt Magic. It's nice to know you are all out there.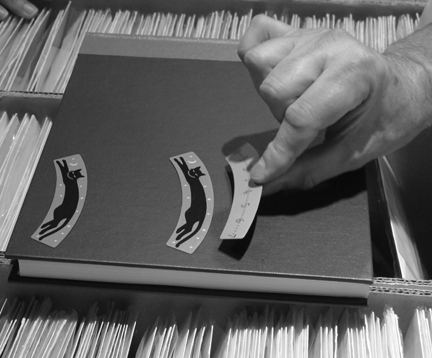 Andy Greget performs Kitties.
Okay, life is real, so everything wasn't completely perfect. This or that performer had a technical glitch, my butt got sore from sitting in those chairs too long, and the lighting and video could have been better. Heck, the guy sitting beside me could have lit it better. (That was a low crack: the guy sitting beside me, at least during one session, was Broadway lighting legend Jules Fisher; it was that kind of convention.)
Speaking of which, the guest list had everyone's head turning. In addition to Jules, there were all my favorite Steves (Minch, Cohen, Beam, and Bedwell), along with David Kaye, Daryl, Michael Ammar, Mike Powers, Robert Farmer, Paul Cummins, Gary Plants, Gene Matsuura, Julie Eng, Noel Britten, Joshua Jay, Andi Gladwin, Sandy Marshall, Pedro Nieves, Alan Kronzek, John Lovick, Gene Anderson, Bill Mullins, Charlie Randall, Dick Hatch, plus the usual host of friends I see at most major conventions (especially my Indiana friends). Lots (including me) even brought wives. These guys plus all the artists and all the dealers and many names from the Genii forum were all accessible, attended each other's lectures and performances, and seemed to be having a great time.
Richard and Liz worked hard, but they and Emma also seemed to have a great time, which was super. I knew we were in good hands when I first saw Bill and Becki Wells behind the tables, and of course Steve Kline and crew kept everything almost on schedule. Also great to see Brad Aldridge again as well as Margret. The Genii crew did a superb job.