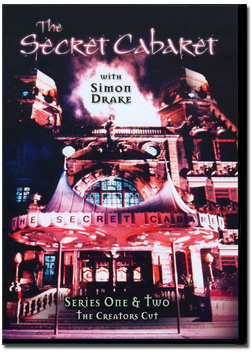 The perfect Halloween DVD for magic lovers.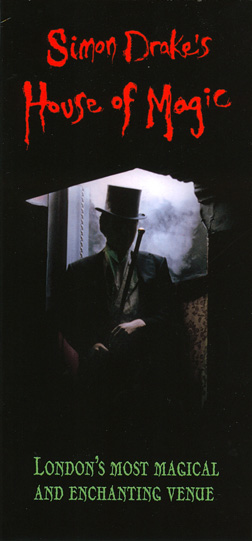 A spook show in MY parlor.
HORRORS -- I must confess that I grew up on the drive-in horror movies of the 1950s, on the gothic cartoons of Charles Addams, and on the ghost stories that we used to tell on dark bus rides to high school football games. If a boy such as this grew up to do card tricks, what would he do? Here in 230 haunted pages lie the answers: part home spook shows developed for my children's friends and their parents, part ghoulish Halloween extravaganzas developed for adult performance in a seedy river town bar. If you've ever wanted to host a seance, put on a midnight ghost show, or haunt a house, this is the book for you. Nearly five decades in the making, nearly four years late, yet almost in time for Halloween, The Little Egypt Book of Ghosts is soon to be unearthed. We've been digging in the cemetery all summer, and H&R Magic Books is now taking orders, $45 plus shipping. As Dr. Acula used to say in my favorite childhood magazine, "You axed for it!" Check the details at H&R Magic Books or here at Little Egypt Magic.
GETTING REEL -- I became a fan of Reel Magic Quarterly, Koz's $10 DVD magazine, last November, with the Jason Alexander issue. The zine has been uniformly great ever since, and the current "Mac King" issue (October 2008) is no exception. Stuff I enjoyed most in this issue: 1. John Lovick's interview with Mac. I laughed out loud many times. New anecdotes, even to this veteran Mac King fan.2. Simon Lovell's walking, fist-fighting, and wrestling match tour of the IBM/SAM dealer's room in Louisville. 3. Matt Richman's performance and explanation of Charlie Miller's Cascade Control, which I first saw Matt do in Louisville. And 4. Garrett Thomas' incredible (both in appearance and how easy it is) switch of small objects, especially a normal quarter for a Cigarette Through Quarter gimmick. This should make you want to buy the gimmick. All in all high quality stuff at a great price, from Reel Magic Quarterly.
ELECTION MAGIC -- A fundraiser for Barack Obama and Joe Biden took place October 27 in a private Bethesda, MD home, featuring "light dinner, libations, and legerdemain." Alain Nu, Darwin Ortiz, Mark Phillips, Francis Menotti, Charles Green III, and special guest Al Cohen, among others, provided the legerdemain. At $250 per ticket, this was a pricey magic show, but a set of performers I would love to have seen work. The audience was seated in various rooms, and the magicians moved from room to room to entertain them. Magicians have long supported political causes and winners, and I understand from The Magic Newswire that the next issue of MAGIC will address that topic.
October 2008
Happy Halloween! In 2004, when I published The Little Egypt Book of Numbers, I concluded it with a preview of coming attractions, namely The Little Egypt Book of Ghosts. Although I fully expected to publish that book by 2005, it has taken four years and a lot more work than I had in mind, but I trust you will find it an even more valuable work at 230 pages, with more than double the routines, and with a more handsome look and feel (even though I continue to love its predecessor, still in print). I hope to see the first copies in a week or so, and, if you love scary magic tricks, perhaps you are hoping so too. H&R Magic Books has been offering a pre-publication deal since early this month, and I trust some of you took advantage. Other items of interest this month include three Simon Drake offerings (Simon is the spookiest magician on the planet!), the latest Reel Magic Quarterly, more great listening from The Magic Newswire, a magic fundraiser for Obama, and a visit to Magic, Inc. As Halloween is supposed to be scary, I can think of nothing scarier that to post a photo of my mug, at the bottom of this page. It appeared on the cover of the October issue of MUM, an honor which I was most grateful to receive, so heartfelt thanks to John Moehring for the idea and execution and to Jon Racherbaumer for some most flattering text. (News flash: as the only direction MUM could go from there is up, Mike Close has agree to be the new editor.)
SIMON SAYS -- Simon Drake says don't wait! The license period for his DVD featuring two years of his performances on The Secret Cabaret is coming to an end, and the DVD is now offered at half price (12.5 pounds plus postage). Quite simply, this is one of the most thrilling magic DVDs I have ever seen. Although I had enjoyed a few of Simon's performances on YouTube, I was unprepared for the range of his abilities. Both his magic and his attire range from Alice Cooper to Fred Astaire. There are chilling, bloody segments (The Hospital Scene was almost too gory to behold) and lovely, elegant routines such as the bare hand producion of eggs or the Silhouette Routine in which canes are produced and vanished in silhouette. There is high comedy and acting in The Drinking Act, in which Simon produces drink after drink, imbibing each until he is so tipsy he passes out. This could have been a hit on the Ed Sullivan show. There are geek sideshow things to simply look at (described in prose worthy of Ricky Jay), such as a half man, the decapitated head of Mary Queen of Scots, a live hand severed from a pickpocket, and a giant snake with a lady's head. Consider Devil of a Hat: From a hat on a bare table, Simon produces a flower pot with a growing flower, a bowl of goldfish, money, necklaces, a pistol, a liquor bottle, a large knife, and a syringe, after which a human hand arises holding a giant eyeball which looks about. Simon takes the knife and severs the hand, then carries it into the audience (a la Kevin James' It's Alive!). Just so cool. Interspersing the main bits are lovely little pieces including close-up magic, Tim Burton-like animated dolls, startling card manipulations, and ancient silent movie clips, some of nude women prancing about. Given the extraordinary sets, production values, and Jim Steinmeyer help behind the scenes, coupled with Simon's amazing abilities, this is some of the best magic ever filmed. Don't miss the chance to see it.
CHEZ SIMON -- Even better than watching the DVD, you can visit Simon in his home. According to the House of Magic brochure, this "permanently themed 4000 sq ft Victorian residence with its lavishly designed interior evokes an eerie and entrhalling atmosphere." Here you enter "through the Enchanted Garden to the gothic splendor of the Red Room," listen "in wonder as an invisible sooth-sayer reveals your fortune on the Whispering Chair," journey "down to the Haunted Cellar with our eccentric butler," and be "dazzled by incredible marvels of the close-up tricksters." All this the prelude to "Simon Drake's Magical Extravaganza of spooky, eye popping illusions, tongue-in-cheek amputations, and hilarious decapitations." Although Simon mostly opens his strange Addams Family home to corporate parties, he hosts public nights on the last Friday of the month. Ah, lucky locals and visitors to London, we envy you. Check into House of Magic for details.
SIMON ROCKS -- And if the above isn't enough, Simon presents further mysteries on the DVD Iron Maiden Raising Hell, a 1993 rock concert. This is slightly difficult to view if you are not a fan of the band, as Simon's bits aren't called out in the menu, but worth a look if you are a Simon fan, as I have become.
MORE TALK RADIO -- Last month I mentioned my favorite new pastime, listening to podcasts, especially those from Dodd Vickers' The Magic Newswire. It's surreal to be shooting baskets at the gym while listening to Max Maven discuss how he earned the respect of Dai Vernon. All of Dodd's interviews have uncovered new info, and I've continued to enjoy time spent with them, this month with Irene Larsen, Jamy Ian Swiss, Jeff McBride, Brad Christian, Daniel Garcia, and Richard Turner. Richard's discussion of his relationships with the Professor, Charlie Miller, and Ed Marlo top the bunch and should be immortalized in print some day. I find that I am exercising more just to make time to listen to these broadcasts. It's a win-win situation. Check it out at The Magic Newswire.
BRICK AND MORTAR -- As convenient as it is to purchase magic on internet, no such experience can match walking into a brick and mortar magic shop. This month I ventured into my favorite of such shops, Magic, Inc., in Chicago. There I found the delightful manager, Pedro Nieves, hard at work, assisting a customer in figuring out some ingenious small apparatus from her past and demonstrating items new to her and her daughter, including a hilariously performed Rocky Raccoon. I personally replenished my Al Leech collection, which had gone missing, with eight (!) titles still in print (all Magic, Inc.), and added two Frances Marshall titles that had somehow escaped me in my youth. The shop looks great, and the adjacent room is still seemingly a-clutter, with a Marshall (Jay's grandson) draped behind the desk. A fine afternoon.