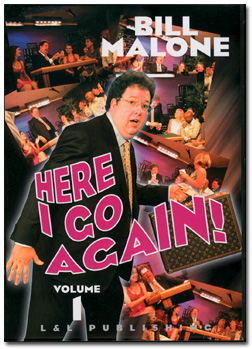 Bill Malone - the sequel.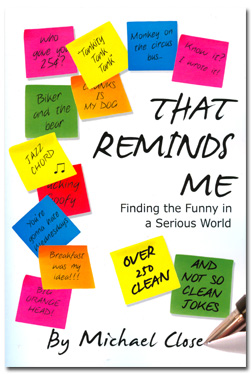 Mike Close cracks everybody up.
BILL MA-LONE! -- I recently remodeled my office with the goal of purging it of all but the most essential materials. The only commercial dvds I allowed to remain were those of Bill Malone, Doc Eason, and David Regal. To that initial Malone On the Loose set of four I've added the new Here I Go Again! set of three as can't-live-without viewing. I found it incredible that Bill left this much great stuff out of the first set. "Marlo's Miracle Ace Cutting" is probably as close as you will ever come to the real thing. "Marlo's Simple Triumph" is the easiest, fastest "Triumph" you will ever do. Bill's "Cards to Pocket" is a masterpiece, and he gets far more mileage than you ever thought possible from the "Marlo-Gardner Poker Deal." Bill teaches the real secrets of his "Cards from Mouth" and populates all the tricks with great controls, false shuffles, and false cuts. This is just world-class material. Oh, yes, Louis Falanga has brought in a new set of spectators, and you are going to enjoy looking at them. The second time through, I actually watched Bill Malone. $99.95 for the set, available everywhere but you'll probably get the best deal straight from Louis at LLPUB.COM.
GET STONED -- Tom Stone's latest e-book, Flatland Fever , is all cards and all great. The trick worth the price of the book for me was "The Etude," an oh-so-clean revelation of two cards chosen from a (secretly) stacked deck. Yes, you already know ways to do this, but few are this clever, direct, baffling, or satisfying. $15 directly from Tom Stone.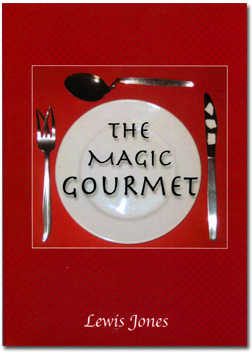 A feast from Lewis Jones.
FLYDINI OPENS UP -- That one-time Disneyland magic shop demonstrator Steve Martin has a new bio coming out November 20, Born Standing Up. As part of the advance build-up, the Oct 29, 2007 issue of The New Yorker contains an article by Steve titled "In the Bird Cage," a chronicle of his early days in show business and how he wound up selecting that as a career. The piece contains a couple of great ideas on dealing with hecklers and opens with an ad for Steve's act at the Ice House in Pasadena: "Steve Martin -- a fantastically clever comedian, magician and all-around good guy." Even better is an extended online interview with Steve at the Steve Martin Interview. Among other things, the airing includes segments of Steve's "white suit" comedy act, the complete Flydini act as performed on the Tonight Show, and Steve twirling a rope.
October 2007
For a month that promised diversion of a different sort, namely a new addition to the long-running circus and magic show that we call Family, it ended in a surfeit of magical items as well, namely a new set of dvds from Bill Malone, a hilarious book of jokes from Mike Close, a killer e-book from Tom Stone, a generous book of new material from Lewis Jones, and new visits with Steve Martin. All of this pales of course next to welcoming a new visitor to the planet, the exquisite, inquisitive, long-legged, and very blond Miss Audrey Elizabeth Beverton, my new granddaughter. (She is half-British and cries with the most adorable accent!)
THE LAUGH FACTORY -- "You're not trying to escape, are you?" "I had a gig." "He's not our regular drummer." "Karen Carpenter." "Were you at the first or the second show?" "You're not just here for the hunting, are you?" These words, I argue, are among the funniest in the English language when heard in the context of Mike Close's new 207-page collection of his favorite jokes, That Reminds Me. Here is your quandary: do you buy this book for yourself and hoard the jokes -- the best you will ever find -- to dole out at appropriate moments, or do you buy copies of the book and give them to friends for Christmas, birthdays, whatever? At $20 the book is a steal, available at lulu.com (then search on the title or Mike's name). I'll close with a couple of paragraphs from an extended review that I posted on the lulu site. There you will find raves from several top magicians who have had their days brightened by the jokes in this book.
From the review: The jokes themselves are pure comedy gold, jokes you will immediately want to tell your friends. (Telling jokes is not an easy skill, and Michael sprinkles tips throughout the book on how to do it well.) On occasion the setups are so funny you just don't care where the joke is headed. I was laughing so hard at a three-legged chicken racing alongside a car or at a deranged bear hunter that I was already transported out of the humdrum of life. (I would say that the punch lines didn't even matter, but that bear joke punch line just may be the funniest line in the book.) Some of the laughs in the book are not jokes per se but are real lines or situations that Michael relates. I exploded with laughter upon hearing a high school classmate's whispered definition of Oedipus Rex, upon hearing Eric Mead's line regarding a troublesome spectator, upon hearing Penn Jillette's practical joke on a heartsick friend.
This book is brimming with humanity. You will meet wonderful people, and you will learn a lot about Michael Close. I love the whole conceit of the book, of jokes as autobiography. For myself, many of the jokes took me back to when and where I was when I heard Mike Close himself tell them to me. I also heard firsthand a joke by the late British magician/comedian Bob Read (slightly re-written from the book to the way I heard it). We were attending a magicians' convention at the Tropicana in Las Vegas. Bob's joke:
"I'm staying across the street at New York, New York. It has a pool on the thirty-fourth floor. Do you have any idea how deep that is?"
To this day, I do not drive by New York, New York without thinking about that pool on the thirty-fourth floor -- I'm convinced it exists -- or without thinking about Bob Read.
So purchase and revel in this book. You will not find a funnier or warmer collection of jokes anywhere.
FINE DINING -- A late-month surprise in my mailbox was the newest collection from Lewis Jones, a handsome 154-page softback titled The Magic Gourmet. Although I've not had time to thoroughly digest its contents, I shall alert you to the book's availability, as Lewis has printed only 300 copies, and discriminating readers will no doubt deplete that quantity rapidly. Although some of the material involves sleight of hand (there are new card moves, and tricks with coins and rubber bands), I remain partial to those accomplished by cleverly-hidden behind the scenes math. After performing "Tell" (ultimately, a card revelation), you'll have trouble finding spectators willing to play poker with you. "Pas de deux" is a fine addition to Lewis's body of work on telephone telepathy. "Triplets" is a fascinating extension begun in "Twin" on clocking a deck, and "Word perfect" contains useful variants on Val Andrews' Unfaked Book Test (Ian Rowland turned me on to that excellent book test several years ago). "Mind Over Matter" is a Spectator As Mindreader effect that should be fun to perform. But enough -- if you know who Lewis Jones is, you already want this book. The details: The Magic Gourmet contains 44 effects illustrated with 100 photographs, all printed on Lumi Silk paper. It is available directly from Lewis Jones at lewis.jones@ukonline.co.uk for 25 pounds plus s&h. Postage: UK post free. Europe 3 pounds. Elsewhere 5 pounds. Payment by credit card (VISA, MASTERCARD, EUROCARD), or PayPal.