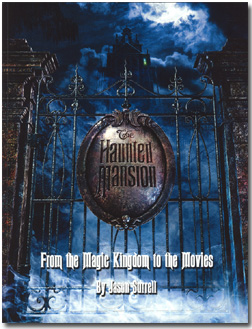 Welcome, foolish mortals

The art and science of misdirection
DARK HOUSE -- From Disney, in time to coincide with the holiday movie of the same name, The Haunted Mansion by Jason Surrell is a gorgeous, rich collection of photos and the stories of the various Haunted Mansions Disney has erected throughout its theme parks. I began drooling over the Haunted Mansion when I first saw Ken Anderson's 1958 drawing in a Sunday supplement, and it has become my favorite E-ticket ride since. This beautiful softcover edition is only $17.99 ($12.59 from Amazon).
DARK ANGEL -- Criss Angel's well-hyped Supernatural special appeared on the Sci-Fi channel Halloween night. Highlights included a very creepy and bloody coin in wrist, Criss vanishing into a rain puddle, Criss walking up a brick wall, a suspended sawing, a scarecrow version of "Interlude," and a unique "Metamorphosis." All quite entertaining with the expected MTV cutting. Criss's NYC stage show with its Cirque du Soleil graphics and surreal creatures has the best "look" of any magic show I've ever seen, and I'm pleased to learn that it's going on tour.
WELCOME TO MY NIGHTMARE -- One of the pleasures and penalties of being an amateur magician is that you occasionally get the urge to "put on a show" of new material for old friends. I've done this often over the years for Halloween, first for my children and more recently for adult friends at a hometown bar. I returned to the latter for the first time in three years with a new edition of Nightmare on Eighth Street. New items this year included the soda can resurrection and David Regal's "Journey to Love." (Being Halloween, I changed Econo-Lodge to Bates Motel, with the line, "That's okay, we just won't take a shower." Speaking of David Regal, I haven't seen his new videos, but how dare he cherry pick my favorite David Regal tricks from his books? Geez.) The big new feature this year was ripping out a girl's heart, based on the routine taught on Rich Marotta's Dynamic Duo video. Running your hand right through a girl's chest is harder than doing card tricks, but it's way more fun. I rounded the show out with various tricks from The Little Egypt Book of Numbers. Photos from the show appear on this page, and you can click to see the actual Souvenir Program. Big news: A local drummer friend is always kind enough to set up audio for me when I do these shows. This year he had a new system, with two large Peavey speakers on tripods and a switch panel that let us mix various CD players and microphones. This room full of equipment all compacts into one portable unit on wheels and is available for about $500. It's the Peavey Escort 2000 and is perfect for dinner shows. Check it out.
October 2003
What a nice October. The month included a great Halloween party out by a Little Egypt lake, a followup party the next night with my latest edition of Nightmare on Eighth Street, a new Criss Angel special, a Haunted Mansion book, two new books at Borders, and three John Carney videos. As my lay friends as well as magician friends may be looking in this month, there are more personal photos than usual. You have been warned.
MASTERPIECE THEATER -- Although John Carney is capable of cutting edge, off the wall comedy (e.g., the strange world of Mr. Mysto, or John's "Astral Projection" trip to Hawaii), I suspect that his heart lies with the classics of magic. In the new two-volume The Video of Secrets, John brings some of the classic routines from his The Book of Secrets to your tv screen. To mention a few of my favorites, "Just a Cigar" is a delightful cigar from purse routine that John attributes to G.W. Hunter. (If you wish to learn this, I highly recommend obtaining wooden cigars from my friend John Rogers. Find him in the dealer section of my Favorite Links.) "Money for Nothing" is John's "Miser's Dream" routine, and it's hard to think of a finer one in print. When I saw John compete at DMS some years ago, I was surprised at how similar John's moves and gags were to those I used. I shouldn't have been: we were both heavily influenced by Charlie Miller's routine. But John also brings elements of Al Flosso's routine (the best ever, viewable on Don Alan's Magic Ranch videos) into play, for a superbly entertaining and quite accessible routine. "Off the Vine" is a ball and net routine done with grapes to make it an ideal impromptu effect. I saw John lecture at Columbus a few years ago, and I came away mightily impressed by "Rubbed Away" and "Silver and Glass." I hoped they would be on these videos, and they are. The former is the real work on vanishing a silk, and the latter is John's work on Vernon's coins and glass routine with the coin star finale. It's the most difficult item on the videos but will more than repay your investment. It's one of the most beautiful standup pieces of coin magic available. Turning to cards, "Multiple Slip" is a very cool way to distribute (yet secretly control) four aces into random parts of the deck. "Up My Sleeve" is a hilarious card up sleeve routine in which all the cards eventually pass up one sleeve, across John's chest, and down the other sleeve, with the very funny sight gag of the chosen card visibly gyrating across John's "manly chest." A gem in this trick is John's detailed work on the dribble force. John is a patient and thorough (very thorough) teacher, and if he keeps this up people are going to start calling him the Professor. Along with these videos John is also offering Carney on Ramsay/Lessons in Misdirection. This video contains Ramsay's "Cylinder and Coins" and "Coins in the Hat." Each item is taught with John's usual meticulous care, and mastering either of these comparatively ancient routines will enable you to blow those modern "Three-Fly" guys off the stage. All three videos are attractively packaged and beautifully shot. $100 pp directly from John at www.carneymagic.com.
AT THE BOOKSTORE -- New arrivals at my local bookstores include David Blaine Mysterious Stranger in softcover ($15.95 or $11.17 at Amazon) and Jim Steinmeyer's excellent Hiding the Elephant ($26 or $18.20 at Amazon). Both are worth your time. (And don't miss the great Jim Steinmeyer issue of Genii, November, 2003.)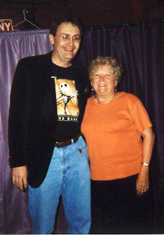 Dee prepares to join Steve on a Journey to Love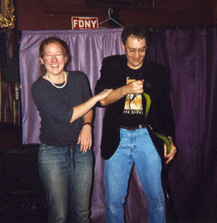 Amy thinks snakes have no place in card tricks