For the second year in a row, the Magic Collectors Weekend under David Ben's Magicana transpired at the Westin Hotel in Chicago, the 42nd such convening of scholarly talks and learned fellowship. Here were old friends to hang with, great stuff to see such as Bill Palmer's cups and Del Ray's electronics, and wine and cheese and desserts to consume. Fortunately, just about all the presenters had trouble with the podium computer, so Julie Eng, who owned it, had to keep rushing to the rescue. Nice interludes. A few additional highlights ...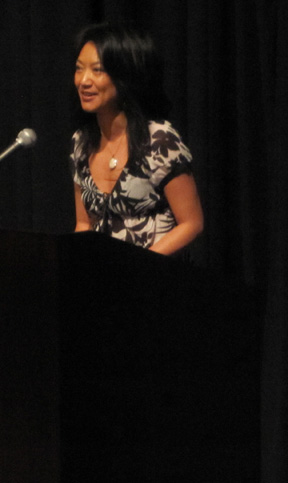 Julie Eng introduces Celeste Evans.
TRICK PHOTOGRAPHY -- When asked during the weekend what I liked best, my answer was easy: a private moment in which John Carney exhibited his latest work on the Open Travelers. When I first saw Larry Jennings do it decades ago, I thought I was watching trick photography, and John's latest additions brought back that feeling. These are important advances, and I can only hope that John publishes them some day. John also demonstrated a beautiful slow motion color changing deck attributed to Vernon.
LUNCH DATE -- My purchase of the new Peter Tappan book, reviewed elsewhere, led to lunch with its editor, Phil Willmarth. What a thrill to hear him talk of Jimmy Molinari, Jim Ryan, Ed Marlo, Tony Andruzzi, Jack Kodell, Senator Crandall, and the Schuliens. I was privy to one of the best "talks" of the convention. Phil needs to write this stuff up.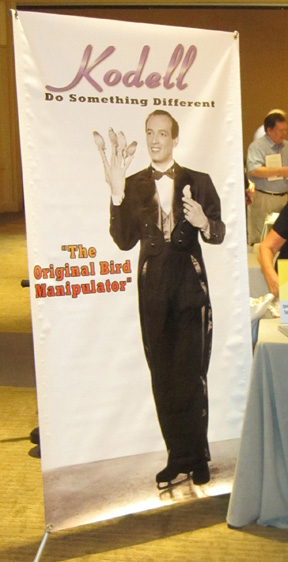 Budgies.
BIRD MEN -- A crusty Ron Urban interviewed Jack Kodell and his wife, Mary. Jack, to catch readers up who don't know, pioneered bird magic with his multiplying parakeet act, performed on ice skates, and Ron Urban eventually benefitted from that, performing with beautiful colored doves and a white poodle, all on ice. The highlight of this segment was film of a sixteen-year-old Kodell performing his bird act. I've seen numerous teen competitions at the World Magic Seminar, and, although the kids are very, very good, they all move and look like teenagers. Kodell moved and looked like a movie star.
COLLECTIONS -- The guests of honor this year were Gene Matsuura and Ray and Ann Goulet. Gene's prize possessions focussed on personal items once in the hands of Dai Vernon, Winston Freer, Slydini, and Faucett Ross, among others. (He is Dr. Matsuura, as most of you know, and his professional services had to be called upon when book dealer Andy Greget fell and injured a knee. A handy guy to have around.) Ray's collection was sort of the opposite: he seems to acquire everything (ex: 300 die boxes, 600 pieces of sheet music related to magic, etc.). After hearing his interview, I thought, "Man, Gene needs to buy some more stuff." Both gentlemen gave fascinating accounts of their collections, Gene via a prepared talk and Ray via an interview by Richard Kaufman.
Jack Kodell and Ron Urban.
BIOS -- Three new biographies were hawked at this convention, one on Kodell, one on Celeste Evans, and one on Tony Andruzzi. Kodell and Celeste represented themselves on the agenda (Celeste was inteviewed by her charming daughter), and author Jim Magus lectured on Tony. The Andruzzi book, Unspeakable Acts by Jim Magus with Terry Nosek and Neil Tobin, was the must-own for me, and I read myself to sleep the first night, somewhere in the middle, with descriptions of all seven Invocationals. Nice memories!
AMATEUR HOUR -- One of my favorite parts of the MCW is the Tricks Old and Seldom Seen afternoon, at which collectors dust off and demonstrate old props. This year I particularly enjoyed David Ben's anything-but-amateur performance of a Downs coin routine (the one in which Vernon knew* Downs was using a gimmick), of Ken Klosterman's passe passe Humboldt and Globe, and of Gale Molovinsky's vanish of Jule Eng's head with a U.F. Grant prop. At one point, when Julie failed to follow Gale's directions to stick her fingers into a pair of holes, some wag shouted, "She can't hear you; her head is gone." Funny stuff.
THE ERDNASIAN SOCIETY -- Saturday morning featured one of the most anticipated sessions, with three significant talks on Erdnase. Jason England led us through the history of the book itself -- its various editions, annotated versions, and works on who Erdnase was. There was a terrific Mike Caveney gag in the middle of this. Hugh McDermott spoke on why the Erdnase book could only have been published in Chicago and why its author had to be anonymous. And Richard Hatch led us through the major candidates for Erdnase's true identity, the most recent being, of all people, Stanley Wesley Stratton and Robert Andrews Millikan. The latter is the Nobel prize winning physicist whose oil drop experiment established the charge on an electron. I once performed the experiment in college, to slightly different results. If Millikan was indeed into chicanery, perhaps this lends more credence to my value. The Elephant in the Room of course was Richard Kaufman, who claims he knows who Erdnase was and will reveal the answer in the September Genii. Will this end the debate, or only fuel it moreso? We shall see.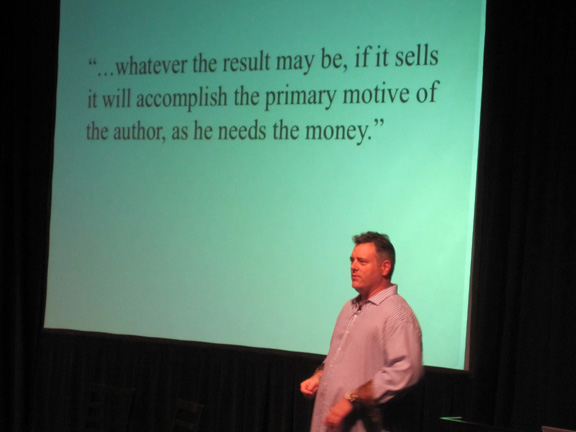 Jason England on the Erdnase publishing history.
RAGGED PERFORMANCE: The biggest disappointment to me was David Charvet's rag pictures on the Saturday night big show, simply because I was looking forward to something else entirely. I had expected to see splotches of cloth added to a background until, thanks to their positions and proportions, they "magically" coalesced into a recognizable image. This is what I always understood rag pictures to be. Instead, David applied flat felt cutouts of complete objects (a skyscraper, a cloud, etc.) to a felt background until a complete scene was formed. This is how my Sunday School teachers used to illustrate bible stories, and I can't imagine that it ever passed as entertainment. We used to call these feltboard stories. Although others shared my views after the show, David is an excellent researcher, so it raises the question: what the hell were rag pictures, anyway? (Hmm, if I am questioning David's rag pictures, perhaps I should question his offering from last year, the Phantom Ray. Perhaps it was a gag!) David's next book project is Emil Jarrow, and I look forward to it.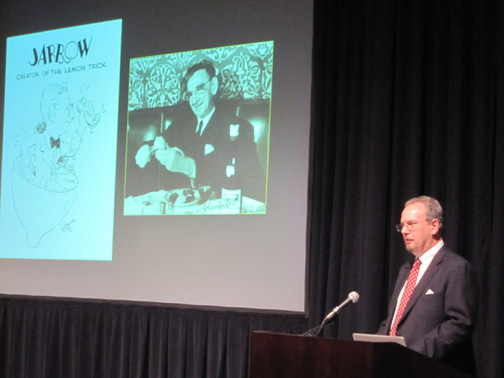 Next year -- Jarrow.
BUT WAIT, THERE'S MORE -- I feel guilty leaving others out, as I enjoyed all the lectures. David Ben introduced a slide show of magic-in-advertising images courtesy of Bob James. Philip Schwartz spoke on Thayer's marketing efforts. Adam Rubin brought us up to speed on social networking possibilities. John Carney showed off some of his obscure gadgets and was the hit of the Saturday night show. (Alas, that show had no chance of measuring up to last year's, and it didn't, except for John's bit.) Bill Palmer spoke on his cups. When asked how he planned to eventually dispose of them, he revealed his plan to melt them down and reform them into a coffin. Jeff Taylor spoke on what has become of the Lund collection. And Gabe Fajuri spoke on auctions, followed by a panel discussion on the same with Mike Caveney, George Daily, and David Goodman. By the way, are we getting older? There seemed to be more emphasis throughout the talks on how to dispose of collections than on how to expand collections. Finally, Bill Spooner shared a look at Del Ray's electronics and at a Del Ray appearance on Ed Sullivan that went somewhat awry. All in all, a splendid range of information, most of it quite fascinating. There was also of course plenty of stuff to buy, including 25 spanking new copies of Richard Kaufman's The Berglas Effects, and I was pleased that two customers took home copies of The Little Egypt Book of Ghosts. Should I have warned them that the books are haunted?
It's nice to hear that the weekend will convene next year in the same location, May 17-19, 2012. Meanwhile, for a better look at MCW 42, take a look at David Linsell's official photos.