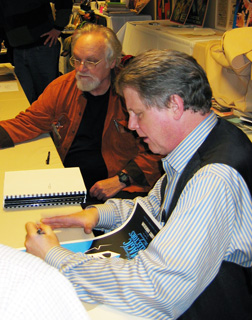 Jon and Harry, MCA Weekend 2008.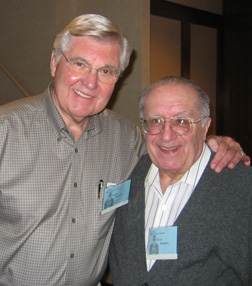 Jack White and Dick Mossey, MCA Weekend 2008.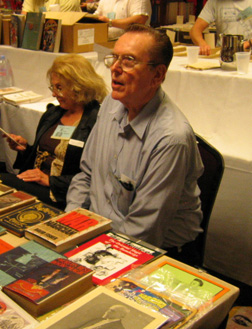 Byron Walker, MCA Weekend 2008.
COLLECTING MEMORIES -- Once again Gabe Fajuri and his staff hosted a perfect gem of a convention in Shaumburg, Illinois, elegant from the get go with a gorgeous 22-page program and an opening night dessert reception then continuing on to a closing night banquet and gala show. A who's who of magic spent their first three days in May either shopping for rare treasures or attending outstanding lectures, including David Charvet on the Willard family, Max Maven (in person this year and looking great) on the first close-up magician (his conclusions pleased the Chicago audience), Ross Johnson on Al Koran, Edwin Dawes on a real goofball named Brunel White, David Ben on Paul Fox, and Tom Ladshaw on the McElroy Brothers (vent dummy designers who gave the world Mr. Clean, Ban Roll-on, and the Head and Shoulders bottle), along with a few I missed by David Gartler and Vince Newkirk on poster restoration, Graham Putnam on Fun Incorporated, and Sean Owens on the Salon de Magie. Guest of Honor Harry Anderson energized the entire convention. Harry rang up huge sales mostly for two items -- a book on the magic square and his script for his wonderful show, Wise Guy. Harry was everywhere (including presenting a morning math lecture on the magic square!), was accessible, and was taking no prisoners, as usual. The lectures were swell but the evening events even better. On Thursday Jon Racherbaumer interviewed Harry Anderson, on Friday John Carney presented his "Carney's Wonders" (which includes visits with Faucett Ross and Mr. Mysto), and on Saturday David Kovak emceed a show featuring Handsome Jack, Harry Anderson, Circus Boy, and Rick Merrill. Best-selling dealeer item I noticed besides Harry's stuff: Bill Rauscher's book on Neff, Pleasant Nightmares. Special moments for me: getting to see a copy (Charlie Randall's) of The Legendary Scroll of Masklyn ye Mage; watching Jon Racherbaumer creeping across the stage, in black so as to appear invisible, as he assisted Harry Anderson in a ball and vase routine a la Kenner assisting Copperfield; and meeting Sick Sorcery co-author Robert Olson, who had new bits on "Sik Card Repeat." Congratulations to Gabe on a fantastic job.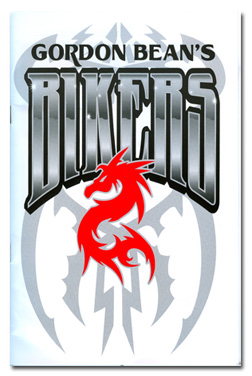 "Wild Card" with only four cards.
HELL'S ANGEL BACKS -- Using nothing but simple, familiar gaffs and an easy move, Gordon Bean's "Bikers" provides you an eye-popping means of transforming four jokers into four kings of spades. (The premise derives from the fact that the joker in a Bicycle deck is, if you look closely, a king of spades riding a bicycle.) The first three cards change in your hands; the final card changes in the spectator's hands. This is fun to do. Also provided is a nice bonus routine in which three jokers in the spectator's hands swap places with four kings of spades in your hands. I've always been intrigued by such routines, in which the quantity as well as the identities of the cards transpose, and this is an effective example of that. As with most of Gordon's routines, this is great for walkaround and resets itself. $19.95 at Gordon's web site.
May 2008
As I am working on a long-term project, it's difficult to find the time to properly address the short-term projects, such as this monthly sheet. I had hoped to read and comment on the items I took away from the MCA Weekend (Nick Trost's Subtle Card Creations, William Rauscher's Pleasant Nightmares, Harry Anderson's Wise Guy script, and Jon Racherbaumer's The 21-Card Trick Re-Rigged, Reconsidered, and Retro), but am going to have to relegate them to upcoming beach reading. Nonetheless, I packed some magical activity into May, including a fabulous weekend at the Magic Collectors gathering (so many friends, so little time!), and either reading or serious skimming of David Regal's Approaching Magic, Gordon Bean's "Bikers," Bruce Cervon's Castle Notebooks Volume Two, and Chuck Romano's The Art of Deception. Other news of note: Stan Allen, the old masochist, is planning a fourth MAGIC Live in Las Vegas. Set your calendar for August 16-19, 2009.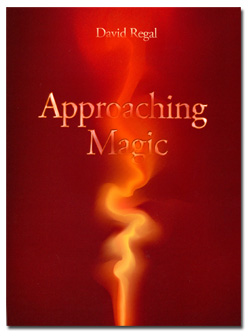 David Regal weighs in.
FIRST BLOCKBUSTER OF SUMMER -- The subject is David Regal's new 506-page Approaching Magic, and the kid is starting to get annoying. With the possible exception of Jim Steinmeyer, is anyone out there as inventive and commercial as David Regal? It's not just that his methods are diabolical (to borrow Steinmeyer's word of praise), but that they are so well scripted. Audiences care about this material, and the lines make you sound like an A-list entertainer. There is almost too much to mention in this new hardback feast, but I'll mention some of it. Counting "Cocoa," there are four great routines involving liquid, including drink productions from a menu and a paper bag, and a vanish-reproduction from a Chinese Egg Bag. "Laptop Printer" and "Paper Money" are two visible money printing routines, almost as easy to do as a self-contained color changing silk. "A Quiet Good-Bye" should be a dealer item from the likes of Todd Lassen: no sneakier way to vanish four coins. The mentalism routines will fry intelligent audiences. "312" is a very clever means of nailing three readings in three sealed envelopes. You can achieve the same end with Docc Hilford's "Richey Technique," but David also teaches you how to end it, how to close it properly. "The Impossible Envelope" will leave them talking about you (and is open to varying). But I'm a card guy, so I found favorites among "Oil Slick" (not the same as in the Vernon book, though a super clean "Oil and Water"), "Simpatico," and "A Card at a Number" (this item could have been marketed separately, as many such items have been). I love the simplicity of "The No-Switch Switch," and "Hotel 52" is a great reason to buy David's "Disposable Deck." Plus, if all the tricks and the great essays in this book aren't like, enough already, you can pick up the June issue of Genii and discover even more David Regal stuff, including the card trick "Temporarily Out of Order" which will go into my repertoire and "The Secret," a money swindle I just saw Handsome Jack close his act with. (Richard Kaufman might have sold more copies of this issue if he had put one of those High Caliber Magic ads on the cover instead of David Regal's face, but these guys are friends.) But start with the book. This is a heavy, jam packed, oversized volume of great material, direct from the author for $75 plus $7.50 S&H. (Check in at www.RegalMagic.com.)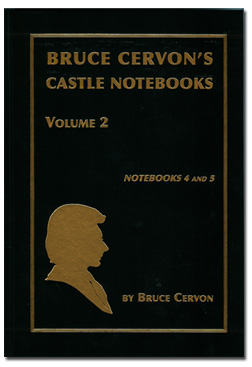 More from the archives.
THE AMAZING ANDREWS -- Bruce Cervon is the Samuel Pepys of the early days of the Magic Castle, his notebooks providing a daily record of the magic that swirled around Dai Vernon's settee. Volume 2 of Bruce Cervon's Castle Notebooks is now in the homes of the lucky, containing Notebooks 4 and 5. Altogether there are 207 titled items in this 263-page book plus new introductory material by Linda Cervon, Joan Lawton, Ben Robinson, Michael Yamaki, and James Patton, with photos of Bruce and the original notebooks themselves. Not cheap, yet priceless, at $200 from L&L Publishing. Note: Louis is throwing in a really nice dvd, Jim Swain's Miracle Moves, which contains some great false shuffles and cuts, with orders of this magnitude.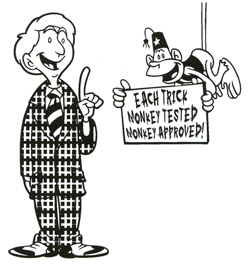 Mac immortalized.
SMART ART -- Check back to our March issue for comments on Chuck Romano's The Art of Deception, one of the most inspiring books of magic you can own, "the stuff of all our dreams." The sold-out original was a large coffee table book, and the new edition is a more portable 6 by 9 inches or so. Not to worry, as the contents are still gorgeous. Chuck had to completely lay out the book again, and in doing so added new art from Alan Wassilak (from Simon Lovell's Billion Dollar Bunko), Bill King (Mac's cousin), Dean Alan Carnegie, Fabrini, Toni Moretto, and Cindy Atmore with her amazing edible art. (Additioinal new artists, such as Derren Brown, rate mentions.) Also included are some Chuck Romano renderings of famous magicians which Chuck modestly omitted from the original volume. Collectors will want both editions and will prize both. If you missed out first time around, don't pass this up. Three fourths of the 500 copies are gone. A low $65 from Chuck Romano Magic.