MAGIC IN MARSHALL: PHANTOMS, PRESTIDIGITATION, AND PIE -- Huge thanks to David Charvet for continuing the annual get together for collectors of magic, this year held in Marshall, Michigan, home to Bob Lund's American Museum of Magic.
Several of the lectures and tours fell into themes. Bob Lund and his wonderful museum were addressed in a video talk by Daniel Waldron, a personal remembrance by Susan Collins, and of course a tour of the museum itself. (I suspect that the ubiquitous Ms. Collins had much to do with the success of this event and its being in Marshall.)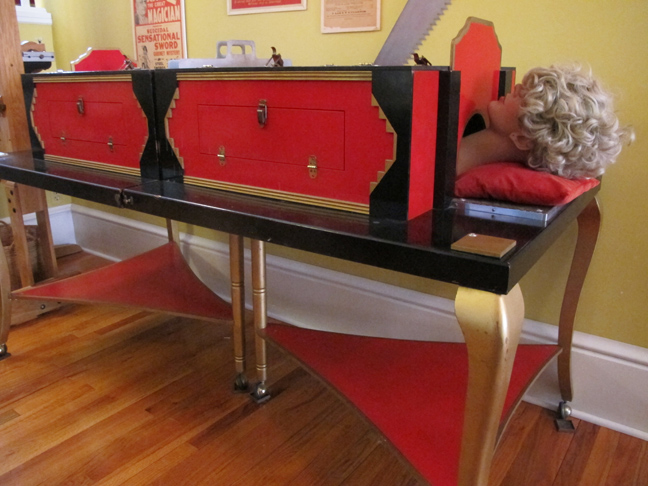 On display at the American Museum of Magic.
Houdini is always a collector theme, this year ably addressed by David Meyer scrapbooks and by John Cox on Houdini in Hollywood. John treated us to only the third showing of TCM's restoration of The Grim Game. The movie contains a startling in-air plane crash (the Houdini character attempting a plane-to-plane transfer) that really happened, with everyone miraculously surviving.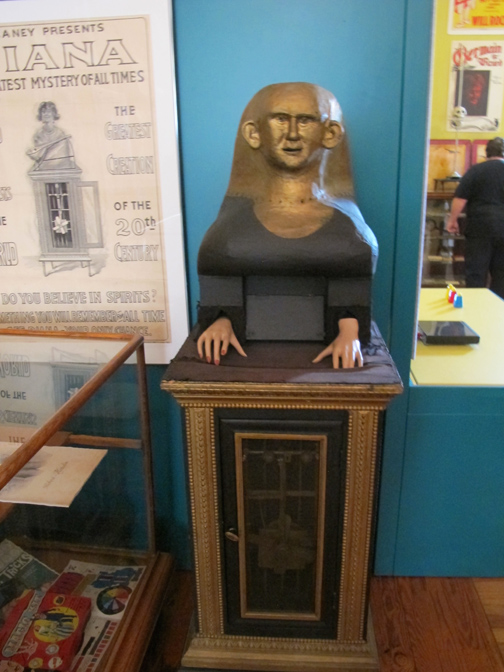 More from the American Museum of Magic.
The Blackstone theme included an interview of Adele Friel Rhindress by David Charvet (on her years with Blackstone Sr.) and hilarious and heartfelt stories from Bill Smith on working with Blackstone Jr. Blackstone's reaction to a lady whispering "I see a string" at the opening of the Floating Lightbulb is one of the funniest heckler responses I've ever heard.
Abbott's was the most covered theme, with a talk on its history by Gabe Fajuri, an interview of Greg Bordner, Tim Wright, and Gordon Miller by Gabe, a talk on The Magic Graveyard by Al the Only, an an all-day bus tour of Colon.
Individual talks proved to be hilarious combinations of research and wit. Among these include Bill Spooner's amazing talk on the pendulum or "sex detector" and Mike Caveney's on the Zig Zag Controversy. I had heard Mike give this talk before and found it even funnier the second time. Perhaps this was because I was sitting near Gene Anderson who laughed at almost every line. Two talks wonderfully delivered.
The Saturday night big show proved to be really popular with the lay audience attendees as well as the magi. Mike Caveney emceed and made a six-year-old Marshall girl a star as he involved her in the Victor eleven-card trick with ten one-dollar bills. Gene Anderson brought his A game and highly entertained with his complete newspaper act. Gene does for newspapers what Marvyn Roy did for lightbulbs and Channing Pollock for doves. David Ben, assisted by Julie Eng, showed us part of "The Conjuror" including Sands of the Desert and the Linking Rings. Two moves in the latter elicited gasps from the magi, including a ring through arm move and another where a ring on a chain of three leapt across to join a different chain of two. So cool. Skilldini previewed his FISM competition act, a very funny manip routine. There was a milk can escape sans milk, or water, setting up a funny Mike Caveney line. And David Charvet closed with Blackstone's spirit hank and Jack Gwynne's goldfish bowl production. Posters were sold, and the performers stuck around to sign them.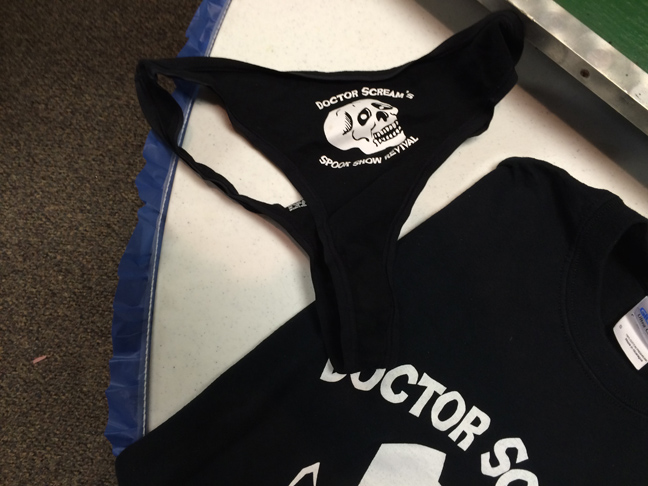 Spook show swag.
The draw for me to this convention was Keith Stickley, and he did not disappoint. During the daily lectures he spoke with great authority on "Spook Shows Past and Present." My studies of the subject end at about 1960; Keith's extended well beyond. Ah, but Friday night, he closed with the "Dr. Scream's Ghost Show Revival," complete with large-scale illusions, leggy assistants and a gorilla running amuck. His full light program included his appearance, a hypno disk effect, girls from a box, Needle Swallowing, the transformation of his head into a skull, giving a lady from the audience "a real dead body," manipulations with the "devil's playthings," and the Cremation illusion. Very authentic stuff. Next, the blackout, with talk of mice, spiders, and snakes. This was my first full theater ghost show blackout and it was all I dreamed it to be, luminous phantoms floating over my head, stuff pelting me, and a truly scary soundtrack. Wonderful. In true ghost show tradition a cheesy movie followed, Monsters Crash the Pajama Party, including an interactive bit in which a gorilla steals a lady from the audience. This is the best live ghost show you will find today (that is, beyond the pages of Lucas Mackenzie and the London Midnight Ghost Show).
For any convention, it's the personal moments rather than the planned moments that make it memorable, and this one had plenty. Gene Anderson drew me aside and shared most of his 32 chapters of his long overdue book. It's darn close to ready and will be a game changer for many. I was so wrong to have considered this a book of newspaper magic only. There is some, of course, but also so much more, with plenty of magician foolers, and with an innovative design. Watch for it. I asked Ricky Smith to show me a card trick, and he happily obliged with a funny Bill Malone trick, but not how you would think. And the nicest part of the weekend was staying at the National Inn, an historic bed and breakfast (it once served the stage coach line). Magician friends were also staying there, and it was a delight to gather in the parlors late in the evening and discuss the day's events.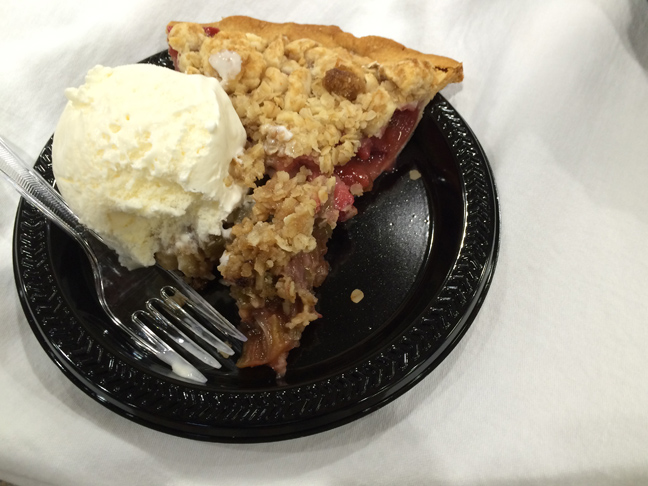 Mine was strawberry-rhubarb, a la mode.
Who would have thought a town the size of Marshall would offer such wonderful dining? Schuler's Restaurant and Pub offered medium to upscale dining, very good it was, and Zarzuela offered an extensive tapas menu. Wow. But the highlight of the weekend was the final night dessert reception. Dessert receptions have become a recent tradition at Collectors functions, usually professionally catered and excellent. This year, the ladies from the nearby Trinity Church provided homemade pies (a la mode), fun for the ladies to dust off their pie-baking skills and delicious for the recipients. Mmm. Mine was strawberry-rhubarb. I've never seen magicians happier. Bravo, Mr. Charvet, Ms. Collins, and all who contributed to a special weekend.