BUDGIES -- As I mentioned last month, Jack Kodell at 16 had the looks and moves of a movie star, and he also had more than a simple genesis of a parakeet act that would take him around the world and cement his place in magic history. I have subsequently read Jack's autobiography, Kodell/Do Something Different, and it chronicles quite a life, eerily similar to that chronicled about Marvyn Roy in Mr. Electric unplugged (substitute parakeets for light bulbs and the singing star Mary Naylor for the ice skater Carol Williams as the love interest, and you have similar success stories). Ah, but Jack graced the scene first, and his details make for a most enjoyable read.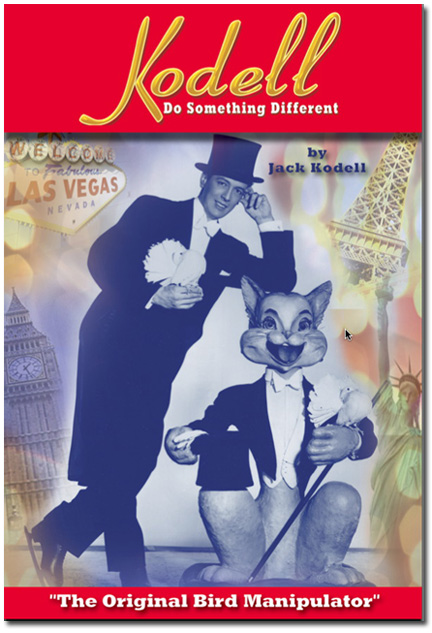 My second act featured a cat table and 37 pigeons.
A few that stand out: As a boy, Jack piloted a stunt plane at 9 and won a state championship in the Soap Box Derby at 13. His parakeet act was the first to entirely feature birds in a magic act (and, secretly, to use the birds' intelligence to accomplish the magic). Jack performed a duo magic act with Don Alan, including a comedy mind reading sketch. He was the first magician to perform in a Las Vegas hotel show room, all while still a premed student at the University of Illinois. He debuted his parakeet Hindu rope trick in India, where he would join P.C. Sorcar shopping for a Fez for Johnny Platt. He married British singing star Mary Naylor even though she one day left his year's savings in a cab. News of the "love birds'" nuptials were big headlines in England. Mary negotiated for Wally Boag to be let out of his London contract (to be replaced by Jack) so that Wally could begin a stint at some new place called Disneyland. Jack was invited to perform at a private party secretly hosted by the Queen Mum and attended by the highest ranking guests in England. Jack was the first magician to perform on ice in both the U.K. and the U.S.A., the latter including Chicago's Empire Room. Through it all, Jack and Mary met and befriended a who's who of fifties show business, stars of clubs, stage, and screen throughout the world.
The book is a pleasure to read physically as well as for its fascinating anecdotes. Although a few typos crept in, the book is a treat to the eyes, beautifully laid out and designed by Jeff Pierce with photographs on virtually every one of its 330 pages. Hardback with dust cover, $59.95. Special edition (including Jack's signature, an autographed poster, a DVD with audio and video, Kodell's Three Card Trick, and seven 5 by 7 photos not seen since 1953) $99.95. From jeffpiercemagic.com. (A .pdf version will sell for $29.95.)
Note that you can also see Jack Kodell's parakeet act on the "You Asked For It" DVDs produced by Bill McIlhany, available from Todd Karr, with Art Baker introducing Jack by noting all the luggage stickers Jack had accumulated from his travels.
To see some of the act now, take a look at Jack Kodell's web site, where you'll find a portion of an Ed Sullivan appearance.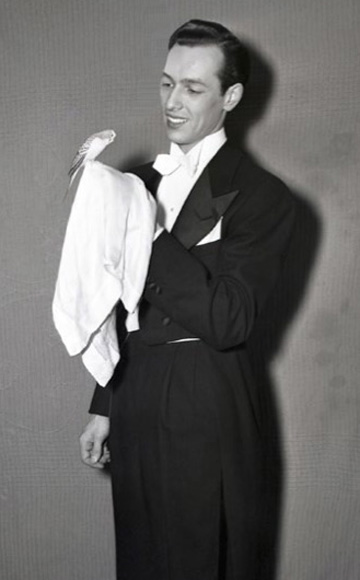 Billiard balls were so much easier.
THE LIVES AND TIMES OF TIM MCGUIRE -- Or, you may know him as Tom Palmer, as Masklyn ye Mage, as Tony Andruzzi, or as all three. Unspeakable Acts, the new biography of this magical triad, by Jim Magus with Terry Nosek and Neil Tobin, traces the many lives of this extraordinary individual from his bittersweet home life through his larger-than-life magical career. Far more than a magician, a mage, and a bizarrist, Tony was also a comic, an illusion designer and builder, a clown, a Burger King (!), a writer, an editor, a publisher, a contest winner, a television producer, a bartender, a Navy man, a Warren Commission witness, a convention organizer, a son to two mothers, a father to three children, a husband to four wives, and a friend/mentor/influence to countless magicians. These would be estimable achievements for anyone, and they are all the more remarkable for a lifelong alcoholic.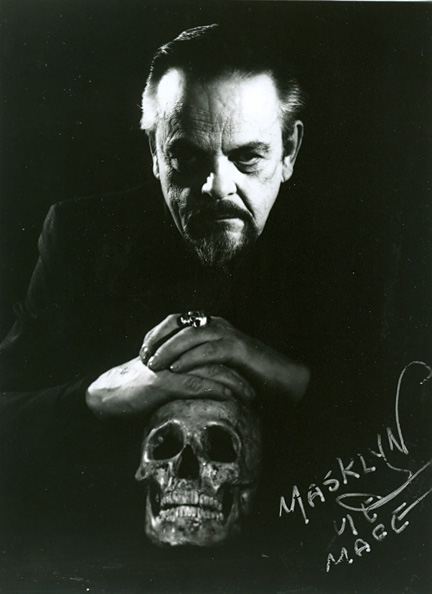 Tony Andruzzi's postcard.
I learned much about Tony that I hadn't known in any detail before. Although his father abandoned the family early on, another family (the Palmers) took him and his mother in, adopting him (re-christened as Tom Palmer) and keeping his birth mom and grandmother in the picture. Not until high school, after his adoptive mom died and his birth mom moved after a remarriage, did he discover the truth. Sad yes, but Tony was surrounded by love and encouragement, especially toward his early interest in magic. I never knew that he was building illusions behind the scenes for Mark Wilson's "Magic Land of Allakazam," and my first direct contact with him was through purchasing items from the Elders (his magic shop, which at first was mail order only). There was always a touch of whimsy in his ads for Zot and Madball and the Rolon table. I eventually visited his real shop at 109 North Dearborn and cooly asked the lady behind the counter if she was Gloria (aka Vampira). "No," she said to my geeky teenage self. "I'm Bunni." By this time Gloria number one had divorced Tom over his drinking, and he had left Texas and child support payments behind. Bunni was wife number two and an asset to the comedy act that won prizes and provided employment at Playboy Clubs. (An earlier stint in Texas as a television director provided day job income for awhile, even though he gave a thumbs down to such budding talent as Pat Boone, Trini Lopez, Carol Burnett, and Elvis Presley.) I would continue to monitor Tony's career through his books and publications, and would finally get to immerse myself in the magical world he had created by attending the final two Invocationals.
I didn't attend many magic conventions until my early forties, when I finally had enough family freedom and income to do so. Until then, Bill Larsen attended for me, and I enjoyed conventions vicariously through the pages of Genii. I felt that way reading this book: Jim Magus has done a fine job of describing each effect in The Negromicon of Masklyn ye Mage, Grimoire of the Mages, Daemon's Diary, and The Legendary Scroll of Masklyn ye Mage. (Note: several fine tricks from these books appear in the October 2000 issue of Genii, and Jim Magus says that all will soon be reprinted by Collectors Workshop and Viking Magic.) Additionally, Jim has described Tony's contributions to the MOTMs leading up to the Invocationals (weren't those MOTMs supposedly top secret?), and finally Jim has chronicled just about everything that happened at the seven Invocationals. Where else could Jay Marshall do a hilarious blackout takeoff on Eugene Burger's "The Harp Weaver," could Richard Kaufman be shot for doing a card trick, could Jon Brunelle commit suicide?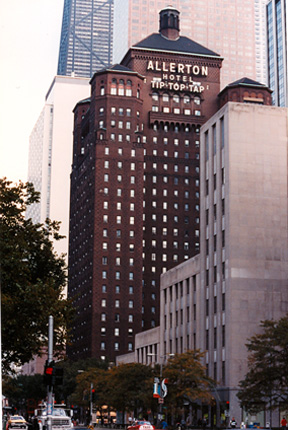 The locale of Tony's last Invocational even looked spooky.
At the recent Magic Collectors Weekend, Phil Willmarth shared a story about Tony's gesture to reconcile with Gloria number one and her husband Marcom. (There was eventually a wife number three, Maria, and number four, the popular Gloria number two, who died in a tragic fire.) I'll let it remain Phil's to share, but I did enjoy the book's telling of Tony's attempted reconciliations, to the extent that they happened, with his children, and his pride that all had turned out quite well given an absentee father.
I am leaving tons out. The lives of many magicians interleaved with that of Tony Andruzzi, and Jim Magus has done a fine job in the telling. This is a 535-page tome, but a fast and entertaining read. Much research had been compiled by Terry Nosek before his untimely passing, and Neil Tobin has overseen the editing. Dozens of photographs enliven the journey. For anyone new to magic, I recommend it. For anyone who knew Tony Andruzzi, you don't need me to tell you that this is a must. $75 plus $8 shipping at Stevens Magic Emporium (among others).