HAIL, COLUMBUS -- Back in February, I abandoned Magi-fest a day early because there wasn't enough informal sessioning going on to suit me. Fortunately, I returned to Columbus in July to attend a mini convention that was all sessioning, and it proved to be the most enjoyable convention in many a moon. This delightful event (nee The False Deal convention) grew out of Caleb Wiles' desire to recreate the good times he had at a Second Deal convention a few years ago, and, with the help of Aaron Delong, Trini Montes, Ben Train, and a superb collection of lecturers and guests, he hit the mark. The pre-announced lecturers included Jack Carpenter, Allan Ackerman, Mike Powers, Ben Train, and Chris Mahew, and the big surprise guest could have been any of the celebs who merely attended, including Tyler Wilson, John Guastaferro, and Jason Alford, but who in fact turned out to be David Williamson, fresh off a Disney cruise.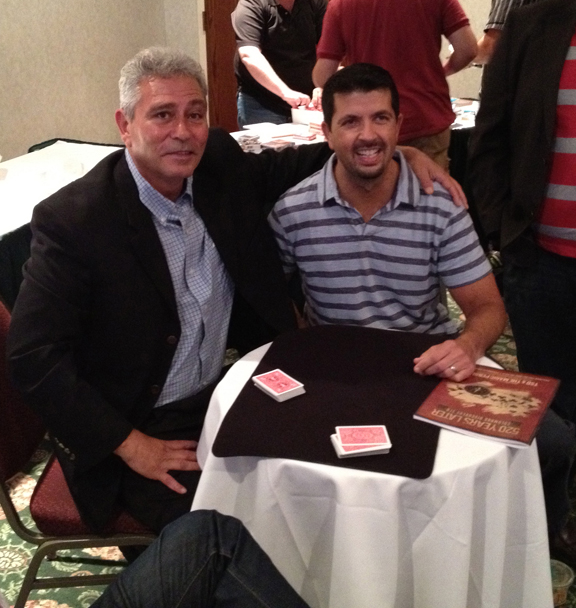 Jack Carpenter and John Guastaferro.
As to the formal events, Jack Carpenter just killed with not only miraculous riffle stacking and dealing work but also very funny presentations. Mike Powers punctuated his talk with a trivia challenge (with prizes) and won the hearts of this card geek crowd by confessing that he had to look up a ballplayer's name for a baseball routine. Mayhew and Train tag teamed with the aid of a funny and clever flip chart. David Williamson did an all-card lecture and it just isn't fair, as it was with Tom Mullica, that anyone so funny can also be so sneaky and talented. And it was fitting that Allan Ackerman was the closer. He is both a gifted teacher and student of magic who develops great new presentations but who also knows where they began and where and why he is headed with them. His new lecture notes sold out instantly.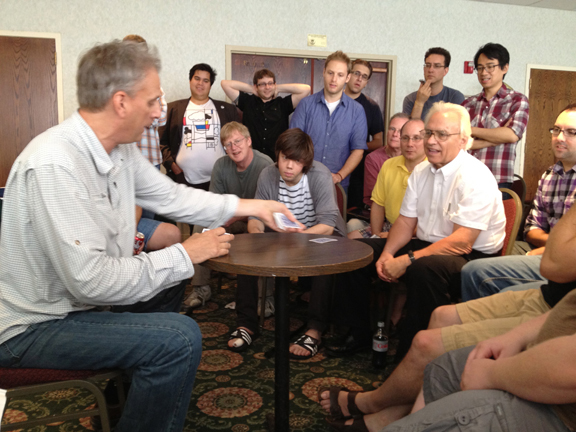 David Williamson has their attention.
But it was during the informal gatherings that magic happened. I counted around forty magicians, and it didn't take long to get to know everyone on a first-name basis. Informal was the key word. There were no badges or guards. Everyone contributed. Drop-in guests were welcome. Tony Miller and Rosie brought lots of cookies and gaffed wallets. (The Badger is wonderful, and to see one is to want to caress it.) Jon Allen dropped in after lecturing and recording elsewhere in town. Paper Crane Magic provided pizza. Sal Piacente gave away decks of cards.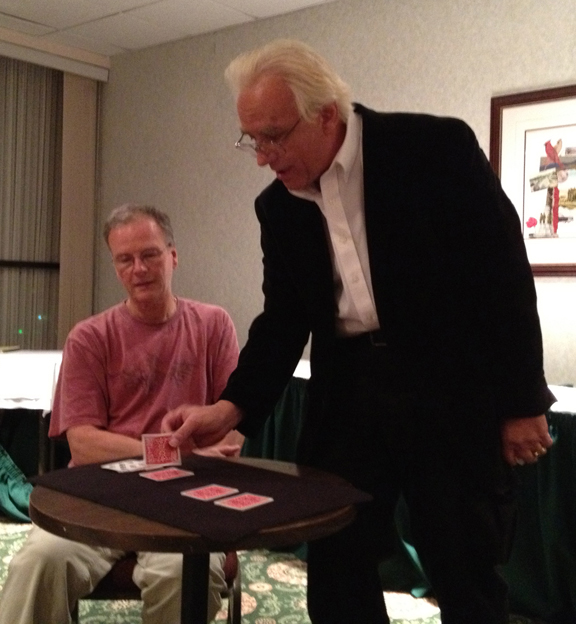 Allan Ackerman and Mike Powers.
I was the wuss of the group, stumbling off to bed around 2:15, with reports that the sessioning lasted until 5:00 A.M. each of the three nights. Yes, three, as at least a dozen or so showed up the night before the scheduled opening. That was my favorite of the weekend, because it was my first time to see Jack Carpenter shuffle, to see a brilliant new Allan Ackerman routine exploiting the Hamman cull, to see Tyler Wilson sandwich a selected card with two face-up cards whose total equaled the quantity of cards someone had earlier cut off, and to see Caleb Wiles match cards from a mixed up deck, a new routine reminiscent of his 26! Outside the Magic Castle, I have rarely enjoyed being in a group where the skill level, knowledge level, and passion has been so uniformly high.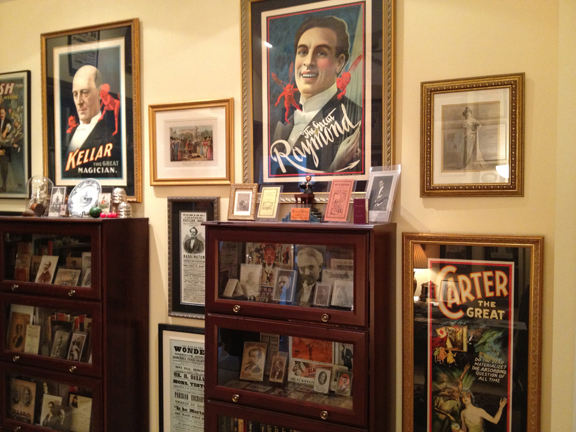 A local magic collection.
Although the hotel failed to measure up to Maleficent's standards (there were slick carpets, cigarette odors, a CRT tv), the magi didn't seem to notice, and the location was excellent (next door to a magic shop and only a short ride away to Columbus's upscale Easton mall). Treats included a superb 50-page book of contributions from the lecturers and attendees and an enthusiastic raffle for lots of swag. Personal thanks to Caleb for thinking this up and inviting me and equal thanks to Joe Hanosek for not only reminding me, but for showing me his awesome magic collection. Just a stellar weekend all around.