CHAMPIONSHIP LEVEL -- Later this year, FISM, MAGIC Live!, and Genii the Conjurors Convention will vie to be the "best" magic convention of the year. They had all best work hard at it, as the bar has already been set dangerously high by Magi-fest in snowy Columbus, Ohio, home of NCAA football's crushing undisputed champs. Thanks to the efforts of Joshua Jay, Andi Gladwin, and Tim Moore, this venerable local convention has positioned itself as the first major international convention of any year and as the gathering to beat for magical bragging rights.
It's the individual moments, some planned and some serendipitous, that make a convention a happening for the ages. A few that stand out for me:
Howard Hamburg and Tom Gagnon holding court in the lobby all three days and nights. Tom and his Spread work are a Magi-fest staple, but this was my first time to marvel at Howard. Great tips on a cards and paper clip routine, a killer false cut, work on Marlo Aces, work on estimation, and Charlie Miller's tabled faro shuffle, among others. Howard likewise astonished me by tossing a couple of cards onto the table, which separated. "Sometimes they split," he said, "and sometimes they don't." He then touched each of the cards, and each of those split into two cards, revealing four in all.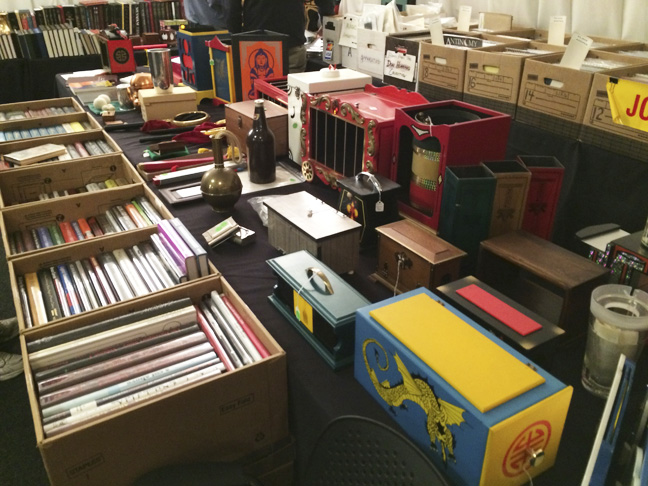 Andy Greget sets up shop.
Andy Greget's creepy story trick with a five-dollar bill.
Barrie Richardson's beautiful dissolving knot (while reciting the alphabet backwards).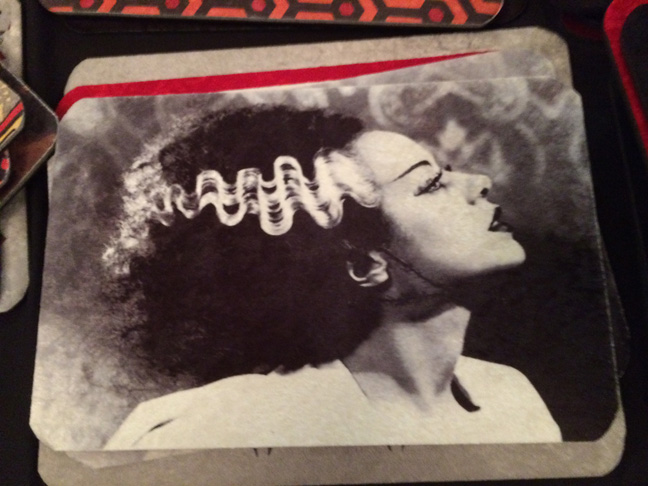 A Young Frankenstein mat.
Pattrick's Magical Surfaces with new photo-image closeup mats. Tailored to your order.
Tannen's! First time I've seen them at a magic convention and a welcome addition.
Gene Anderson's history of the torn and restored newspaper. I would have added Ron Wilson's improvement.
Kostya Kimlat's Who Killed the King? He markets this!
Matthew Wright's slow-motion Three-Fly, with the coin visibly and slowly traversing the space between hands. I loved Matthew's personality, sort of like Piff the Magic Dragon without the dragon costume.
Glenn Morphew's six signed cards to pocket. Just lovely, as is his Rub-a-dub Vanish.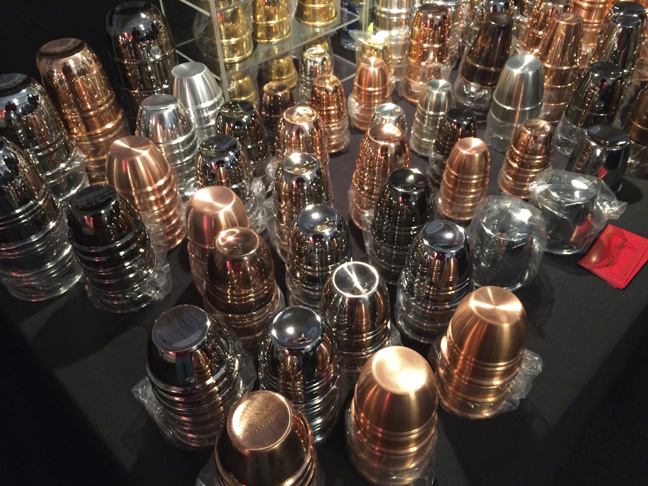 Rings and Things outshines the other booths.
Catching up with Mike Powers. Nice discussions of math, bar bets, and ACAAN. Loved John Carey's idea.
Chatting with Andrew Martin-Portala about the year he rented out a theater for a midnight ghost show. I'm so jealous.
Hearing that four of you purchased the new Nick Trost book from H&R Magic Books thanks to reading its review here. Nick used to be a fixture at Magi-fest, and you owe it to yourself to keep abreast of his inventiveness.
Silly Billy destroying a room full of kids ferried in by parents. This is always the most enjoyable show of any convention. The kids just loved it.
Tom Stone's lecture, especially his out-of-the-box vanish of three sponge balls.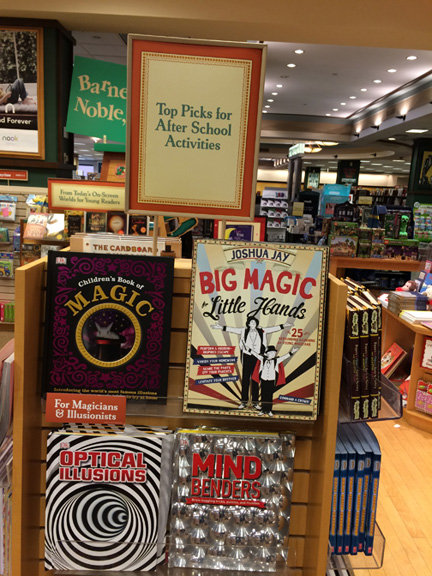 In the real world, Josh's book shows up at Barnes and Noble.
Josh Jay's lecture, seen earlier this year, but now includes his Card at Any Page routine. (I also remain intrigued by Josh's earlier card and book routine, Book Test Bonanza from Magic Atlas.)
Paul Daniels as Malini, block of ice and all.
An obscene version of Paul Harris's Flap Jacks performed in the lobby. (I didn't catch the name of the magician.) Wish I still had my bar gig.
Andi Gladwin's five moves in five minutes.
Charlie Frye's one-word suggestion to improve the snake routine from Book of Ghosts: leeches! Charlie had just returned from the 1903 edition of The Illusionists in Australia, 15 shows a week!
Paul Daniels and Debbie McGee scoring well by simply being charming. Paul's biggest hit, bigger than his excellent magic: a self-returning rubber band.
John Bannon teaching from his new book, Destination Zero. I believe it was Leverage, but hey, they are all good (see review below).
Charlie Frye's lecture. Charlie has a magic factory in his head and comes up with amazing bits, most of them visual. I loved his Pencil Through Tongue, the Billy Bob Teeth gag, and, in a class by itself, his Cardwarp routine (it appeared as Warped and Fryed in Jeff Pierce's The Cardwarp Tour and as Ripped and Fryed in the Paul Harris boxed DVD set). This routine drew gasps from the audience.
Some left a day early to dodge a threatened snow storm, thereby missing what may be the best gala show of the year (every act a standing O) followed by two exceptional star encounters. To the gala: Paul Daniels emceed and killed with a mental selection of a beer bottle, a funny 50 Shades of Gray poem, and nut in egg in lemon routine. The standing Os: Arden James quietly won the crowd with mime that looks like magic. Tessa and Jeff Evason performed what looks like real ESP with Tessa naming audience members, revealing the hidden contents of borrowed cough drop tins and cigarette packs, naming subjects in photographs, identifying cell phone numbers, credit card numbers, currency serial numbers, whatever. This act fools me more than any other act in magic. Tom Stone filled the stage with enough sponge balls to put Goshman heirs through college. Dani DaOrtiz performed closeup for four onstage spectators (one of them Caleb Wiles) with his usual killer chaotic card magic. And Charlie Frye and Co., defying gravity and sanity, closed because no one in magic can follow Charlie Frye and Co. I love this act; Charlie and Sherry are as repeatedly watchable as Ballantine.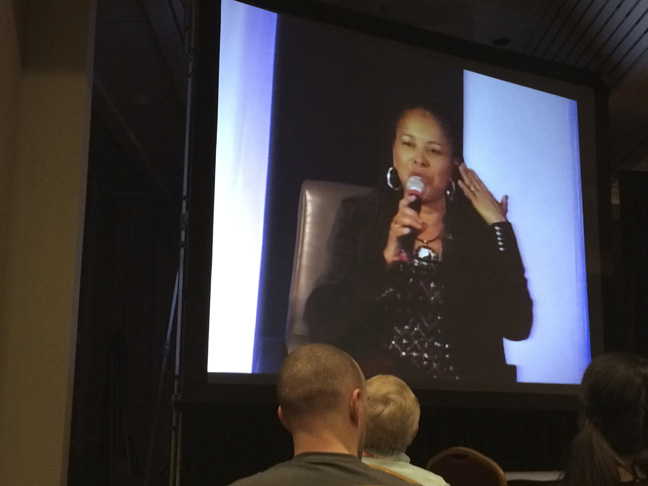 Tessa Evason knows all about you.
"A Conversation with the Evasons," conducted by Ken Weber, proved amazingly forthcoming. Ken insisted that the Evasons use no secret microphones and no preshow work, which makes what they do even more impossible. This very nice couple recounted their history (Jeff was originally into straight magic), the development of the act, and their work for corporate and college audiences. It surprised me that they use music so effectively in their longer show, the first I've heard of in a mental act.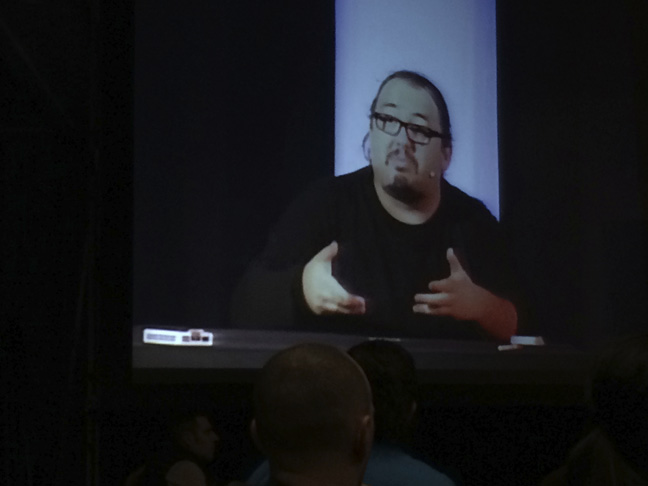 Dani keeps us up late.
And finally an hour with Dani DaOrtiz, far too brief for this creative and entertaining Spaniard. Everything he does is great. Dani's Open Triumph in particular thrilled those who had not seen it before.
The best part of any convention, and that proved to be the case at this one, is simply chatting with fellow magicians. It doesn't even have to be about magic. It can be about literature, movies, math, Disney World, or whatever. Magicians are not only the nicest people in the world, they are also the smartest.
Apologies to anyone not mentioned. I didn't attend every event, and I occasionally dozed off in events I very much wanted to witness. It's a problem that goes back to college Astronomy, nearly 50 years ago. Not to worry: if you were part of this convention, you are a star.