CONJURING IN COLUMBUS -- At this time last year, a dearth of friends and sessioning opportunities compelled me to leave Magi-fest a day early with little hope of ever returning. Others must have felt the same way, and the news hit that Magi-fest was to be no more. Fortunately, after the convention's brief demise, Josh Jay and Andi Gladwin breathed new life into it, and Magi-fest is back and better than ever (if it can truly be called Magi-fest without red coats, Herman's puns, and the Reed sisters). The best of the new ideas was to showcase a full hour show plus a lecture by the three main headliners -- Simon Lovell, Simon and Ginny Aronson, and Dani DaOrtiz. Simon L managed to entertain despite the choke collar in case his language strayed, Ginny A made thought reception as entertaining as it was impossible, and Dani D uses psychology as effectively as Slydini used his lap. All hit it out of the park.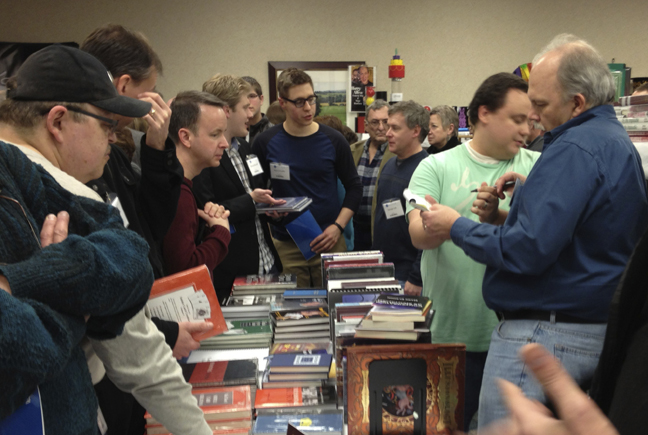 The new Trost book flies off the shelf.
A great new hotel near Columbus offered a most accommodating beverage and food service, a crowded dealer room tested claustrophobics, and plenty of public and private magical moments made it the first grand convention of 2013. Stellar memories: Simon Lovell in a snappy new suit sharing his serial killer acting stint (available on his web site); Eric Jones's pride at performing for the inaugural ball for Medal of Honor winners; John Guastaferro's Impromptu Theater, lecture, and private chat; Mahdi Gilbert's incredible sleight of hand with no hands; Tony Chang's even more incredible and insanely difficult sleight of hand with two hands (reminded me of Jerry Andrus's out of the box moves); Stan Allen's thoughts on MAGIC Live; Andi Gladwin's five great moves; Taylor Martin's showing me and Richard Kaufman a creepy new wand (see below); Caleb Wiles's new stuff, especially his Influence deck; Josh and Andi having things running so smoothly that they had time to man the Vanishing, Inc. booth (best three items: Glance, the Prism Deck, and the John Guastaferro notes); Richard Kaufman showing a first-timer many versions of the Pass; seeing Jep Hostetler having a terrific time; Doug Conn's lovely Matrix and his Flush Brush; and Justin Flom's new twists on Card Artistry, adding music snippets (ex: "will you still need me, when I'm 64?") to a Sam the Bellhop type routine, and a most personal presentation for the Steinmeyer Nine-Card trick. This and much more made for a brilliant weekend.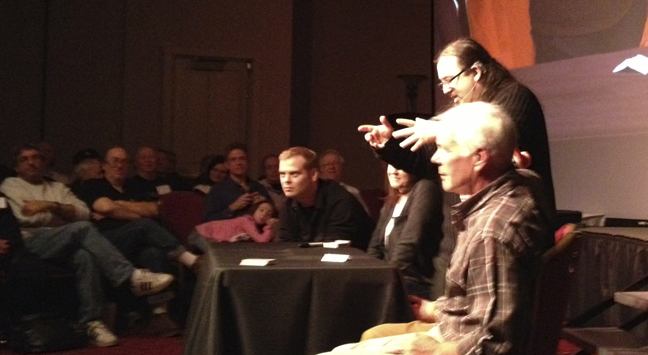 Dani rocks the house.