GIFTS FROM CHRISTMAS PAST -- One of the true delights in life is to uncover some forgotten treasure from your own childhood. It is literally like time travel. Such was my good fortune back in '06. My siblings and I were going through my mother's things after she had passed away, when one of them asked, "What's this?" Protected all these years in its own felt carrying case was none other than a Ken Allen Tricky Tray, a gorgeous black lucite tray useful for switching in, say, a sizable bill in a Bank Night routine. I was astute enough to have purchased the larger size tray ("winner of the Award of Merit") at a professional 7 by 12 inches (it was $6.50 while its smaller cousin was $4.50), and it would work perfectly today in any Bank Night routine, such as John Archer's.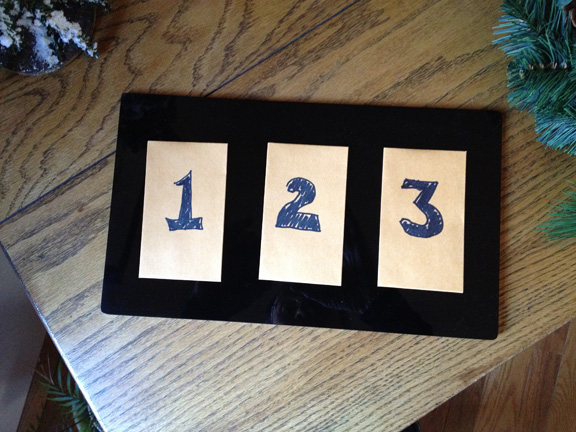 The perfect Bank Night utility.
This note sent me back to Ken Allen's Catalog of Modern Magic, and what a delight that was. Ken sold fabulous tricks made of plastic (Jumping Gems, The Pin-Up Paddle, On the Square, Frame Fantastique) along with such personal favorites as Chinatown Quarter, Scoop, and Robot Coins in Glass. All were illustrated (by Dick Briefer and Ed Mishell) with sexy cartoons of buxom ladies, the perfect lure to my teenage magical desires. The only ads that affected me more were Richard Himber's in Genii.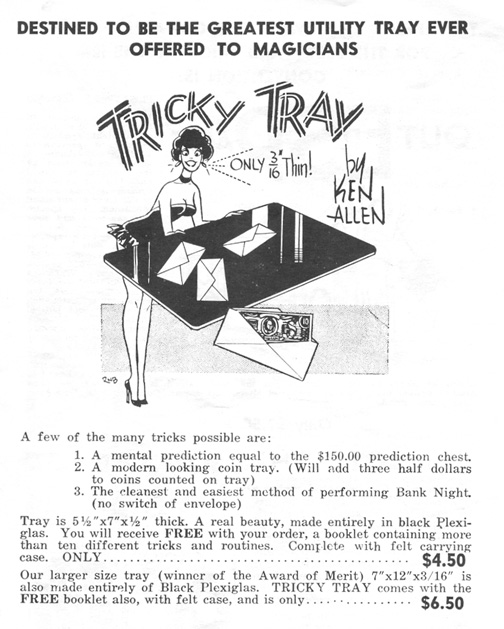 The perfect Bank Night utility.
WE THREE KINGS -- Picture this: In your left hand you hold a deck of cards, with, say, a two of clubs on its face. Your right hand is empty. Wave the right over the left, and the face card changes to a king of hearts. Another wave and it changes to a king of spades. A third wave and it changes to a king of diamonds. Your hands are very loose and natural throughout, and you start and end clean.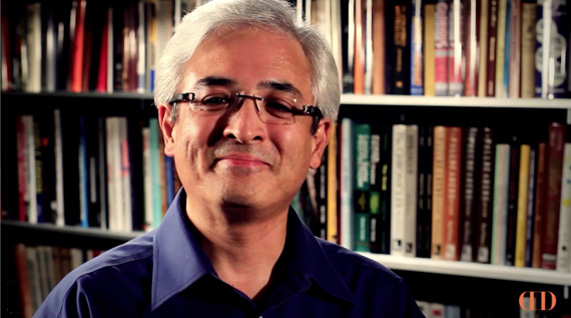 Lance Pierce teaches three color changes in one.
OK, the cards do not have to be kings--that example was just for my Christmas theme--but this is a beautiful triple color change from Lance Pierce. It's called Triple Change, and it's available from Dan and Dave for a measly $4.95 as an instant download. I think you'll have fun rehearsing this.
WE FOUR ACES -- One of my favorite moves to practice over the years is Jerry Andrus's Injogto (Injog Turn Over). In this move, four face-up aces are placed outjogged in separate places in a face-down fanned deck. The deck is closed and the aces pushed home. With no cuts are shuffles, the aces now appear face down on top of the deck. The problem was, I never had a reason to show the top and bottom cards of the deck (which do not change places after the move). Jerry's patter nicely covers this, which I finally learned about nine minutes into his delightful performance, at the Magic Castle at age 80, here. (I like the laugh that indicates the audience was fooled.) The move itself is described in Andrus Card Control, 1976.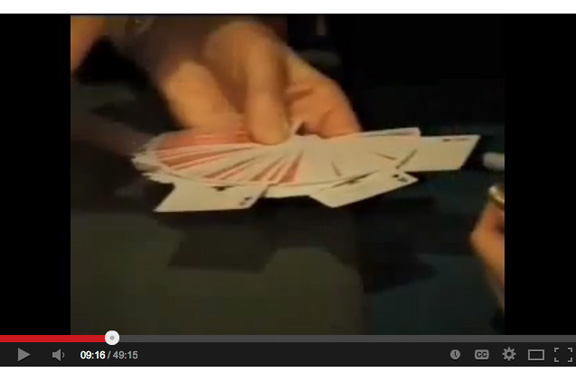 The spectator inserts the cards herself.
WHY DID THE BANANA GO OUT WITH THE PRUNE?* -- Laughs abound in the new play, The Banana Tree, written by Homer Simpson and performed this month at the Bloomington Playwrights Project in Bloomington, Indiana. Well, not exactly by Homer Simpson. The play was written by Dan Castellaneta and his wife, Deb Lacusta. Dan is the voice of Homer Simpson, among other credits: he is a four-time Emmy winner for his work as Homer, Krusty, Grandpa, and others, and he is also Consulting Producer and Writer for the show. Deb is a multi-talented writer and actress whose writing credits also include multiple episodes of "The Simpsons."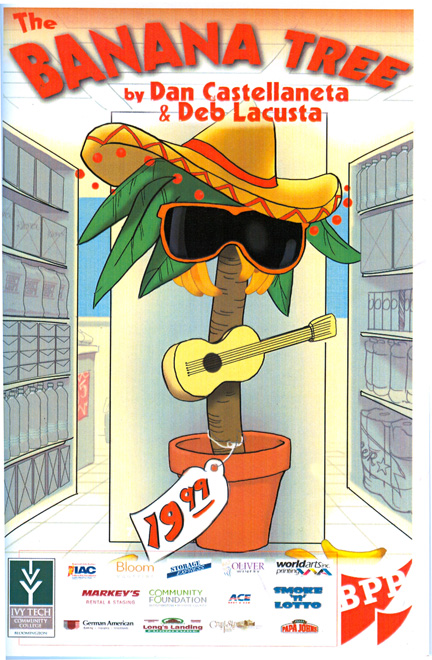 Expanding the role of women in Las Vegas.
The plot follows a convenience store clerk who dreams of being the first African-American female magician in Las Vegas, her lot beset with robberies, a kidnapping, romance, and various other hijinks, some of which are dictated by a telepathic banana tree. The convenience store in the production I attended came fully stocked, and you could buy anything in the store before the play or during intermission. Scene changes took place in the dark while a lit trio of banana trees told jokes. (You had to be there!) There was some nice parlor magic (I liked an illusion-scale twist to the Passe Passe Peanut Butter and Jelly) and some funny riffs on Vegas-style magic. All in all a most amusing evening of live theater. Watch for a production near you.
WE KNOW WHAT YOU'VE BEEN THINKING -- As readers know, Scott Wells has recently been filling the podcast void left when Dodd Vickers ceased posting. One of his recent podcast sequences was from this year's MINDvention in Las Vegas. While there, Scott had the strange notion to have the attendees read the classic "A Visit from St. Nicholas" or "The Night Before Christmas," and I found the results surprisingly moving.
The readers are, in order, Paul Draper, Jeff McBride, Stan Allen, Bob Cassidy, Paul Vigil, Kerry Pollock, Lupe Nielsen, Banachek, Chad Long, and Docc Hilford. And just in case you think these bad boys (and girl) of mystery theater have gone soft, Scott also provides the outtakes. Check out this and other recent podcasts at Scott Wells' The Magic Word or find them, as I do, on iTunes.
We'll close with the poem itself, still held, despite controversy, to have been written by Clement Clarke Moore in 1823. Log on and read it along with a gang of mind readers and their associates.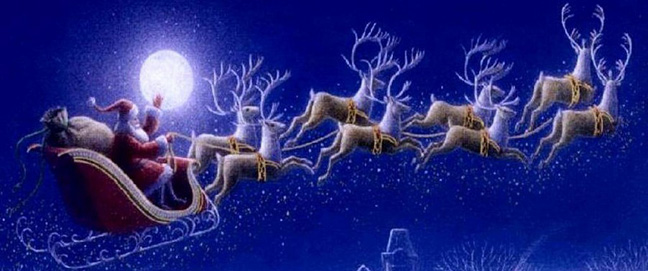 'Twas the night before Christmas, when all thro' the house
Not a creature was stirring, not even a mouse;
The stockings were hung by the chimney with care,
In hopes that St. Nicholas soon would be there;
The children were nestled all snug in their beds,
While visions of sugar plums danc'd in their heads,
And Mama in her 'kerchief, and I in my cap,
Had just settled our brains for a long winter's nap —
When out on the lawn there arose such a clatter,
I sprang from the bed to see what was the matter.
Away to the window I flew like a flash,
Tore open the shutters, and threw up the sash.
The moon on the breast of the new fallen snow,
Gave the luster of mid-day to objects below;
When, what to my wondering eyes should appear,
But a miniature sleigh, and eight tiny reindeer,
With a little old driver, so lively and quick,
I knew in a moment it must be St. Nick.
More rapid than eagles his coursers they came,
And he whistled, and shouted, and call'd them by name:
"Now! Dasher, now! Dancer, now! Prancer and Vixen,
"On! Comet, on! Cupid, on! Donder and Blitzen;
"To the top of the porch! To the top of the wall!
"Now dash away! Dash away! Dash away all!"
As dry leaves that before the wild hurricane fly,
When they meet with an obstacle, mount to the sky;
So up to the house-top the coursers they flew,
With the sleigh full of toys — and St. Nicholas too:
And then in a twinkling, I heard on the roof
The prancing and pawing of each little hoof.
As I drew in my head, and was turning around,
Down the chimney St. Nicholas came with a bound:
He was dress'd all in fur, from his head to his foot,
And his clothes were all tarnish'd with ashes and soot;
A bundle of toys was flung on his back,
And he look'd like a peddler just opening his pack:
His eyes — how they twinkled! His dimples: how merry,
His cheeks were like roses, his nose like a cherry;
His droll little mouth was drawn up like a bow,
And the beard of his chin was as white as the snow;
The stump of a pipe he held tight in his teeth,
And the smoke it encircled his head like a wreath.
He had a broad face, and a little round belly
That shook when he laugh'd, like a bowl full of jelly:
He was chubby and plump, a right jolly old elf,
And I laugh'd when I saw him in spite of myself;
A wink of his eye and a twist of his head
Soon gave me to know I had nothing to dread.
He spoke not a word, but went straight to his work,
And fill'd all the stockings; then turn'd with a jerk,
And laying his finger aside of his nose
And giving a nod, up the chimney he rose.
He sprung to his sleigh, to his team gave a whistle,
And away they all flew, like the down of a thistle:
But I heard him exclaim, ere he drove out of sight —
Happy Christmas to all, and to all a good night.
---
At Christmas once again, we indulge in a family visit ...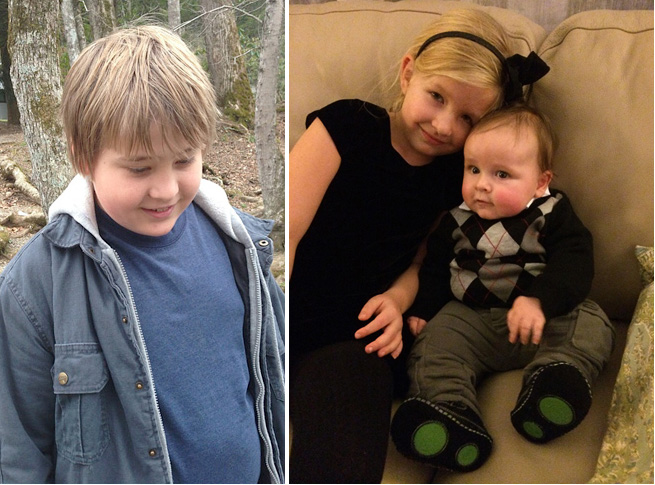 One grandkid likes to hike, the other likes her new brother.
---
Peace on earth, good will to men.
*Answer: Because he couldn't find a date.
Little Egypt Magic is the erratically updated web site of Steve Bryant, spawned (the site, not Steve) by a former internet magazine known as The Little Egypt Gazette/for magicians only.
Steve Bryant is an obscure magician and writer who generates this site from an iMac in Bloomington, Indiana. He used to journey to and perform magic in Little Egypt, the local name for extreme southern Illinois, where the towns bear such names as Cairo, Thebes, and Karnak.
Past issues of this web site: Index to Past Issues
Notice: Any limited use of copyrighted images or quoted text is considered fair use, usually to review whatever product or event that is under discussion. If you object to use of any material, please get in touch and it will be cheerfully removed.
A JSB Creations product
Copyright© 2013 by Steve Bryant