SIX PACK -- Any of the six MAGIC Live! offerings leading up to 2015 easily qualifies as one of the best magic conventions ever, with so many favorite moments: Tales of Terror with Max and Mac in the woods in scout uniforms, the four-venue close-up spectacular from ML2, interviews with the creme de la creme of magic, talks by magic's best thinkers, one-man shows by the likes of Guy Hollingworth, Josh Jay, Tim Conover, and Mark Kalin (plus Jinger of course), extravagant dealer displays, and audiences that constitute the who's who of magic. Let's turn back the clock and revisit past Lives.
MAGIC LIVE! ONE (2001) --Is your first time always the best time? Mine had so many surprises. Here we go:
THE PARTY -- While most of us spent the Opening Night Party in line to get badged (Mike Close dubbed the theme of the party as "a night at the DMV"), the rest of us were entertained by strolling magicians Cellini and Bob Sheets. I spent all my opportunities watching Sheets, long one of my favorite magicians, doing a hilarious rope routine, the three-shell game, and his incomparable Malini Card Stab, still the best card trick around. The room itself was beautifully decorated with covers of all the issues of MAGIC to date. Among various nice handouts, the new issue of MAGIC itself is a treasure, and a special edition was given to all attendees.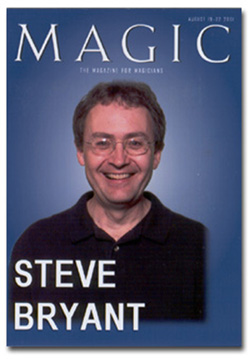 Yesterday when I was young.
MAX AND MIKE -- Much as he did with MAGIC magazine itself, Max Maven got the convention off to an intellectual high by presenting a live version of his Parallax column, which ran for five years. Neither friend nor foe (nor hosting magazine nor the guy of whom he was a house guest) was spared the heat of his dead on humor. Later in the week, Max would rise to an even greater challenge -- see below. With equally devastating humor, Mike Close brought his Marketplace column to life with a discussion of the very serious task of reviewing. Max and Mike are two of the best monologists in show business, and their contributions made this one of the strongest and most intellectually stimulating conventions ever.
AT THE MOVIES -- In appearances spread throughout the convention, Bill McIlhany presented rare video footage of magic caught on camera. My favorite bits were Veronica Lake performing some excellent magic and Channing Pollock on Daniel Boone. John Moehring also looked great on his Ed Sullivan appearance, of which we saw a brief glimpse.
UP CLOSE AND PERSONAL -- Imagine a close-up Dream Team: it would no doubt include Paul Gertner, Guy Hollingworth, Chad Long, and Bill Malone. They were all here, along with the young Buck twins (whose Dueling Banjos-style card cutting to techno music was characterized by some as "pointless masturbation" and by David Blaine as "the future of magic"). Favorites for me included Chad Long extracting cards from a wall (very weird looking) and everything that Bill Malone did. Bill's guest assistants in my set were Jillian Gotlib and one of Rory Johnston's cute boys, and he had them both laughing throughout. It's almost a contradiction in terms that anyone who studied "under Marlo" could be this funny and this commercial.
LIVE ON STAGE -- When the stage show opens with the Pendragons, you can expect it to be great, and it often was. Highlights for me included everything emcee Mike Caveney did (I have no idea whatsoever how he spins that cup of coffee about), Michael Finney, Anthony Gatto (Melinda's longtime juggler, who entertains by expert juggling, not by comedy), the very artistic Nicholas Night and Kinga, and the bouncy and wacky charm of the assistant (Muriel) to FISM Grand Prix winner Scott the Magician.
MAGIC MOMENTS -- Surprises are what you remember about conventions. When Richard Kaufman introduced Bill Malone, Bill thanked him but complained that he was accustomed to a more lively intro. Accordingly, he asked the "fellow who carries my bags" to do an intro for him, and out stepped Robin Leach, who in his best "Lifestyles of the Rich and Famous" voice introduced "the magician's magician, Bill Ma-Lone." A second big surprise was the announcement that John Moehring will now be the official editor of MAGIC.
QUIZ SHOW -- One interesting evening concluded with Mark Summers of Nickelodeon hosting a trivia contest on MAGIC magazine, with David Charvet perfect as a Don Pardo-type announcer. The results were a tad lopsided (the big prize was a lifetime subscription to MAGIC), but the questions were consistently entertaining. Great fun.
QUEEN FOR A DAY -- Jack Bailey used to host a quiz show in which the most pitiable contestant won the honor of being Queen for a Day. In a World's Worst Magic segment, Mac King and Penn Jillette vied for that honor, Mac telling the story of when he had to do his comedy magic show for a dead boy's memorial service, and Penn telling the story of an MIT buddy who performed a Uri Geller spoon bending stunt on a $250,000 Paul Revere spoon.
CUTEST BABES -- No, I'm not talking about Kinga or that spunky young girl with Scott. I'm talking about the real babes who were present -- Mac King's daughter, Elizabeth, and Michael Ammar's daughter, Savannah. Each is still under one year, but there's a lot of personality and mischief in those faces already. And such cuties.
LECTURE NOTES -- What a wide range of lectures, from Earl Oakes on origami to Tim Glancey on Sports Magic. Glen David Gold gave a great talk on his novel, Carter Beats the Devil (another intellectual high point), and I enjoyed Michael Ammar's lecture on lecturing as well as Michael Diliberto's on marketing. Numerous magic tricks were taught, of which Jon Racherbaumer's Hornswoggled variation struck me as the most effective. (Jim Steinmeyer's Nine Card Problem is the best of the lot, but better presentations have come along than the one he demonstrated.) David Kaye took a cheap shot at Melinda that scored a laugh, a moment that was counterbalanced during Gary Ouellet's lecture, when a video of Melinda levitating out of a chamber of snakes elicited spontaneous applause. David's lecture itself featured how to make three different ages of children enjoy the same trick (a vanishing silk) and was hilarious.
THE DEALERS' ROOM -- Oops, I meant the Advertisers' Fair. Whatever you call it, it was a place for me to browse the wares of some of my favorite dealers, including H&R Magic Books and John Kennedy Magic. I walked away with a Stir Fry (excellent) and would have picked up a Stealth Retractor had John not sold out of them. His new gaff for Quarters to Glass (called Sonic Silver) is also great, and Impossible Matrix has a great new finish. John's work with coins is, as always, a joy to behold.
OLD GUARD INTERVIEW: LANCE AND CHANNING -- In a charming interlude, Lance Burton interviewed Channing Pollock, the magician who defined for many of us (those approaching geezer status) what it means to be a magician. Lance proved to be an excellent interviewer, and Channing was a gracious and generous subject.
NEW GUARD INTERVIEW: MAX AND DAVID -- All the events throughout the convention were secrets. Neither the subjects of the talks nor the performers' names were revealed until you showed up for the session, and free lecture notes were not handed out until the session officially concluded. This in part accounted for high attendance at all sessions. One of the best kept secrets revealed itself in the final "In His Words" segment, in which Max Maven interviewed David Blaine, the magician who is defining for many youngsters what it means to be a magician. Max of course proved to be an astute interviewer in what was a controversial and revealing interview. David appeared "having not slept for three nights" if one is to believe the announcement, his face hidden in the deep shadows of his baseball cap. He talked of his next project, and of being inspired by Evel Knievel. (The only place he truly ran afoul of my own world view was when he dissed two actors whose work I admire; each, I would argue, has a higher batting average than David.) As to revelations, he mentioned not only attending Tannen's Magic Camp at around 10, but also of having been a camp counselor at 18. The point here is that David knows the world of magic very well and is hardly a newcomer; when he charted his own interesting course, he was aware of what he was deviating from and heading toward. Further revelations included that he has played chess since about age 3 and that he plays basketball. At the conclusion of the lecture, David met one on one with any magicians who cared to speak with him. The youngsters flocked to the stage to do so.
THE REAL CONVENTION -- As Stan Allen noted, the real conventions always occur in the corridors and restaurants. Such it was here. I was delighted to spend time with old friends who rarely attend the Stevens convention (my usual excuse to visit Vegas) as well as those who do. Of the great magic I saw in those moments, I must cite Roger Klause's real work on the bluff pass and tilt, John Lovick's Reparation, Bob Ingalls' haunted key, and numerous sight gags and magical effects by J.C. Doty. I kept bumping into Doty throughout the convention, and he and his wife were delightful.
GROUP HUG -- At the opening party, Stan forced us to get acquainted by trading baseball cards that bore the images of the first 12 covers of the magazine. You began with a set of 12 similar cards; the goal was to end up with all 12 different cards. This may or may not have contributed to the lovefest that closed the convention. Following the final evening's stage show, and with no clear place to congregate (despite Stan's efforts, such a location never really established itself), everyone simply stood outside the theater, for hours, talking, embracing, and posing for photos. It was an unplanned moment of intense camaraderie, a statement that no one wanted it all to end, and perhaps the best tribute Stan could wish for that said, "Nice job. Really nice."
MAGIC LIVE! TWO (2004) -- A look back at stuff I still remember! What a close-up show!
The Orleans in Las Vegas (a favorite of mine because of its 18-screen movie theater) was once again host to Stan Allen's second and sold out MAGIC Live! convention. It was another fabulous few days that passed all too quickly. The most successful element was the close-up show, with Eric Mead, Mike Close, Tim Conover, and the team of Shoot Ogawa and Armando Lucero performing, respectively, in a mock bar, a mock restaurant, a mock trade show, and a mock theater reminiscent of the Magic Castle's Close-up Gallery. Fantastic magic in fantastic settings.
Eric Mead's "bar" venue at MAGIC Live! two.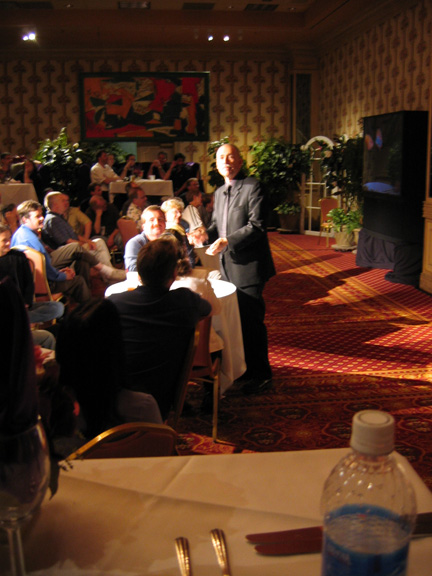 Mike Close's "restaurant" venue.
Other moments that stood out (both scheduled and unscheduled): J.C. Doty's jokes * Max Maven's opening * Levent's talk and demo on Roy Benson * Kevin James's "Sawing" * Greg Frewin's dove act * Mac King's goldfish story * Rick Thomas's ascension * Norm Nielsen's act with floating baby grand piano as an opener * Chris Kenner's comedy act * Mike Caveney's interview with Marvyn Roy * Jeff McBride teaching easy (sort of) manipulation * Losander's floating table * Mickey Silver's retention vanish * Marc McGuire's work on "Las Vegas Leaper" * Krysten Lambert doing the linking rings * The Passing Zone juggling three humans in space suits (one of whom was Richard Kaufman) * Ron Lucas and his human dummy * a memorial slide show of magicians lost since Stan's last convention * a slide show of convention attendees as young magicians * videos of Roy Benson, Don Alan, Randi as The Magic Clown, and Mr. Electric * Mark Kalin's "Selbit Sawing" * Jinger (sigh).
MAGIC LIVE! THREE (2007) -- I appreciate it now more than I did then! Fabulous magic and interviews.
The jam-packed event opened with a party featuring magical art and a Food Channel dinner for celebrity magicians and closed with a party featuring excellent Sweet 16 birthday carrot cake and Armando Lucero. The three top highlights for me: (1) The Evasons on the final night's show. Sexy, exciting, and utterly baffling, one of the closest things I've seen to real magic. (2) John Lovick interviewing Jason Alexander. An amazing amount of thought went into Jason's triumphant parlour show at the Castle. (3) Michael Weber interviewing Cyril. What a fascinating young man. (I find it interesting that two extraordinary magicians who "came out of nowhere," namely Cyril Takayama and Armando Lucero, were once Castle Juniors.)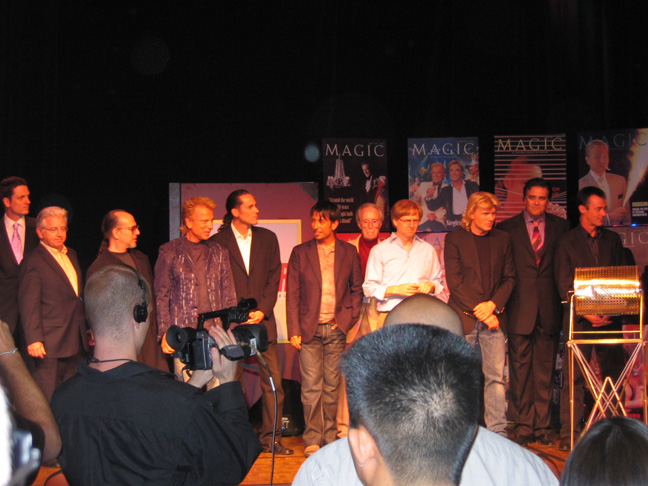 We get to watch these guys eat?
And so much more to enjoy, including: Josh Jay's "Talk About Tricks" has come of age. Best trick taught was Simon Aronson's "About Face," which is also in the August issue of MAGIC. And kudos for Josh's informal evening session with the likes of Simon, J.C. Wagner, and Bill Malone. Rick Merrill's home-schooled FISM act. Humor from Shawn McMaster, Michael Weber, Chris Kenner, Kerry Pollock, and Max Maven, all dead on. Eric Buss's Snake Can Symphony. Johnny Thompson's lecture on Charlie Miller. Dana Daniels's show and his story about trying to smuggle a parrot aboard a plane. Earl "I'm the Perry Como of Magic" Nelson's rope routine. Thomas Fraps' Punch and Judy show. Mac King's work in progress. Krystyn Lambert's ditzy blonde talk act. (I've seen her sizzling silent manipulation act, and this new talk piece was a delightful surprise to all, very funny.) Chris Kenner's rant. Raymond Crowe's hand shadows. Mark Kornhauser's hilarious emcee bits. The attendees, a true who's who of magic.
MAGIC LIVE! FOUR (2009) -- I must have been paid by the word. Here goes.
Buddy Holly!

Any function that begins with Buddy Holly as its background soundtrack is my kind of event, and so began Stan Allen's MAGIC Live 2009, launching four days of magic that rocked from the get-go. In truth one thousand different magic conventions were experienced during MAGIC Live 2009, depending on which core events you attended, which electives you selected, which old friends you hung out with, which new friends you made, what you purchased from the elite dealers, and which ghost stories you heard. The convention I experienced was the best I have ever attended, the result of highly creative planning, A-list talent, and enormous attention to detail. The only common denominator to it all was my friend, photographer David Linsell, who attended every event and took over 4000 photographs. The snake photo below is courtesy of him. A few specifics on stuff that stood out to me follow.

THE SWAG -- Many of us MAGIC Live veterans still proudly carry a MAGIC Live satchel from a previous convention. New swag for 2009 included a matching MAGIC Live shoulder bag, the usual notebook binder which would fill with notes made available throughout the week at the end of each session, water bottles adorned with MAGIC cover art, an envelope containing the top-secret information as to who would appear on each session, a "Shhhh" button to wear if you didn't want to know that information, a cleverly gaffed hotel room key, and a Fun Book packed with freebies and discounts offered by the dealers. But the collectibles began, as always, with our convention badge, a photo of each of us on the cover of MAGIC. Standing in line for the photo shoot provided an unexpected opportunity to socialize, an unscheduled opening day "party," and it's to the photographers' credit that they made us all look pretty good.

Cool stuff to lug home on the plane.

THE CONCERTS -- Two MAGIC Lives ago, Stan set the bar for convention close-up magic with his four-venue staging, showcasing magic in a restaurant, a bar, a trade show, and a Magic Castle setting. I didn't think that show would ever be topped, but Stan did so this year by bringing in Guy Hollingworth and his theatrical one-man show The Expert at the Card Table, with direction by David Babani and Neal Patrick Harris. The full-evening show presented a compelling history of Erdnase punctuated by dazzling and elegant card magic. Smartly attired, inhabiting a lovely set enhanced by an unobtrusive video camera, Guy wisely stuck to his classic and original magic rather than forcing the issue with effects directly from Erdnase, and it all added up to the most talked about event of the convention. It amused me later that no less a magician than Martin Lewis was fooled by a card trick straight out of Drawing Room Deceptions.

An elegant stage set awaits Mr. Hollingworth.

Tim Conover, a big hit in that previous close-up extravaganza, returned to the MAGIC Live stage with a "full evening" show of stage mentalism, a show he presents for laymen. While a few magicians I spoke to were dismissive, I adored this show. Indeed it marked the first time I had witnessed a full show of classic one-man mentalism, and it reminded me of all those Hahne drawings that graced the Nelson Enterprises catalogs of my youth. Tim brought those drawings to life, performing material I once dreamed of performing, and making it exciting with the rush of energy he brings to every show. What a thrill to finally see a guy on stage with nothing but a crystal ball and a gift of gab.

THE NIGHTMARES -- It's been done before at MAGIC Live: a few seasoned professionals tell horror stories about what happened to them over the course of their careers. But never like this! Never in the dark, in the woods, around a camp fire. You enter a darkened lecture hall, are handed Little Debbie S'mores, behold the flickering remains of a fire, hear the spooky music. Your host is Mac King in a Boy Scout uniform. He approaches a tent, out of which Mac King show veterans expect a bear to emerge, but instead the Thing in the Tent turns out to be Max Maven in a second Boy Scout uniform, but all black. Now things are really getting scary. And so begins Tales of Terror, as Mac and Max invite performers from the audience to tell their tales. The stories you heard depended on when you attended. One group got the likes of Tom Burgoon, Franz Harary, and David Williamson. My group had hilarious anecdotes from Michael Weber, Mark Kornhauser, David Sandy, and Chris Kenner. It was Sandy's macabre tale of Faucett Ross's desire to be buried with his cat that best fit this eerie ambience and had me laughing the longest. One can only imagine how much planning went into making this event so successful.

Available for Blue and Gold dinners.

Paul Gertner served up a different kind of nightmare, specifically three corporate variations on Professor's Nightmare. I have gone on record as considering this a boring magic trick, that it would be boring even if God himself could do it by real magic. And to use it as a basis for getting across a corporate message? I had low expectations. I shouldn't have worried: one variation was fine; the other two thrilled. One of Paul's volunteers opened with the most magical Professor's Nightmare I've ever seen, very Tabary-esque, and Paul himself closed with the funniest and most risque, getting across the message for a fictitious company called IHOP. (Hint: the P stood for pleasure, not pancakes.)

DEALS AND STEALS -- Three factors made this the best convention ever: the Guy Hollingworth show, the Tales of Terror, and the best dealer room I've ever perambulated in, noticeable at first for a full-scale Mike Michaels production helicopter suspended overhead. The tradeshow-like experience, unveiled during the opening night "Cover" party, was the brainchild of Brian Daniel of Creative Magic.

Pull one of these out of your top hat!

Extraordinary design and creative details made many booths a work of art. Todd Karr's Miracle Factory was decked out like a salon, with comfortable furniture and, quite often, a girl juggling knives with teacups balanced on her head.

Todd hires the best!

If Chris thinks any harder, that bulb is going to pop.

Magicsmith's booth looked post-apocalyptic, like something out of Mad Max, and Chris Smith loved demonstrating his light bulb that lights and then explodes. I want one!

Tables hovered in the air at Losander's booth. At Kevin James's Kevin's Magic Sideshow, they kept decapitating someone. Mike Michaels featured some nifty mechanical tables in addition to the production helicopter hovering above. Paul Harris had a booth with his DVDs, but his much anticipated Little Man was delayed in production.

Paul Harris, Chuck Martinez, and Bill Herz confer.

L&L Publishing gave you the feeling of "being there" by bringing along some of its famous DVD audience members. Folks were thrilled to get autographs from the ubiquitous Frank.

Milt Larsen asked me to sit in the Castle audiences.

Not your father's Passe Passe bottles.

They weren't cheap at $1700, but Zoran Krezic had some amazing Passe Passe Lit Candles. Dave Cresey Products had a scantily clad showgirl in constant attendance. The Theory 11 booth was frequently manned by Mr. and Mrs. Chris Kenner, who are expecting a baby in three months. Congratulations!
But my favorite stop was H&R Magic Books, who drew constant crowds with scheduled book signings. Allow me to drop a few names. What fun to hang out with all these guys, not to mention Richard and Charlie! (Disclosure: to keep my luggage weight down, my only purchases included Spellbound/The Wonder-Filled Life of Doug Henning, by John Harrison, and Charlie Frye's Eccentricks. But great choices!)

The place for books and autographs.

THE LOUNGE -- Across the corridor from the main lecture chamber stood the MAGIC Lounge!, a hospitality suite open daily until midnight, with tables set aside for socializing and card trick sessioning. Although I never gravitated to it for finding cards, I did enjoy sitting at one of the eighteen iMacs provided by Apple's John Signa. Bryce Kuhlman had programmed a number of activities with which you could visit your "past lives" (things that happened at previous conventions), test your knowledge of MAGIC Magazine, re-read highlights of eighteen years of MAGIC, write a letter to the editor, and even be matched up with the cover subject you're most like. I tried the knowledge test and felt pretty good at missing only three questions, crushing the lady next to me who worked for the magazine.

THE ELECTIVES -- The big experiment this year was electives, a Tuesday in which each attendee selected four elective sessions from a plate of many. Of those I attended, I loved Joanie Spina's on Directions, also popular with everyone else who attended. What a neat, smart magician. My favorite to attend was the Jeff McBride Master Class, in which Jeff, Eugene Burger, Tobias Beckwith, and Bryce Kuhlman each championed three strong points. Others that I heard great things about included the FFFF session (sorry that I didn't get to see Mike Powers perform!), Pete McCabe's session on scripting, and Mike Bent's on comedy writing.

John Gaughan introduces Balsamo.

THE TALKS -- Stan's daytime programs tend to be information intensive, and this is a good thing. Fascinating talks included an erudite opening lecture by Mark Kornhauser on experimentation, Richard McDougall's views on theater and magic, and Richard Garriott's tale of space travel. Garriott is too cool for magic. Nathan Burton gave an SRO talk on the 300-page contract you can expect if you get into reality TV, Jeff McBride served up important Show Doctor tips, and Marco Tempest stunned me with what can be done with magic and the internet. Mike Caveney interviewed John Gaughan on his career in magic, and Micheal Weber interviewed Jules Fisher, lighting director for almost every important theatrical event of the past forty years. Weber also performed a funny News Update that skewered some of the big names in magic. But the funniest talk and one of the best received was that of Bill Schmeelk on magic catalogs, stuff you just can't make up, climaxing with a "catalog trick" I would have been proud to have performed in high school.

THE RUNNING BITS -- Lending continuity to the four days of action, several performers made multiple appearances. Michael Weber turned up every so often to explain new uses for our cleverly gaffed room keys. David Williamson, a true nut, kept supplying comic videos of insane stuff happening during the convention, my favorite using a Dai Vernon puppet. (Ah, I have footage he didn't show.) And Eric Mead presented mini-lectures called "Rhetorical Answers" on such topics as "favorite methods," illegal downloading, camaraderie in magic, and his cool false shuffle. Eric is such a bright, likeable guy that his stints were eagerly awaited.

David Williamson and friend film a new bit.

Ginny Aronson divines a serial number on a bill.

SERENDIPITY -- The one thousand attendees constituted, for the most part, a who's who of magic, with so many old friends that there wasn't proper time to hang with them, and so many new ones to meet. Occasionally, these guys did real magic. One reported performance that I missed was Tim Conover's close-up show, including his fabulous handling of Goshman's salt shaker routine. Jeff Haas showed me a great take on Unshuffled. Claude Crowe shared a Jack the Ripper card trick with me. And I was there to see young Matt Richman, who two years ago caught our attention with his work on the Charlie Miller Cascade Control and who has been catching everyone's attention on Youtube with his work on the Diagonal Palm Shift, asking former child prodigy Derek DelGaudio to demonstrate some of his unearthly skill, which he did. David Williamson, who Matt assures me is the god of the Diagonal Palm Shift, looked on. What is cool is that these guys have such awesome talent and are still nice. But the best thing that I stumbled upon was Simon and Ginny Aronson performing their two-person mind reading act. Holy cow. Some magic is just so good it's spooky.

THE MAGIC -- OK, so this is a magic convention, and yes, some fine magic was both taught and performed, in addition to that mentioned elsewhere. Of that taught, I enjoyed Paul Gertner's advice on the classic force, and I loved everything Rune Klan did, from a card trick with a Mene Tekel deck to the production of a knife and a pool cue from his old socks. Of that performed, it was fun to see Tim and Andre Kole perform together. Man, it's been over 42 years since I first saw Andre perform, when I was a student at the University of Illinois. I enjoyed Tyler Wilson's Sam the Bellhop parody, Marco Tempest's interactive tv magic, Malin Nilsson looking great with a guy accompanying her on a grand piano, and Chris Hart, even though he suffered through a smoke alarm going off during his act. Ed Alonzo cracks me up, but I wish he had brought Britney along. And I loved seeing again an effect Jonathan Levit did, the Magazine Memory Test using the current issue of MAGIC. I last saw this done by Tommy Edwards at an Invocational in Chicago, and I've always considered it a lovely piece. (After he did it, Jeff McBride, Franz Harary, and Max Maven judged him, a la "Celebracadabra.")

Jeff, Franz, and Max judge Mr. Levit.

Luis de Matos performed a flashy Sands of the Desert and a floating microphone stand to an astonishing song I hadn't heard before ("It's Oh So Quiet," by Bjork, available from iTunes). Arthur Trace added relevance to his magic: his Miser's Dream receptacles were the cans that formed a tin can telephone; his floating paper rose buzzed because it seemed to contain a trapped bee. Greg Kennedy juggled inside an inverted clear plastic cone. The evening shows were rounded out by fine performances from Elliot Zimet, Aaron Crow, Tom Burgoon, emcee Bruce Gold, and dovemaster Joseph Gabriel. But my favorite entertainer on the big shows was emcee Noel Britten, hilarious throughout, and with a joke about the Luxor as brilliant as Bob Read's was about New York New York a few years ago. I should schedule a trip to Bath just to see him work.

I'll trade you a Noel Britten for a Trixie Bond.

THE HOTEL -- The South Point, where all this transpired, is a former member of the Coast group of casino/hotels and a fairly close twin to the more familiar Orleans, with an on-property movie theater (I took in The Time Traveler's Wife and District 9 over the weekend), a 64-lane bowling alley, and a gorgeous swimming pool.

Too bad there was no time for swimming.

The hotel maids are just too wussy.

The South Point sits on the strip four miles south of Mandalay Bay and two miles north of Las Vegas's newest billion-dollar hotel, M. The South Point's theater for the "big" stage shows was half the size of that of the Orleans, so two seatings were necessary to squeeze us all in. The theater itself was quite modern, with a combination of table and theater seating and a beautiful overhead lighting system that looked like a starry night sky. The restaurants easily accommodated us with friendly staffs and menus that didn't gouge. Hotel drawbacks: no free wi-fi, the restaurants occasionally closed, and the maids were easily spooked. To wit: I found the message light on my phone blinking, with news that I had a message at the front desk. The message was that the supervisor wished to speak to me. She did, alas: "Housekeeping is complaining that you are keeping a snake in your room." I laughed and explained, not to her particular amusement, that indeed I was, but that it was rubber, a prop for a book signing. "Your note said it was a snake," she repeated. As I said, we all experienced a different convention. The maid spoke mostly Spanish, and I regret not knowing the translation for "rubber snake."

THE PARTIES -- The "Cover Party" is a MAGIC Live tradition, the first step in a process of bringing MAGIC magazine to life. This year's cover party theme was the "Class of 2009," an inspired choice. You entered what seemed to be a high school gym done up for a sock hop. Basketball hoops stood at each end of the small wooden court, and crepe paper streamers issued from above a rotating mirror ball. A 50s sound track played in the background. (Later, this would transition to soundtracks from the 60s, the 70s, the 80s, and so on; not my favorite musical decades, but I saw younger guys bopping along as the evening progressed.) The tradition is that each partygoer receives a packet of a dozen cover photos of the same magician. By swapping photos with others, you could wind up with all different photos. The twist this year was that the photos were high school graduation photos of the magicians, not identified, and that all magicians (18 instead of the usual 12) were actually present to sign your photos. With such disparate magical giants as Marco the Magi and David Blaine on hand, a complete signed set would constitute quite a prize. Speaking of prizes, the party segued into the introduction of 18 metal cases, each containing a hidden special prize. To vie for them, you had to spend money at the dealer booths. Each twenty dollars you spent bought you a raffle ticket, so opening night sales were brisk. The prize I would have most liked winning: Bill Malone takes you to lunch and teaches you anything you want. Other prizes in this spectacular event included several Kevin James tricks and lunch with Kevin, a Malini Egg Bag with personal instruction from Johnny Thompson, and a Losander Floating Table with Anti-Gravity Box and personal instruction from Losander. Nice!

Magi exchange photos. Note the basketball hoop.

Just as the Cover Party opens the convention, the "Finally" party closes it. Goofy photos of magic were distributed on easels throughout the party arenas, and guests were invited to pen captions to them. Cake and cookies with MAGIC Live logos were served, drinks were readily available, and a crush of magicians attended, really an international love fest, a last chance to mix with so many friends, to make deals, to plan future get togethers. And a chance to reflect on the enormous organization and attention to detail that made all this possible. I could ramble on and on but, hey, like I said, Stan had me at Buddy Holly. What a nice convention!

Some magicians partied the entire time.
MAGIC LIVE! FIVE (2011) -- MAGIC magazine goes platinum. And a little party to boot:
How better to celebrate twenty years in the business than with a record number of friends at a convention that set the bar ten years ago and has yet to be topped except by itself? From the opening night party to the final YouTube video recap from Jonathan Levit, MAGIC Live! once again held its position at the cutting edge of magical congregations, in Las Vegas or otherwise. A few arguments in that direction ...

Put that on your ice cream.
Cake, ice cream, and Kozmo, oh my -- Two years ago, I said that Stan had me with the opening night Buddy Holly music. This year he had me with a hot fudge sundae, my way-off-diet creation from a continuous spread of ice cream and toppings. This and the cake at the Finally party three nights later were the perfect treats for a birthday party, and Kozmo the ideal entertainer performing street magic beneath wall-size projections of MAGIC magazine covers. The trading card game featured covers whose subjects were converted to silhouettes. The object was to trade cards until you had one of each and then to identify and approach the eighteen cover magi, all in attendance, for their autographs.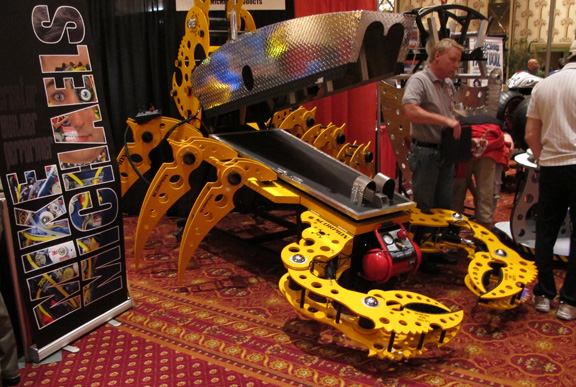 Mike Michaels' Scorpion.
At some point Stan's projection towered on the wall, like the great and powerful Oz, inviting everyone next door to The MAGIC Shop, the latest apellation for the dealer room. Mike Michaels once again anchored the room, this year with the Scorpion, a sort of transformer buzz saw escape contraption in the $15,000 range. Each $20 you spent on opening night earned you a lottery ticket for one of twenty prizes, so sales were brisk. (If you bought a Scorpion, you should have won something.)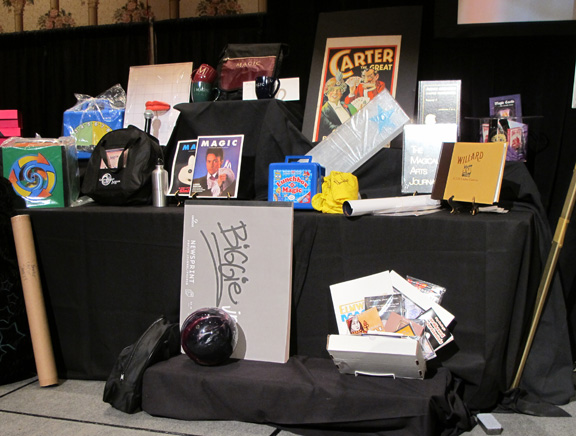 Prizes await.
The party climaxed with the Cover Parade, as bleachers filled with as many cover magicians as they could hold. David Williamson arrived first, followed by Mac King and Jonathan Pendragon, and then a flood of others including such legends as Marvyn Roy and Cesareo Pelaez. Check the photos below for a who's who of magic royalty.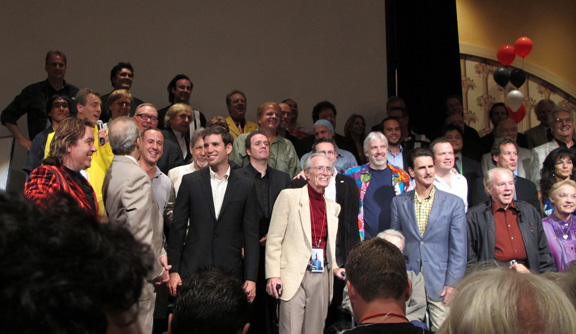 Left side of bleachers.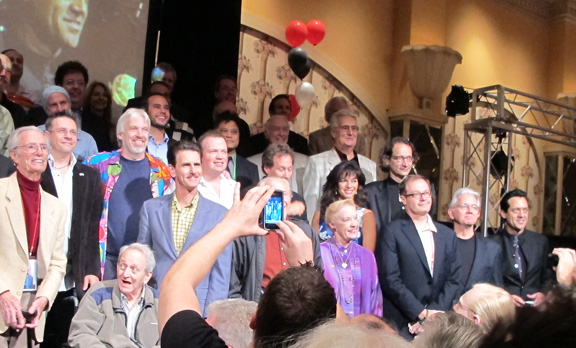 Right side of bleachers.
The Fab Five -- What makes MAGIC Live! special is unique events that make each incarnation the convention of a lifetime. One year it was an interview with David Blaine, another an interview with Cyril and a second with Jason Alexander. This year at least five events, and arguably more, rose to this standard.
"The Close-up Experience: Joshua Jay's Unreal." This was my favorite event of the convention. I had seen Josh perform as recently as a year ago, but nothing in my watching his evolution in magic prepared me for this. Unreal is a full-blown one-man theatrical performance, a la Ricky Jay and His 52 Assistants and Guy Hollingworth's The Expert at the Card Table. Setting-wise, Josh uses a video projection screen that allows him to converse and interact with life-size actors, such as a young lady or gent on a park bench. In these conversations he conveys the nature of card magic and his relationship to it. It's a very personal show.

Josh tears a card.

The card magic was superb: there was a surprise ending Alfred Hitchcock routine with a torn card, an ACAAN involving the card at a page number in a book, and a fabulous multiple selection routine. But the trick that had us abuzz involved a wine glass and a borrowed finger ring. With the ring in the glass and covered with a handkerchief, the owner shook it up and down, and you could of course hear the ring. But then Josh commanded it to stop, and you could no longer hear it. When he then commanded it to start, the noise resumed. When the handkerchief was removed, the ring was discovered to be permanently encircling the stem of the wine glass. Martin Lewis and I discussed this after the show and had no clue. The next morning, I had breakfast with a fellow who participated later (Josh did the show six times, the last at midnight). The fellow still had the glass up in his room with his ring still on it. No [insert expletive] way.

"Documentary Live: Divided We Stand," narrated by magic's premier historian, Mike Caveney, was a wonderfully illustrated history of "Sawing a Woman in Two." Five outstanding performances brought the talk to life. Jonathan Pendragon performed "Clearly Impossible" with Liberty Larsen as his victim. Mark and Nani Wilson performed their train engine version via video as sons Mike and Greg simultaneously performed it live. Mark Kalin and Jinger performed their now classic "Wakeling/Selbit Sawing." Kevin James performed his chilling Johnny Eck version with an apparent half man.

Blackstone lives.

And there was the Blackstone Buzz Saw version, with David Charvet eerily convincing as Harry Blackstone, Jr. What a superb opportunity this was to see all these performed on the same stage.

"Parlor Experience: From the Dark." The most ambitious performance of the convention: an hour long magic show for the blind, presented in total darkness. Hosted by Juan Esteban Varela, the show led us into a dark room where we were blindfolded and then led to a second room. My guide strapped a box of items to my leg, and with these I was instructed to perform various seemingly random acts that culminated in a surprising outcome. In a later session, Juan fooled the sighted as well with a most visual version of "Triumph."
"A Night at the MAGIC Museum" was a walk-through hands-on exhibit featuring artifacts from the Lance Burton show, from the Siegfried and Roy show, from "The Magic Land of Allakazam," and so on. Some of the exhibits were live, such as the Wilsons' Live Hands advertising illusion.

If Lance ever has a garage sale ...

My favorite live exhibit was a display of wooden puzzles hosted by Brad Henderson. Brad handed me a large wooden die, impossible to open, and normal except that the dots were not in the usual rotation. To open it, you had to hold the one up first, then the two, then the three, and so on. Once six was up, you could slide a panel aside and the interior revealed itself.

Live Onstage: Carnival of Wonders hit the stage like something out of Ray Bradbury. In this closing big show, Mark Kalin wandered on stage with a carpet bag out of which he conjured an entire carnival. He was soon joined by the delectable Jinger as his partner and lead dancer and by the swishy, slightly sinister Hobson as a mad sideshow barker. Magic and comedy ensued, but it hardly mattered what they did. Kalin kept the show on track with wonderful Jim Steinmeyer patter and great illusions, and Hobson especially generated laughs with bawdy good humor whenever he opened his mouth. "I've got to get the duck out of here," he muttered as he roared off in a Tunnel of Love vehicle shaped like a duck. He ate fire, he performed his Egg Bag routine, but it was his mere presence on stage that riveted the crowd.

Kalin vanishes his backdrop.

In a sensational closer, Kalin caused a stage-filling backdrop curtain to vanish into his carpet bag, which he then picked up and walked off with a salute, the carnival itself a misty dream. The writing, the magic, the laughs, and the chemistry were all just right, a wonderfully themed illusion show. A fortunate public would get to see this the following weekend as part of the Orleans' normal entertainment rotation.
Oh, there was plenty more between the morning General Sessions (for my group) and the afternoon Focus Sessions.
Comedy delivered -- A surprising number of session talks were hilarious. Mark Kornhouser, MAGIC's sharpest contributor lately, punctuated his talk on high concepts with some pyro-flatulence and a talking dog that cracked everyone up. "What the hell is she doing?" the dog asked of the lady signing for the deaf. Voronin, who recently completed another Teatro ZinZanni stint with Joan Baez, opened a show with his dancing ears.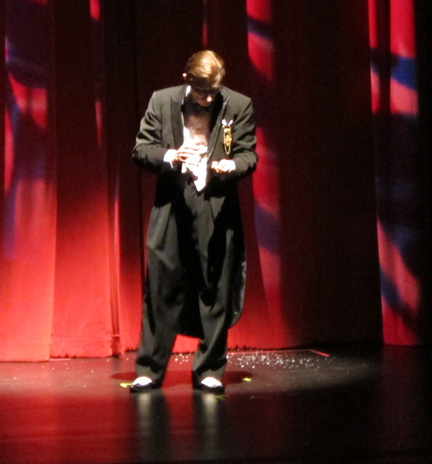 Voronin commands the stage.
Michael Weber emceed and delivered an Update with biting observational humor. Derek Hughes killed with refreshingly original lines. "How do you get into magic? Suck at sports. That's how we get into magic." He had a wonderfully politically incorrect word for a female magician that I can't print. But my favorite was Master Payne, whose Publish or Perish slide show on achieving immortality through contributing to magic magazines had us "PNP" (peeing in pants). The funniest slide was of the tearful widow carting her husband's magazines away for disposition. What a smile.
Mysteries solved -- An equally delightful number of talks taught some great magic. Sos and Victoria revealed quick change methods, something I had no knowledge of. Johnny Thompson provided a generous pot pourri of material. Ian Rowland contributed entertaining mentalism routines (to some an oxymoron!). Daryl focused on a generic concept that made many tricks possible, of which I greatly enjoyed his take on "The Professor's Nightmare." Gregory Wilson and David Gripenwaldt taught enough practical routines with coffee cups to make you the hit of your local Starbucks. Michael Ammar hosted a session in which John Lovick taught the best bill switch from his mammoth Switch book, Jason England taught a couple of useful palms, and Richard Sanders fried us with uses for repositional Glue Sticks. I look forward to trying Michael's own routine for a torn and restore card.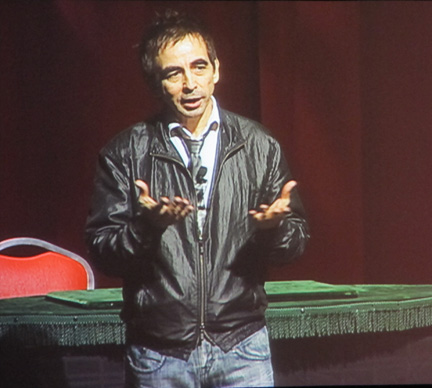 Armando Lucero tips precious secrets.
All nice, but the ace in this deck was Armando Lucero's method for transporting a coin from one card to another, by real magic. Armando teaches his full blown "Coin Menagerie" routine for thousands of dollars, hence it was special that he taught this much of his thinking for free. The attention to detail, the critical thinking involved, and the evolution of the routine are all just stunning. Place this routine among my Fab Five above; it belongs there.
Highbrow moments -- Historically, some MAGIC Live! lectures are purely educational, and this edition had its share. The always popular Levent spoke on the value of learning from the old books, with Linking Rings demonstrations to illustrate. Chris Kenner spoke on "How to Shoot Yourself" (with a video camera) by drawing on the videos he has captured over the years of "Three Fly." Chris sucked me in with a video of his wife, Katie, performing difficult sleights such as one-hand shuffles, only to reveal that someone was lying on the kitchen counter behind Katie and doing the real work. Long the pied piper of youth in magic, Chris closed with an admonition not to blame today's youth for playing the cards they've been dealt. Johnny Ace Palmer gave a laid back talk on table hopping, performed some of his classic routines, and dropped the tidbit that his uncle considered buying the Magic Castle (the entire hill) when it was for sale.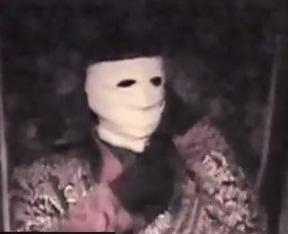 The invisible man starts unwrapping.
Paul Kieve presented a fascinating talk on magic in the legitimate theater, the best part being his own contributions, beginning with a very deceptive production of "The Invisible Man." Removing the bandages from the actor's head looked just as it did in the movie, but it wasn't a movie. And then there was Mark Setteducati on Creativity. Arguably the best at what he does, arguably the only one, Mark discussed such elements as invention, styling, and details as they applied to the many puzzles, games, books, Christmas cards, and magic tricks he has invented and marketed over the years. At the conclusion my seating companion said, "This is the best, the most content rich talk of the convention." OK, this too belongs in that Fab Five. Make it the Magnificent Seven.
The good, the bad, and the ugly -- Lest you think I am some sort of Stan Allen shill, I must report that not everything was perfect. Given that I was coming off a recent surprising haircut, I wasn't anticipating seeing my mug on a MAGIC Live! cover photo badge. Nevertheless, the delay in getting badges that some of us suffered was annoying and eventually became the target of one of Michael Weber's Update jokes. Seating this year, in order to accommodate more attendees, was in the Orleans showroom, which created several drawbacks. First, as every session had to be repeated, the seating ruled out possible singular events, such as a Jason Alexander interview. Second, as someone else pointed out, the great divide meant that you kept not running into friends that you enjoyed seeing, because they were elsewhere. Third, despite good sight lines, seating was kind of tight, making it harder to walk out if you needed to use the restroom, to flee a boring speaker, or just to stand off to the side to take a photograph. (I took the printed advice and queued up early enough to sit in the back on an aisle, but still ...) In general, I greatly prefer the large lecture halls that served the first four Lives! Finally, not every speaker was my cup of tea. With apologies to friends who are in this line of business, I have little stomach for motivational speakers. We endured three. I submit that MAGIC Live! attendees are Magicians of Above Average Intelligence, not salesmen in a development seminar. Just talk to us; no cheer leading or contrived relationship building is necessary.
Shopping cart -- The dealers seemed pleased and numerous items sold out. I gravitate towards H&R Magic Books as the focus of any convention, and their book signings were popular.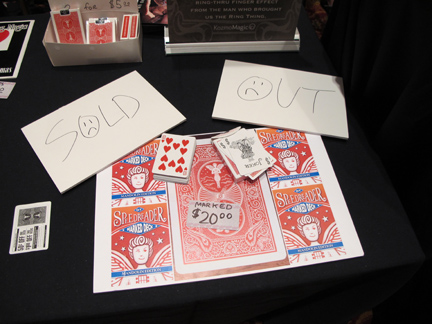 The dealers were happy.
Of the new items, "Pure Smoke" from Ellusionist drew the most interest. Several times, Eric Jones filled my cupped hands with smoke, quite magically. It's a system that runs down your arm to a nozzle at the wrist, and the smoke is pure water vapor. Quite practical. The other item I coveted was the Buck twins' new book, If an Octopus Could Palm. I haven't read it yet, but I browsed through Chris Kenner's copy, and the book is gorgeous.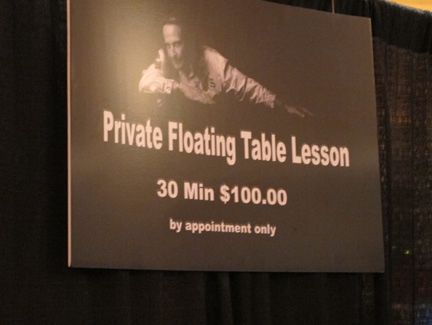 I wonder if they have classes in this at Hogwarts.
Though not for sale at the convention, I had the opportunity to see previews of the newspaper book that Gene Anderson has been working on for years, I enjoyed Max Krause's app that does ACAAN for you, and I loved Geno Munari's "Spirit Lights." (Full disclosure: My only purchases of the convention were the new Dennis Behr book and a deck of faux distressed cards from Ellusionist.)
At the Movies -- A new feature this year was the MAGIC Live! Film Festival. Attendees were invited to send in home made videos, the only stipulation being that an issue of MAGIC magazine had to appear in it. There were nine finalists, all just swell and professional, plus a totally goofball film from David Williamson. The people's choice award for Best Picture went to The Magician's Wife, a very funny entry shot at Haines House of Cards. Congratulations to John Mobley and his wife, my traveling companions on the airplane and the happy winners. They took home a trophy and an iPad.
Audience note -- What makes any convention for me is not what is on stage, but who is in the audience to hang out with or watch perform in informal moments. For whatever reason, MAGIC Live! has attracted the best audiences from the get-go. When you look around and see guys like Bill Malone and Mac King and Charlie Frye and Pauls Harris and Gertner and David Williamson and Simon Aronson and John Moehring and Martin Lewis and on and on, and they are attending the lectures, you know you are in for a good time. It was great to see friends from all over the world, some of whom I see only at MAGIC Live!
Late Night Live-- With a feature that could only be dreamed of ten years ago, Jonathan Levit filmed highlights of each day's activities and posted them on YouTube.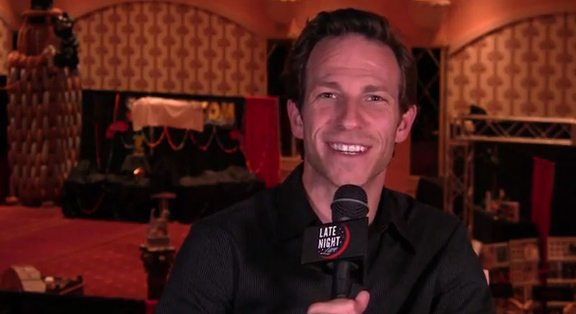 Jonathan Levit stays up late.
These are great, and you can watch them yourself at your leisure. Catch the action from Sunday, Monday, Tuesday, and Wednesday. I lulled myself to sleep each night in Las Vegas watching these on my iPad. They were most enjoyable, and Stan couldn't have picked a better host.
MAGIC LIVE! SIX (2013) -- I skipped MAGIC Live! six in order to stay home and witness the birth of this guy. This is Charlie, and he isn't quite into magic yet. Some day, some day.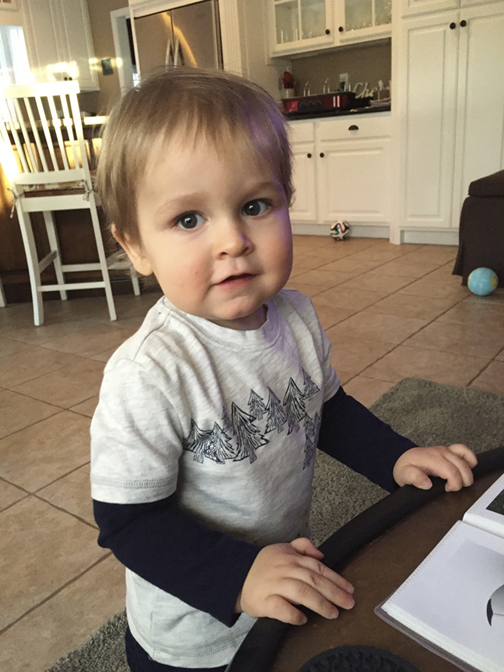 Charlie.
As to ML6, I refer you to the Justin Willman (October 2013) issue of MAGIC for a breezy, in-depth review by Shawn McMaster. I just did myself and, taking in Shawn's great write-up, I am extremely jealous. The defining moment for that convention was Joanie Spina's coaching Sir Pat-Trick into a standing O performance. Love to have been there.