MAGIC MAGAZINE GOES PLATINUM -- How better to celebrate twenty years in the business than with a record number of friends at a convention that set the bar ten years ago and has yet to be topped except by itself? From the opening night party to the final YouTube video recap from Jonathan Levit, MAGIC Live! once again held its position at the cutting edge of magical congregations, in Las Vegas or otherwise. A few arguments in that direction ...

Put that on your ice cream.
Cake, ice cream, and Kozmo, oh my -- Two years ago, I said that Stan had me with the opening night Buddy Holly music. This year he had me with a hot fudge sundae, my way-off-diet creation from a continuous spread of ice cream and toppings. This and the cake at the Finally party three nights later were the perfect treats for a birthday party, and Kozmo the ideal entertainer performing street magic beneath wall-size projections of MAGIC magazine covers. The trading card game featured covers whose subjects were converted to silhouettes. The object was to trade cards until you had one of each and then to identify and approach the eighteen cover magi, all in attendance, for their autographs.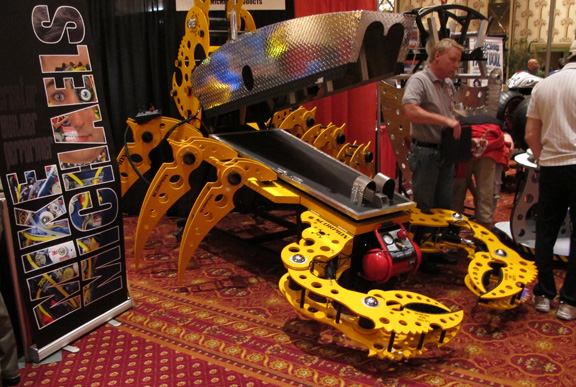 Mike Michaels' Scorpion.
At some point Stan's projection towered on the wall, like the great and powerful Oz, inviting everyone next door to The MAGIC Shop, the latest apellation for the dealer room. Mike Michaels once again anchored the room, this year with the Scorpion, a sort of transformer buzz saw escape contraption in the $15,000 range. Each $20 you spent on opening night earned you a lottery ticket for one of twenty prizes, so sales were brisk. (If you bought a Scorpion, you should have won something.)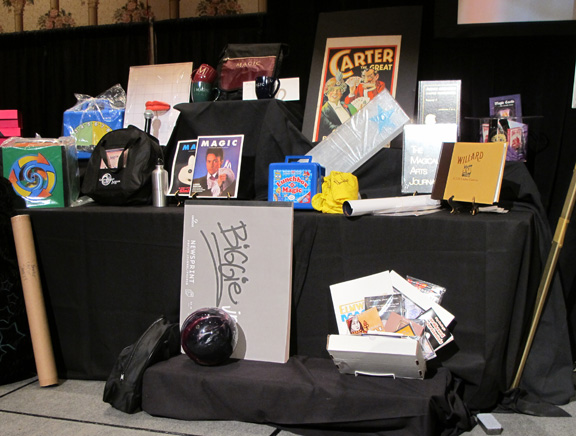 Prizes await.
The party climaxed with the Cover Parade, as bleachers filled with as many cover magicians as they could hold. David Williamson arrived first, followed by Mac King and Jonathan Pendragon, and then a flood of others including such legends as Marvyn Roy and Cesareo Pelaez. Check the photos below for a who's who of magic royalty.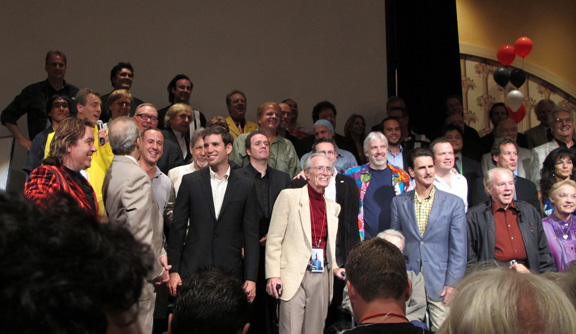 Left side of bleachers.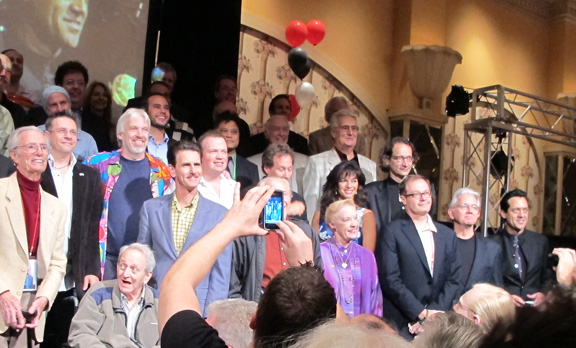 Right side of bleachers.
The Fab Five -- What makes MAGIC Live! special is unique events that make each incarnation the convention of a lifetime. One year it was an interview with David Blaine, another an interview with Cyril and a second with Jason Alexander. This year at least five events, and arguably more, rose to this standard.
"The Close-up Experience: Joshua Jay's Unreal." This was my favorite event of the convention. I had seen Josh perform as recently as a year ago, but nothing in my watching his evolution in magic prepared me for this. Unreal is a full-blown one-man theatrical performance, a la Ricky Jay and His 52 Assistants and Guy Hollingworth's The Expert at the Card Table. Setting-wise, Josh uses a video projection screen that allows him to converse and interact with life-size actors, such as a young lady or gent on a park bench. In these conversations he conveys the nature of card magic and his relationship to it. It's a very personal show.

Josh tears a card.

The card magic was superb: there was a surprise ending Alfred Hitchcock routine with a torn card, an ACAAN involving the card at a page number in a book, and a fabulous multiple selection routine. But the trick that had us abuzz involved a wine glass and a borrowed finger ring. With the ring in the glass and covered with a handkerchief, the owner shook it up and down, and you could of course hear the ring. But then Josh commanded it to stop, and you could no longer hear it. When he then commanded it to start, the noise resumed. When the handkerchief was removed, the ring was discovered to be permanently encircling the stem of the wine glass. Martin Lewis and I discussed this after the show and had no clue. The next morning, I had breakfast with a fellow who participated later (Josh did the show six times, the last at midnight). The fellow still had the glass up in his room with his ring still on it. No [insert expletive] way.

"Documentary Live: Divided We Stand," narrated by magic's premier historian, Mike Caveney, was a wonderfully illustrated history of "Sawing a Woman in Two." Five outstanding performances brought the talk to life. Jonathan Pendragon performed "Clearly Impossible" with Liberty Larsen as his victim. Mark and Nani Wilson performed their train engine version via video as sons Mike and Greg simultaneously performed it live. Mark Kalin and Jinger performed their now classic "Wakeling/Selbit Sawing." Kevin James performed his chilling Johnny Eck version with an apparent half man.

Blackstone lives.

And there was the Blackstone Buzz Saw version, with David Charvet eerily convincing as Harry Blackstone, Jr. What a superb opportunity this was to see all these performed on the same stage.

"Parlor Experience: From the Dark." The most ambitious performance of the convention: an hour long magic show for the blind, presented in total darkness. Hosted by Juan Esteban Varela, the show led us into a dark room where we were blindfolded and then led to a second room. My guide strapped a box of items to my leg, and with these I was instructed to perform various seemingly random acts that culminated in a surprising outcome. In a later session, Juan fooled the sighted as well with a most visual version of "Triumph."
"A Night at the MAGIC Museum" was a walk-through hands-on exhibit featuring artifacts from the Lance Burton show, from the Siegfried and Roy show, from "The Magic Land of Allakazam," and so on. Some of the exhibits were live, such as the Wilsons' Live Hands advertising illusion.

If Lance ever has a garage sale ...

My favorite live exhibit was a display of wooden puzzles hosted by Brad Henderson. Brad handed me a large wooden die, impossible to open, and normal except that the dots were not in the usual rotation. To open it, you had to hold the one up first, then the two, then the three, and so on. Once six was up, you could slide a panel aside and the interior revealed itself.

Live Onstage: Carnival of Wonders hit the stage like something out of Ray Bradbury. In this closing big show, Mark Kalin wandered on stage with a carpet bag out of which he conjured an entire carnival. He was soon joined by the delectable Jinger as his partner and lead dancer and by the swishy, slightly sinister Hobson as a mad sideshow barker. Magic and comedy ensued, but it hardly mattered what they did. Kalin kept the show on track with wonderful Jim Steinmeyer patter and great illusions, and Hobson especially generated laughs with bawdy good humor whenever he opened his mouth. "I've got to get the duck out of here," he muttered as he roared off in a Tunnel of Love vehicle shaped like a duck. He ate fire, he performed his Egg Bag routine, but it was his mere presence on stage that riveted the crowd.

Kalin vanishes his backdrop.

In a sensational closer, Kalin caused a stage-filling backdrop curtain to vanish into his carpet bag, which he then picked up and walked off with a salute, the carnival itself a misty dream. The writing, the magic, the laughs, and the chemistry were all just right, a wonderfully themed illusion show. A fortunate public would get to see this the following weekend as part of the Orleans' normal entertainment rotation.
Oh, there was plenty more between the morning General Sessions (for my group) and the afternoon Focus Sessions.
Comedy delivered -- A surprising number of session talks were hilarious. Mark Kornhouser, MAGIC's sharpest contributor lately, punctuated his talk on high concepts with some pyro-flatulence and a talking dog that cracked everyone up. "What the hell is she doing?" the dog asked of the lady signing for the deaf. Voronin, who recently completed another Teatro ZinZanni stint with Joan Baez, opened a show with his dancing ears.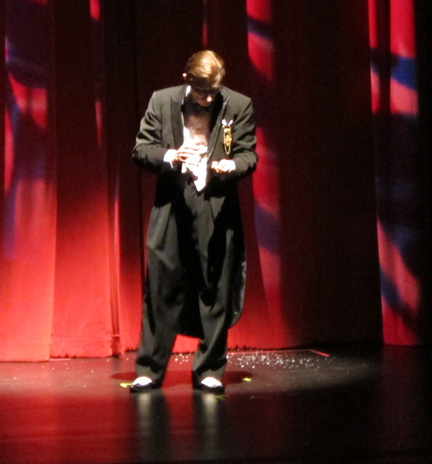 Voronin commands the stage.
Michael Weber emceed and delivered an Update with biting observational humor. Derek Hughes killed with refreshingly original lines. "How do you get into magic? Suck at sports. That's how we get into magic." He had a wonderfully politically incorrect word for a female magician that I can't print. But my favorite was Master Payne, whose Publish or Perish slide show on achieving immortality through contributing to magic magazines had us "PNP" (peeing in pants). The funniest slide was of the tearful widow carting her husband's magazines away for disposition. What a smile.
Mysteries solved -- An equally delightful number of talks taught some great magic. Sos and Victoria revealed quick change methods, something I had no knowledge of. Johnny Thompson provided a generous pot pourri of material. Ian Rowland contributed entertaining mentalism routines (to some an oxymoron!). Daryl focused on a generic concept that made many tricks possible, of which I greatly enjoyed his take on "The Professor's Nightmare." Gregory Wilson and David Gripenwaldt taught enough practical routines with coffee cups to make you the hit of your local Starbucks. Michael Ammar hosted a session in which John Lovick taught the best bill switch from his mammoth Switch book, Jason England taught a couple of useful palms, and Richard Sanders fried us with uses for repositional Glue Sticks. I look forward to trying Michael's own routine for a torn and restore card.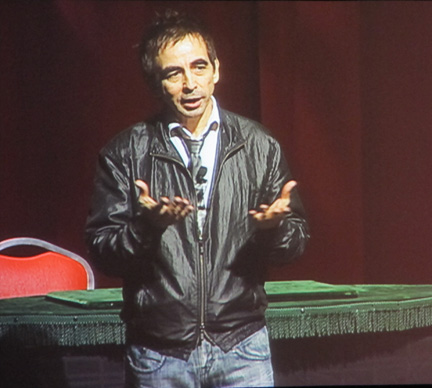 Armando Lucero tips precious secrets.
All nice, but the ace in this deck was Armando Lucero's method for transporting a coin from one card to another, by real magic. Armando teaches his full blown "Coin Menagerie" routine for thousands of dollars, hence it was special that he taught this much of his thinking for free. The attention to detail, the critical thinking involved, and the evolution of the routine are all just stunning. Place this routine among my Fab Five above; it belongs there.
Highbrow moments -- Historically, some MAGIC Live! lectures are purely educational, and this edition had its share. The always popular Levent spoke on the value of learning from the old books, with Linking Rings demonstrations to illustrate. Chris Kenner spoke on "How to Shoot Yourself" (with a video camera) by drawing on the videos he has captured over the years of "Three Fly." Chris sucked me in with a video of his wife, Katie, performing difficult sleights such as one-hand shuffles, only to reveal that someone was lying on the kitchen counter behind Katie and doing the real work. Long the pied piper of youth in magic, Chris closed with an admonition not to blame today's youth for playing the cards they've been dealt. Johnny Ace Palmer gave a laid back talk on table hopping, performed some of his classic routines, and dropped the tidbit that his uncle considered buying the Magic Castle (the entire hill) when it was for sale.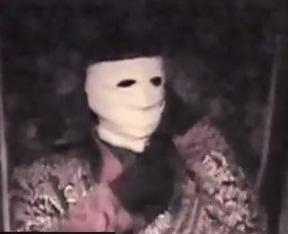 The invisible man starts unwrapping.
Paul Kieve presented a fascinating talk on magic in the legitimate theater, the best part being his own contributions, beginning with a very deceptive production of "The Invisible Man." Removing the bandages from the actor's head looked just as it did in the movie, but it wasn't a movie. And then there was Mark Setteducati on Creativity. Arguably the best at what he does, arguably the only one, Mark discussed such elements as invention, styling, and details as they applied to the many puzzles, games, books, Christmas cards, and magic tricks he has invented and marketed over the years. At the conclusion my seating companion said, "This is the best, the most content rich talk of the convention." OK, this too belongs in that Fab Five. Make it the Magnificent Seven.
The good, the bad, and the ugly -- Lest you think I am some sort of Stan Allen shill, I must report that not everything was perfect. Given that I was coming off a recent surprising haircut, I wasn't anticipating seeing my mug on a MAGIC Live! cover photo badge. Nevertheless, the delay in getting badges that some of us suffered was annoying and eventually became the target of one of Michael Weber's Update jokes. Seating this year, in order to accommodate more attendees, was in the Orleans showroom, which created several drawbacks. First, as every session had to be repeated, the seating ruled out possible singular events, such as a Jason Alexander interview. Second, as someone else pointed out, the great divide meant that you kept not running into friends that you enjoyed seeing, because they were elsewhere. Third, despite good sight lines, seating was kind of tight, making it harder to walk out if you needed to use the restroom, to flee a boring speaker, or just to stand off to the side to take a photograph. (I took the printed advice and queued up early enough to sit in the back on an aisle, but still ...) In general, I greatly prefer the large lecture halls that served the first four Lives! Finally, not every speaker was my cup of tea. With apologies to friends who are in this line of business, I have little stomach for motivational speakers. We endured three. I submit that MAGIC Live! attendees are Magicians of Above Average Intelligence, not salesmen in a development seminar. Just talk to us; no cheer leading or contrived relationship building is necessary.
Shopping cart -- The dealers seemed pleased and numerous items sold out. I gravitate towards H&R Magic Books as the focus of any convention, and their book signings were popular.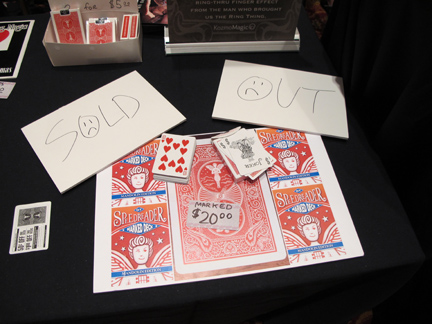 The dealers were happy.
Of the new items, "Pure Smoke" from Ellusionist drew the most interest. Several times, Eric Jones filled my cupped hands with smoke, quite magically. It's a system that runs down your arm to a nozzle at the wrist, and the smoke is pure water vapor. Quite practical. The other item I coveted was the Buck twins' new book, If an Octopus Could Palm. I haven't read it yet, but I browsed through Chris Kenner's copy, and the book is gorgeous.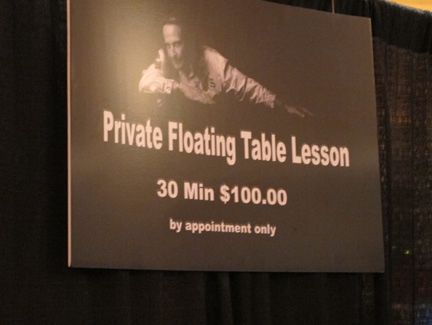 I wonder if they have classes in this at Hogwarts.
Though not for sale at the convention, I had the opportunity to see previews of the newspaper book that Gene Anderson has been working on for years, I enjoyed Max Krause's app that does ACAAN for you, and I loved Geno Munari's "Spirit Lights." (Full disclosure: My only purchases of the convention were the new Dennis Behr book and a deck of faux distressed cards from Ellusionist.)
At the Movies -- A new feature this year was the MAGIC Live! Film Festival. Attendees were invited to send in home made videos, the only stipulation being that an issue of MAGIC magazine had to appear in it. There were nine finalists, all just swell and professional, plus a totally goofball film from David Williamson. The people's choice award for Best Picture went to The Magician's Wife, a very funny entry shot at Haines House of Cards. Congratulations to John Mobley and his wife, my traveling companions on the airplane and the happy winners. They took home a trophy and an iPad.
Audience note -- What makes any convention for me is not what is on stage, but who is in the audience to hang out with or watch perform in informal moments. For whatever reason, MAGIC Live! has attracted the best audiences from the get-go. When you look around and see guys like Bill Malone and Mac King and Charlie Frye and Pauls Harris and Gertner and David Williamson and Simon Aronson and John Moehring and Martin Lewis and on and on, and they are attending the lectures, you know you are in for a good time. It was great to see friends from all over the world, some of whom I see only at MAGIC Live!
Late Night Live-- With a feature that could only be dreamed of ten years ago, Jonathan Levit filmed highlights of each day's activities and posted them on YouTube.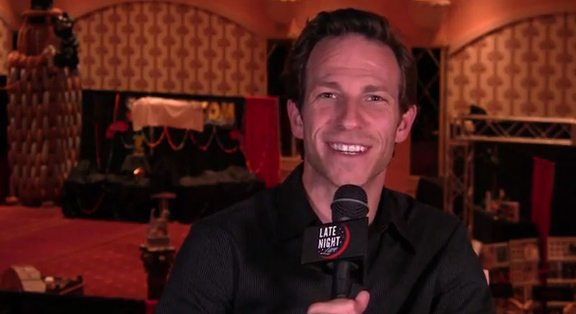 Jonathan Levit stays up late.
These are great, and you can watch them yourself at your leisure. Catch the action from Sunday, Monday, Tuesday, and Wednesday. I lulled myself to sleep each night in Las Vegas watching these on my iPad. They were most enjoyable, and Stan couldn't have picked a better host.