BACK TO THE LITTLE EGYPT GAZETTE -- Way back in the September 1997 "British" issue of The Little Egypt Gazette (worth your while for tricks by and interviews with Simon Lovell and Peter Duffie), we ran the following piece in the "Stirring the Tana Leaves" section: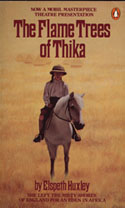 In the early eighties, PBS ran a superb mini-series called The Flame Trees of Thika, chronicling the lives of young Elspeth Huxley and her family, Britains who started a farm in Kenya. Elspeth referred to her parents by their names, Robin and Tilly, and the adult Tilly was played by a fetching adult Hayley Mills. (Bear with me, magic comes into play here.) The series was based on a book of the same name by Mrs. Huxley (her maiden name was Grant). A second book, The Mottled Lizard, continues the biography, picking up with the Grants' returning to Kenya from England following the First World War. In this episode Elspeth is a young teenager, who amuses herself by becoming a correspondent who reports on the polo matches in Kenya (under the pseudonym Bamboo), and who also takes up magic. She was particularly enamored of receiving parcels "from a purveyor of conjuring tricks called Will Goldstone, whose catalogues were packed with fascinating and seemingly impossible feats of magic." One passage has always intrigued me:
At last, however, I did invent a trick that looked as if it might have worked had I been able to make the necessary apparatus, which included an imitation of the little vest-pocket Kodaks then in vogue. I wrote it all out with diagrams and sent it to The Magician Monthly, a magazine I read with fascinated interest every time the mail brought it to Thika. To my great surprise, and even greater gratification, they published the trick in their section devoted to New Magical Suggestions and, in lieu of a fee, gave me credit for two guineas at Will Goldstone's. I spent many delectable hours laying out this sum to the best advantage from the catalogue.
* * *
A final note. One of my stringers, in Chicago, is trying to track down the original Elspeth Grant Huxley submission to The Magician Monthly. I have faith in his prowess in these matters, and will pass the item along in these pages upon a successful conclusion to his research.
My so-called "stringer" was Jay Marshall, who had access to the Lund collection, at that time the only source I knew that might harbor the required issue of The Magician Monthly. Alas, Jay never managed to satisfy my curiosity as to young Miss Grant's magical creation.
Fast forward to last month's Essential Magic Conference, specifically to Bill Kalush's talk on his Conjuring Arts Research Center. In a terrific act of generosity, Bill granted attendees thirty-day access to his research tools. Although my initial forays produced no results (Elspeth listed her name as E. Grant, no doubt to conceal her gender, and her discussions of the conjurer used the masculine pronoun), the word Kodak struck paydirt. Suddenly, there in the September 1923 issue of The Magician Monthly lay this marvelous magic trick, a complex bit of mechanical engineering and magical subtleties that Elspeth called "Magical Photography -- A Trick with a Phenomenal Camera."

Did Goldstone know she was a girl?
The trick begins with twenty or so flags, of various nations, being placed in a borrowed hat. The hat is covered with a white handkerchief, and any spectator is allowed to reach in and withdraw a flag at random. Secretly, the handkerchief concealed a batch of identical flags, one of which would of course be forced. Elspeth justified this "fair" procedure by arguing that "certain unkind people would probably say that I had a confederate among the audience" had someone been allowed to merely name a flag. The spectators then seal the selected flag inside an envelope, a handkerchief, and a box. To presumably identify the flag, the magician then introduces a common Kodak camera, but one "with peculiar x-ray qualities." (I love this bit of patter!) The magician then claims he will take a snapshot not of the box, but of the flag inside it.
And the magic begins. With no cover, the camera suddenly morphs into the roll of film that had presumably been inside it. The detailed engineering (dimensions are given to 1/10 in.) involves what appears to be a common Vest Pocket Kodak, but which is really a gaffed-to-the-hilt contraption involving flesh-colored elastic and hinges that allow the device to swing around and be hidden in a sort of backpalmed condition, revealing only a roll of film remaining in the hand. Elspeth thought to have the back and sides of the camera flesh colored as well so that any leakage between the fingers would not show.
The second piece of magic is that the roll of film visibly becomes the flag itself, and the box, handkerchief, and envelope that previously contained it prove empty. The roll of film is a hollow chamber that contains a duplicate flag, and the roll itself vanishes via a pull. The empty envelope had been accomplished well ahead of the game by an envelope switch. As Elspeth wraps up the description of the performance, she says, "The trick is now over, and the discovery of the envelope being empty depends entirely on showmanship."
Although she apparently never constructed the device or performed the effect, her attention to detail and consideration of performance issues were admirable. This "dabbler both in magic and photography," as she characterized herself, was also quite the dabbler in writing, and it was there that she would soon make her mark in life.
What fun it was for me to finally lay eyes on this material. Huge thanks to Bill Kalush for giving the EMC attendees temporary access, and I can think of fewer more rewarding investments than to subscribe to one of the various levels of the Conjuring Arts Research Center. Part of your subscription is tax deductible. It's like doing research deep in the stacks of some prestigious university library, but you never have to leave your bedroom. How cool is that?
THE iGENII -- One of the pieces of advice in the Grateful Dead book above is to free your content. (The Dead encouraged fans to photograph and record their concerts. The result -- more attendance and more album sales!) Richard Kaufman is about to do this in a big way with Genii, and I think it is going to be huge for him. Subscribers are about to receive access to all past issues of Genii, 70 years of superb material and coverage. This is part of a deal Richard has worked out with the Conjuring Arts Research Center. You'll have access to pdf files of all of "The Vernon Touch," all of Charlie Miller's "Magicana," all of Paul Osborne's illusions, and on and on. You could read forever. Meanwhile, through some fantastic new software I've never seen before, Richard is making certain special issues of Genii, such as the Steranko card issue, available in an even more exotic, full-page format. Visit the Genii web site and have fun. And if you haven't already, subscribe!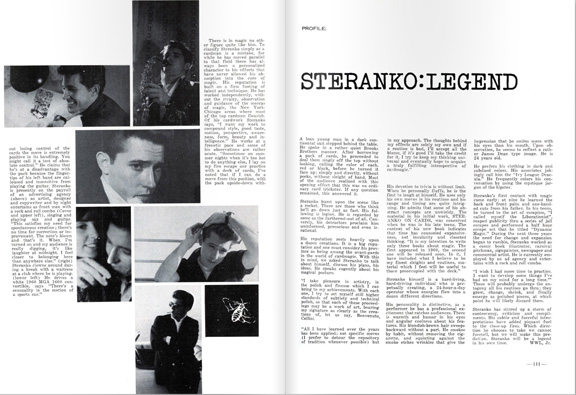 Possibly the best issue of Genii ever -- free!