Every so often, card books come out on specific topics -- the Faro shuffle, Triumph, the side steal, what have you. This month we get two such focussed volumes, from two longtime favorite authors, Lewis Jones and Roberto Giobbi.
GETTING PERSONAL-- Lewis Jones has come up with a unique take on card magic, a compilation of routines in which you deal cards (sometimes clumps, sometime single cards) in accord with some personal data (a name, a month, whatever) that you could not have known. This practice has various advantages over "give me a number," one of which is that they ask themselves the wrong question. ("How could he have known my girlfriend's name?") Several useful controls and forces are taught in the process. To mention a few goodies: One of my favorites is Lexicon, a book test that concatenates methods to make it truly baffling. Another, the Castlemaine control, is a nice alternative to the Ose cut. And finally, Persona is a deal-five-piles routine that improbably ends up with the makings of a royal flush atop the piles. (I would have used the words blondes and redheads rather than the ones Lewis used.) The book itself is also called Persona and will be an automatic purchase for Lewis Jones fans. Eighty pages, perfect bound a la The Book of Revelations, $45. I got mine from H&R Magic Books.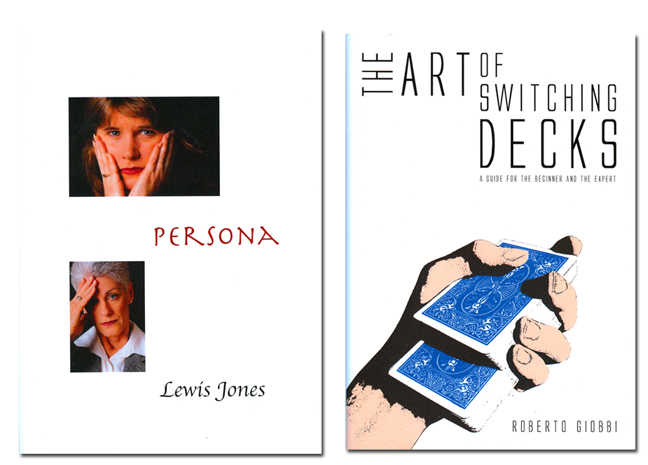 Special books.
SWITCHCRAFT -- Coming soon on the heels of his excellent Confidences is a new work by Roberto Giobbi, The Art of Switching Decks. The title tells the tale. This is a remarkable book of practical deck switches, 30 of them in 136 pages, followed by another dozen or so pages that direct you to 32 more switches in the literature, closing with a funny method involving a Lota bowl and then followed by a DVD that contains the performance/lecture that Roberto presented at the Genii bash. (I'm waiting for the Zabrecky DVD!) There is plenty in here that you can use, and, if you are like me, plenty that is new to you. I particularly enjoyed the cleverness of The Trojan Deck Switch (named after the horse, not the other thing) and The Tossed-Out Deck Switch which Dr. Hoy should have liked. This is a really important book, larger physically (a little over 7 by 10 inches) than Confidences, 163 pages plus DVD, $55, from Hermetic Press.